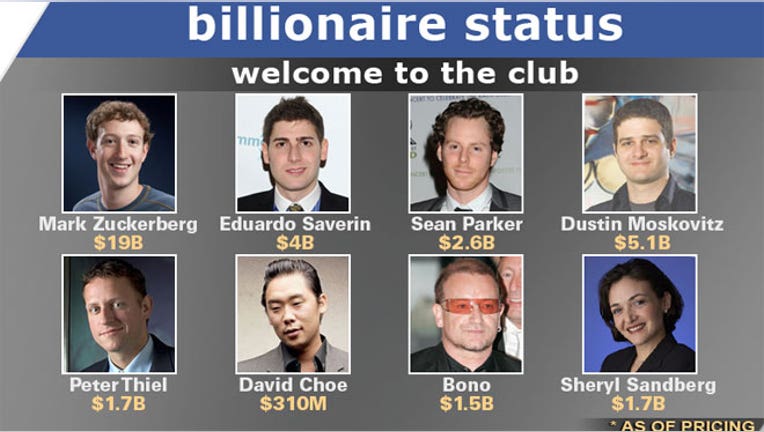 Facebook's $104 billion initial public offering on Friday transformed thousands of young people into instant millionaires – as well as a few billionaires – and already the booming luxury market in Silicon Valley is experiencing an upswing.
Multi-million dollar mansions and $100,000 Porsches are flying off local shelves in the Palo Alto, Santa Clara and Menlo Park areas of California. And the charge of luxury living is being led by a group of young entrepreneurs and techies as well as investors and venture capitalists that have scored famously from Facebook's Nasdaq debut.
Facebook (NYSE:FB) began trading on the stock exchange Friday morning in a $104 billion IPO that marked the second-biggest in history behind Visa (NYSE:V) and ahead of General Motors (NYSE:GM). When CEO Mark Zuckerberg rang the opening bell, he and few close colleagues became instant billionaires, while thousands of lower-level employees became millionaires.
The sudden wealth has already seeped into the local economy, causing sales of high-end cars like Porches and Bentleys to soar, and penthouses to sell hundreds of thousands of dollars above listing prices.
Local restaurants like Silicon Valley watering hole and local tech favorite Buck's of Woodside – located just a few miles from Facebook's headquarters and often considered the bellwether of the local economy there – have also reported a recent boom.
"It's the kind of insanity we've seen before but really amped up now," Buck's owner Jamis MacNiven said. While people in Silicon Valley were "already living pretty fat," he said the Facebook IPO has caused even greater demand for houses and cars.
Having been a local joint in Woodside for 22 years, Buck's has been a favorite of the Silicon Valley tech elite since the advent of the Internet, hosting young start-up meetings for some well-known tech companies including Netscape, Hotmail and PayPal. It's a regular breakfast spot for techies stationed nearby, including those at Facebook.
"A lot of the Internet was born at Buck's," MacNiven said.
Business at Buck's has "always been really good," he said, noting that "people can't spend more at Buck's because they can only eat so much," but one new trend the restaurant has noticed is a recent influx in Scandinavians. From Norway and Denmark to Sweden and Finland, Europeans have been traveling to Silicon Valley in droves searching for new opportunities.
Meanwhile, swanky restaurant Madera in Menlo Park, a part of the high-end Rosewood Sand Hill hotel, is booked almost daily for lunch, according to a report in the Los Angeles Times.
But perhaps more of a bellwether of broader economic times in the region is the mass rise in luxury home and car sales.
Silicon Valley real estate agent Ken DeLeon said the real estate market had been moving up earlier this year in anticipation of the Facebook IPO.
"Silicon Valley is the only region in America where new all-time highs are being set and this is due to Facebook's IPO coupled with the amazingly strong fundamentals of the leading Silicon Valley companies," he said.
Homes have been selling over list price, which is an unusual turn of events in what has been virtually a buyers market in other parts of the country since the housing market collapsed four years ago.
The market has recently leaned so much in favor of the seller in the Valley that some buyers are even taking out ads and offering to pay an obscene amount of money all in cash to win luxury dream homes.
DeLeon, whose list of clients includes some of the Valley's top tech elite, including executives from Facebook and LinkedIn (NASDSAQ:LNKD), said he started to get creative with the ads after realizing that his newly-rich clients were facing fierce competition from other Valley elites.
"It's such a strong market, we're having buyers going out to promote themselves," he said.
A house DeLeon initially told a client could sell for $2 million in January ended up selling for $2.28 million in cash in March. A ranch-style tear-down in Palo Alto recently listed for nearly $1.2 million was sold after 38 offers about $450,000 above the asking price, 38% higher. Two homes so far this year have sold for more than $600,000 above list price.
The average price for Palo Alto is up 14% from last year to an all-time high of more than $1.96 million. A majority of houses are selling in the $1 million to $10 million range, DeLeon said.
At the same time, luxury cars have been off the charts in the San Francisco, San Mateo and Santa Clara counties.
"Ferrari lines are pretty long," Buck's owner MacNiven said.
From April 2011 to March 2012, the percentage of luxury cars per 100 new registered vehicles was 20.84% in the three counties, compared with a national average of just 11.25%, according to data from automotive research firm Polk.
In San Francisco alone, luxury cars, including Mercedes-Benz, Lexus and BMW, made up 29.36% of the total, which is almost three-times the national average.
"Since I have been pulling these numbers, I have never seen as high as 29.36%," said Tom Libby, lead analyst for Polk's North American forecasting practice. "It's extremely high."
Usually, 15% is considered high, so this is "really, really extraordinary," he said. The Valley's high percentage of luxury-car buying is among the highest in the U.S.
Perhaps even more notable is the number of hybrids being scooped up in Northern California. While the national average is just 2.21%, the number of dual gas and electric vehicles being sold near San Francisco is 8.79%. To give some perspective, the national average has stood between 2% and 3% for the past few years.
"I don't' think I've ever seen anything in the 8's," Libby said. "Hybrids are four times as popular there as other places in the country."
It's probably a reflection, Libby said, of the wealthy buying hybrids as recreational vehicles.
"People who have this type of money will buy vehicles sort of as an extra," Libby said. "With this type of wealth, it's a different landscape, buying whatever they want without thought to cost."
From Zuckerberg, who at the age of 28 is now the 29th-richest man in the world, to Bono, whose investment group Elevation Partners made a whopping $1.5 billion on the IPO, making the rocker the world's richest musician ahead of Paul McCartney, no one can say just how Facebook's rich plan to spend their money.
But the tab is likely to include lavish homes, cars, Valley parties and vacations, as well as charities and possibly even strategic investments in other new tech startups (those that don't compete with Facebook, of course).
"There's a huge amount of wealth there," Libby said. It's a trend that started with "other Internet startups becoming so wealthy so quickly," and is likely only set to continue in the years to come.