Facebook Workplace Goes After Slack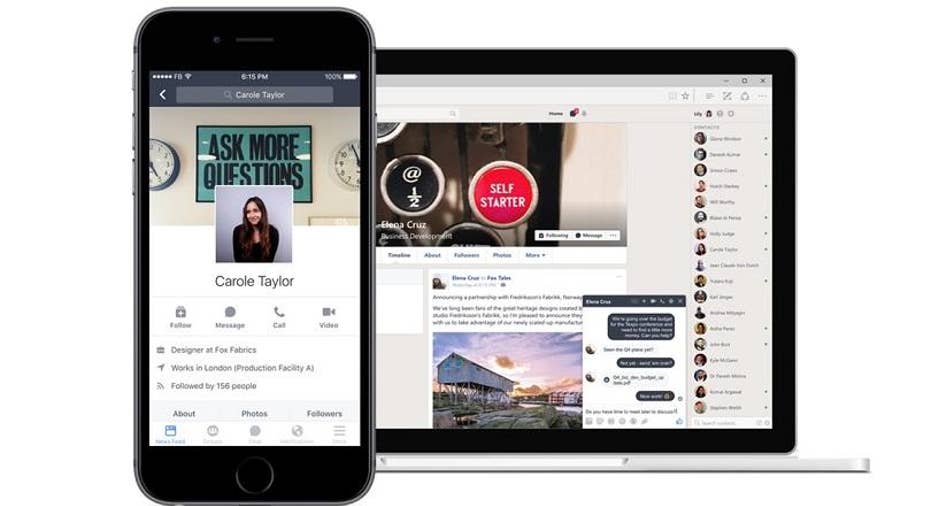 After several years of beta testing at Facebook and other companies, the social network's "Facebook for Work" product, dubbed Workplace, is now available to any organization that wants to use it.
In addition to Facebook's signature features—like its News Feed, Messenger chat, and trending stories—Workplace users get custom analytics tools and the ability to integrate the platform into the rest of their corporate IT.
To stand out from other popular workplace communication tools, like Trello and Slack, Facebook is promoting Workplace's usefulness for employees who don't work in a traditional office. On a phone or tablet, Workplace can help retail workers, ship crews, and baristas stay connected, the company said in a news release.
"If you know how to use Facebook, you know how to use Workplace," Facebook Workplace head Julien Lesaicherre said at a launch event today. "It's for everyone from the CEO to the factory workers to the barista in the coffee shop."
Companies using Workplace pay a monthly fee per active user: $3 each for the first 1,000 users, $2 each for 1,001-10,000 users, and $1 each after that.
In addition to internal use at Facebook, more than 1,000 organizations have tried the platform, the company said. The public release includes new features like multi-company groups, to connect employees from separate organizations, as well as existing ones like machine translation and group video calls.
The market for enterprise social collaboration tools is crowded, though comprehensive standalone social networks have struggled to gain traction. Microsoft, for example, folded its Facebook-like Yammer into Office 365 last month.
This article originally appeared on PCMag.com.