Facebook to air 25 MLB games in exclusive streaming deal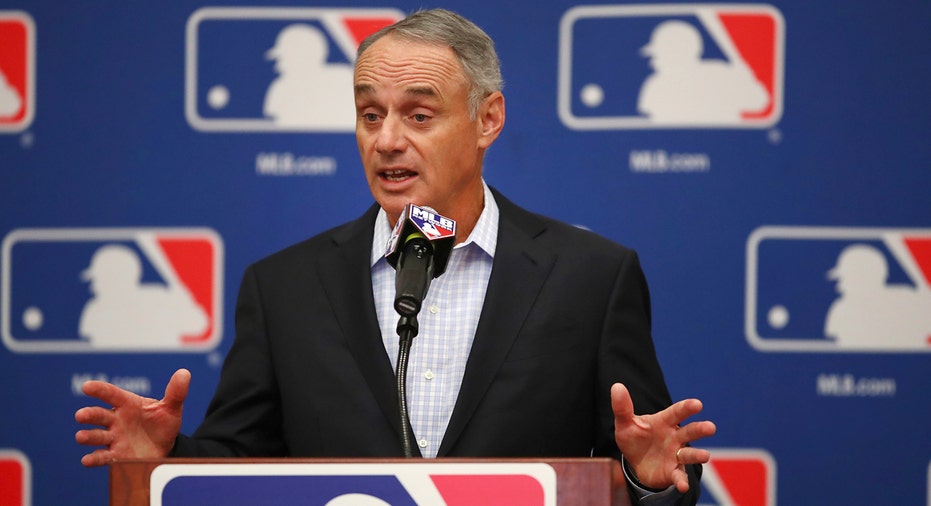 Facebook will exclusively broadcast 25 Major League Baseball games on afternoons throughout the 2018 season as part of a new streaming partnership, the organizations announced on Friday.
The games, which will air weekly, will be available on the social network's "Facebook Watch" live streaming platform through the "MLB Live" show page. The agreement marks the first time Major League Baseball has sold rights for games that will air solely on a digital platform. The 25 games will not air on participating teams' regional sports networks.
"We're excited to extend our partnership with Major League Baseball to make Facebook Watch a home for exclusive, live games every week this season," said Dan Reed, Facebook's head of global sports partnerships. "Community and conversation are central to both baseball and Facebook, and MLB Network's innovative broadcasts will bring these interactive and social elements of the game to life to fans around the world in new ways on our platform."
The sports streaming landscape has grown increasingly competitive in recent years, with digital platforms like Facebook, Twitter and Amazon bidding millions to secure exclusive rights to lure new users. Facebook aired simulcasts of 20 Friday night games during the 2017 season and also has agreements in place to stream Champions League soccer matches and men's college basketball games. Amazon paid $50 million last season to broadcast 11 games from the NFL's "Thursday Night Football" series.
MLB Network will produce the 25 games that will air on Facebook Watch and use interactive in-game broadcast elements tailored to mobile and digital users. The league has yet to announce which broadcasters will announce the games.
Facebook's first exclusive MLB game will air on April 4 at 1:10 p.m. ET and feature the Philadelphia Phillies and the New York Mets.
"This partnership with Facebook reflects the ongoing commitment of Major League Baseball and our Clubs to connect with people around the world," said Tony Petitti, deputy commissioner of business and media for Major League Baseball. "It is a major creative step forward in serving our diverse, passionate community of fans, who will enjoy a uniquely interactive experience watching our games on Facebook each week."