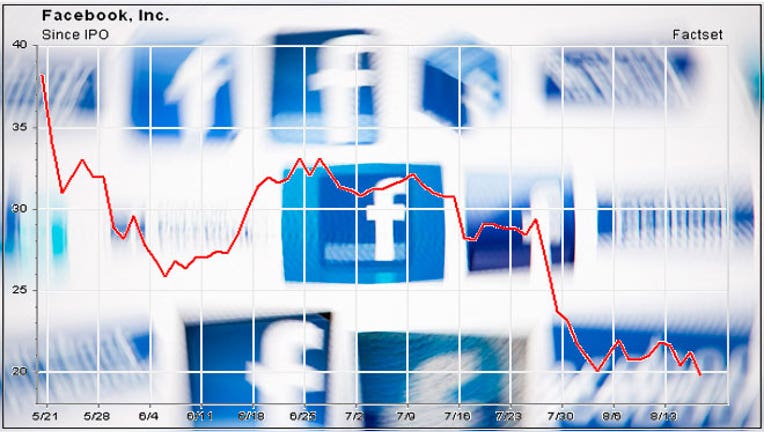 Shares of Facebook (NASDAQ:FB) tumbled another 6% and broke below $20 to fresh all-time lows on Thursday amid the expiration of restrictions that had prevented early backers of the social network from jumping ship.
The latest retreat leaves the Mark Zuckerberg company's shares trading almost 50% below their public debut of $38 almost three months ago.
Questions swirled ahead of the high-profile initial public offering about Facebook's lofty valuation, with critics focusing on the company's struggles to monetize its mobile growth and the effectiveness of its ads.
Since being crowned with a stunning IPO valuation of $104 billion, Facebook's market cap has crumbled to just above $42 billion on Thursday.
The latest plunge comes as some 271 million shares became eligible to be sold for the first time. Lockup periods are common for initial public offerings, aimed at preventing insiders from putting early pressure on the stock by instantly cashing out.
Early backers affected by the lockup expiration include billionaire investor Peter Thiel, venture capital firm Elevation Partners and investors like Microsoft (NASDAQ:MSFT) and Goldman Sachs (NYSE:GS).
Zuckerberg, Facebook's CEO and co-founder, is one of the only exceptions, unable to sell any more of his stake until November.
Facebook slumped 6.57% to $19.77 in recent trading and at one point hit a new intraday low of $19.69, representing a 48% plunge since its May 18 IPO price of $38.
Volume was very heavy on Thursday, with more than 60 million Facebook shares changing hands in just the first hour alone.
Earlier this week a few big-name investors reported acquiring stakes in Facebook, including George Soros, Steve Cohen's SAC Capital Advisors hedge fund and John Thaler's JAT Capital Management.