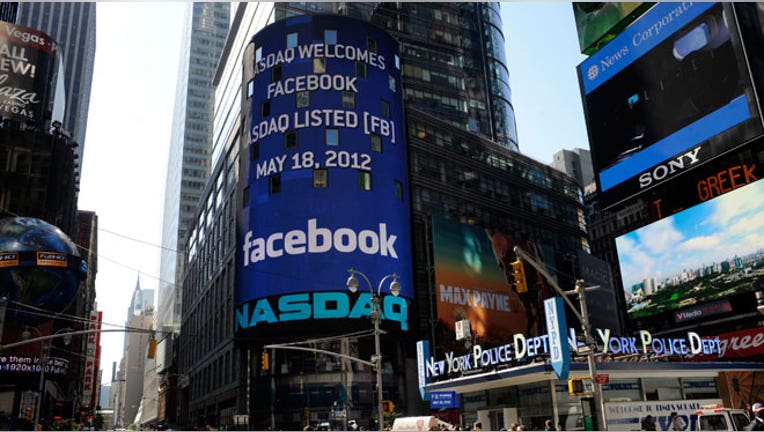 Facebook's (NASDAQ:FB) long-awaited debut on the Nasdaq Stock market on Friday was greeted by investors with mixed reviews. After an initial bump of more than 10%, the stock struggled to stay above its offering price of $38.
The shares closed for the day up just 23 cents, or less than 1%, at $38.23.
Technical glitches on the Nasdaq apparently caused by tremendous trading volume delayed the opening for 30 minutes, but the stock eventually opened at $42.05, or 10.7% above the offering price. The shares hit a high of $45 shortly after opening -- nice, but a far cry from the moonshot openings typical of high-flying dotcom stocks during the technology bubble more than a decade ago.
Volume was tremendous all day and the IPO set a record for new stocks with over 567 million shares trading hands.
The deal, which raised $16 billion for the company through the sale of 421 million shares, was the second largest domestic IPO after Visa's (NYSE:V) debut in March 2008.
Despite its status as a hot technology stock, Facebook, with 2011 revenue of $3.7 billion, has much more in common with a mature company like Visa than it does with, say, TheGlobe.com, an early dotcom success story that subsequently turned into one of the biggest busts of the technology bubble.
Josef Schuster, head of research firm IPOX Schuster in Chicago, cited the massive scale of Facebook's deal as one reason the shares didn't rise higher Friday.
"It's a very large deal and typically the larger the IPO the smaller the pop," he said.
In addition, Schuster noted that conditions in U.S. stock markets have been less than favorable in recent weeks, especially for new stocks, which are notoriously risky. Both the Dow Jones Industrial average and Nasdaq markets have been on losing streaks for two weeks -- never a good omen for IPOs.
Schuster said the key will be whether Facebook's shares can hold their value several days into trading. If the shares fall under $38 for several days next week, Schuster said it could trigger a wave of sustained selling among big investors.
The debut of Facebook's shares marks a beginning and an end of sorts to one of the biggest corporate success stories in U.S. history. The wildly popular social media web site was founded in 2004 in a Harvard University dorm room by computer science student Mark Zuckerberg.
Zuckerberg was not yet 20 at the time. His stake in the company is valued today at about $20 billion. What's more, the IPO deal was structured such that Zuckerberg retains a majority (59%) of the voting rights over the company, which means that any decision affecting Facebook has to go through him.
For some analysts, that's a concern. The enigmatic Zuckerberg, known for his signature hoodie and jeans and an aversion to the tried-and-true ways of Wall Street, is not an experienced chief executive. His decision making process has raised eyebrows in the past.
Zuckerberg "will need (to) demonstrate an ability to manage Facebook to meet investors' high expectations," said analysts with Renaissance Capital in Greenwich, Connecticut.
Hundreds of cheering Facebook employees, many of them now millionaires, joined Zuckerberg to celebrate the IPO at Facebook's Menlo Park, Calif., headquarters Friday morning.
Demand for the shares ahead of the IPO was strong, to say the least, so much so that most analysts believed the shares would rise today – or get a good first day pop, in Wall Street parlance.
Demand among retail investors who couldn't get shares ahead of the actual IPO was also predicted to be strong, which helped keep the shares above the offering price.
The big question was how much the stock would surge. Not much, as it turns out.
Jay Ritter, a professor of finance at the University of Florida, said he'd be surprised if the shares rose above $50 because of the unusually large size of the offering. With what's known as the over-allotment, the number of shares actually sold rises to 481 million and the amount raised in the deal to $18.4 million.
"With a public float of that size Facebook's price will not soar due to a lack of supply," Ritter said.
Ritter targeted a $50 ceiling because, in his view, big institutional investors are wary of Faceboook's valuation at that price.
"If the stock trades above $50 per share institutional buyers will be very concerned about the valuation and they will start taking their profits, which will prevent the price from jumping too much," he predicted.
At the offering price of $38 per share Facebook already had a market cap of $104 billion, giving it a price-to-sales ratio of 26, which Ritter said is "unprecedented" for a company with annual sales that already total $4 billion.
In the past, tech companies have completed IPOs with similar price-to-sales ratios but those companies had minimal sales, he explained. "The bigger you get, the harder it is to maintain the same percentage growth rates," Ritter said, echoing a concern raised by other analysts. Namely, that Facebook can't sustain its phenomenal record of growth.
Moreover, Facebook's pre-IPO market capitalization of nearly $100 billion gave it a price-to-earnings ratio five times greater than that of Apple's (AAPL: 541.64, +11.52, +2.17%), arguably the most successful company making things right now.
That disparity between the value the stock market has placed on Facebook (temporarily at least) and the real numbers the company reports in its regulatory filings has a lot of people on Wall Street hesitant about making a long-term commitment to the stock.
While a stock is worth whatever an investor is willing to pay, a lot of folks on Wall Street have raised doubts as to whether Facebook can continue to grow at the pace it has established over its first eight years in existence.
The company boasts 901 million regular users and more than 500 million daily users.
Concerns have also been raised over Zuckerberg's ability to run a giant publicly traded company. Just last month, apparently without consulting anyone, Zuckerberg dropped down $1 billion to purchase photo sharing site Instagram. Both the price tag, which some viewed as excessive, and Zuckerberg's unilateral approach toward such a large deal had skeptics talking.
Lead underwriters for the deal were Morgan Stanley (NYSE:MS), JPMorgan Chase & Co. (NYSE:JPM) and Goldman Sachs Group Inc. (NYSE:GS).