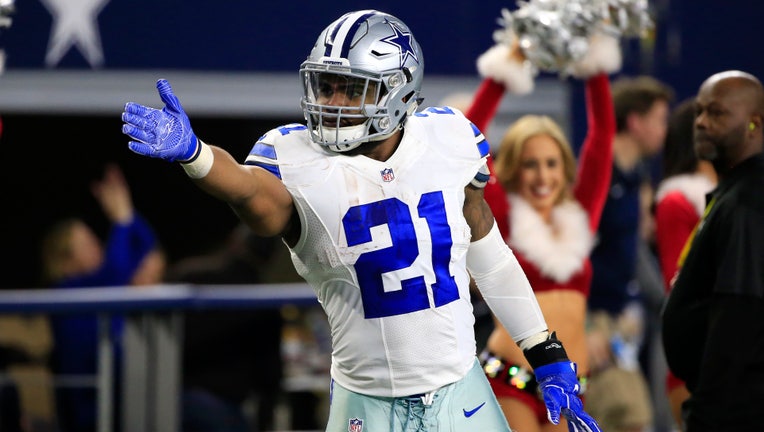 The NFL must be in the holiday spirit. Dallas Cowboys running back Ezekiel Elliott won't be fined for his Salvation Army-themed touchdown celebration on "Sunday Night Football," the league confirmed on Monday.
After scoring his 13th rushing touchdown of the season, Elliott jumped into a giant Salvation Army kettle that had been placed near the end zone, drawing a 15-yard penalty. The NFL generally fines players that celebrate excessively after touchdowns, especially if they use a prop.
"I mean it's just sitting there right in the end zone, you know. It's the perfect celebration," Elliot said after the game, according to ESPN. "They're one of our biggest partners, so I had to show them a little bit of love."
Elliott rushed for a season-high 159 yards on 23 carries during the Cowboys' 26-20 win over the Tampa Bay Buccaneers. He's rushed for more than 1,500 yards this season. With the touchdown, the 2016 first-round draft pick broke Tony Dorsett's single-season record for most rushing touchdowns by a Cowboys rookie.
Aside from providing a funny moment during the game, Elliott's celebration was a boon for the Salvation Army. The charitable organization, which has a longstanding partnership with the Cowboys, earned the equivalent of $200,000 in advertising value, according to Apex Marketing Analytics.
The Salvation Army took to Twitter on Monday to thank Elliott for his "kettle hop."