Ezekiel Elliott: Suspension could cost Cowboys star cash, report says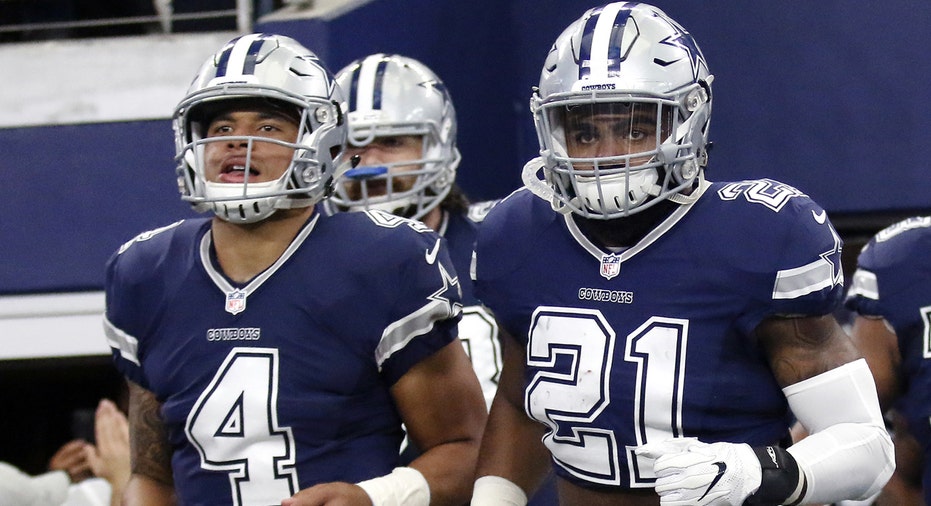 A potential suspension for Dallas Cowboys running back Ezekiel Elliott for off-field transgressions could have a major impact on the rising star's wallet, according to a report Wednesday.
Elliott, who is currently the subject of an NFL investigation into domestic violence allegations and was also linked earlier this month to an altercation at a Dallas bar, is entering the second season of a four-year, $24.9 million contract with the Cowboys. If the NFL opts to suspend Elliott for either incident, he will have to pay back the franchise roughly $240,000 in signing bonus money per game missed, ESPN reported.
In addition, a suspension would void the remaining guarantees on Elliott's contract. That means the 21-year-old could miss out on millions if he were to suffer a career-ending injury after returning from league-mandated time off.
Elliott has been under league investigation since before the 2016 NFL season due to allegations made by a former ex-girlfriend who accused him of domestic assault. Elliott was never arrested or charged in connection to the incident.
While NFL officials have yet to announce a determination on the case, ESPN reported earlier this week that Elliott could face a one or two-game suspension.
Various outlets also linked Elliott to an altercation with an unnamed 30-year-old male at a bar in Dallas. Elliott's actual role in the incident has yet to be determined. Dallas police said Elliott was not interviewed at the scene, and the NFL said it is "looking into" the situation.