Eye-Fi Seamlessly Transfers Photos From Camera to Smartphone: Review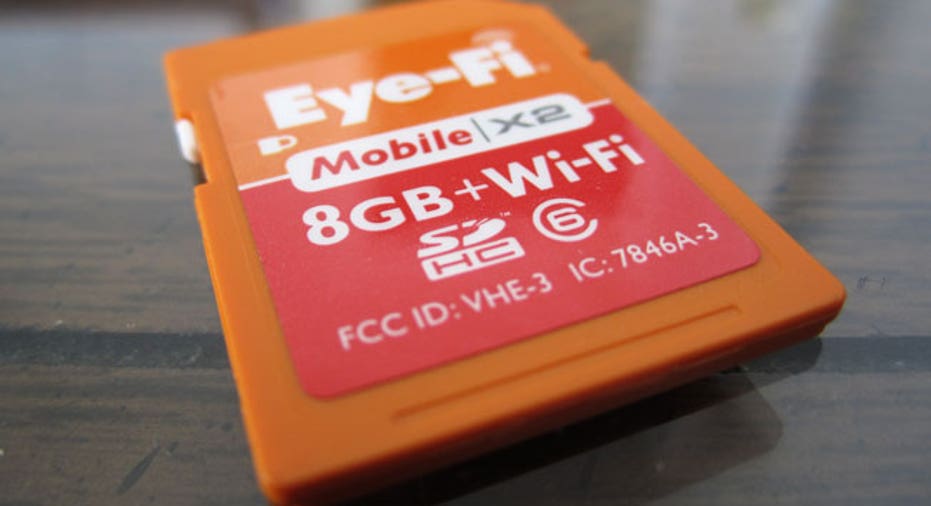 Digital cameras and smartphones or tablets don't exactly have a history of playing nice.   While the latest iPhone may have a 5-megapixel camera, it will probably be a while before the photos that come out of smartphones even compare to those from true digital cameras.  And getting higher-quality photos from a camera onto a portable device to show friends and family can be a hassle, but the latest technology from Eye-Fi aims to change that with the help of Wi-Fi.
Eye-Fi is the maker of secure digital memory cards that do much more than store photos from your camera; they have built-in Wi-Fi chips that automatically transfer photos taken from a camera to a desktop or laptop computer over a Wi-Fi network.  And with Eye-Fi's new Direct Mode, users can transfer pictures right to their smartphones or tablets as well while on the go.
Eye-Fi in its packaging
The thought behind the new feature and its associated apps was that people want to be able to share higher-quality photos instantly, Eye-Fi Director of Product Marketing Randhir Vieira told FOX Business.  "We wanted to offer this functionality with devices people already own, with no additional investments other than the card needed."
Indeed, Vieira said, according to estimates, 50% of households by the end of the year will have a smartphone.  Further, 80% of Eye-Fi users have a smartphone.
For FOX Business' test, we were supplied with an Eye-Fi Mobile X2 card, which retails for $79.99 and holds 8GB.  Most consumers taking just photos will have no space issues with that amount.
Eye-Fi Mobile X2 in its card reader, which lets you set it up on your desktop or laptop computer
Desktop/Laptop Experience
Setting up Eye-Fi is as simple as plugging it in through the supplied card reader.  Having already owned an older Eye-Fi card, there was no need to install the software in our tests, but the process of installing it is also pretty straightforward.  After the install, the Eye-Fi Center application will always run in the background on your computer, ready for any photos your camera might throw at it.
Setting up Eye-Fi is quick and simple through the Eye-Fi Center program
Eye-Fi can be a powerful piece of technology, letting users upload photos on virtually any open Wi-Fi network they have access to.  Some versions of the card can even geotag (record where the photo was physically taken) just like many smartphones do with GPS.  Eye-Fi uses the nearest Wi-Fi networks to do this.
The Eye-Fi cards can also upload photos to the cloud and automatically delete them from the camera once uploading is complete, creating virtually endless amounts of space.  In addition to a free Eye-Fi account, which will hold photos for seven days,  users can add their Flickr, Facebook, among other accounts to their card to have photos automatically be sent to those services.
Worried the device will destroy your camera's battery life?  Fear not.   In our tests, the impact of using the card (which does draw some power from the camera to operate) was barely noticeable.  Indeed, Vieira said the device should only decrease battery life by 10-15%.
However, the focus of this review is on Eye-Fi's new Direct Mode, letting users transfer their photos from their camera to Apple (NASDAQ:AAPL) iOS devices and Google (NASDAQ:GOOG) Android devices, without even needing a home Wi-Fi network.
iPad Experience
Direct Mode's magic works on tablets and smartphones with the help of a free Eye-Fi app the user needs to install.  Doing so is as simple as searching for the app in either the iTunes store or Android Marketplace and downloading.
At first launch the iOS app, which FOX Business installed on a first-generation iPad, prompted for Eye-Fi account login information.  After a successful login, the device-pairing screen came up, providing the option to activate the iPad for Direct Mode transfers from the Eye-Fi card.
Once activated, the app asked if photo uploads should be switched from card-to-desktop computer to card-to-iPad.  Naturally, we switched it to iPad to give this new feature a go.
We then had to put the card back in its reader to change settings on it to enable Direct Mode in the Eye-Fi center program running on the computer.  It wasn't totally apparent that this was necessary until we saw this step listed in the FAQs that popped up.
After popping the card back into the camera (we used a Canon PowerShot SD1400 IS), we took two photos.  Sure enough, within seconds the progress bar at the bottom of the app on the iPad showed it received the pictures, which promptly appeared in a grid of photos currently stored on the iPad (the grid layout is similar to that of the iPad's native Photos app).
Within the settings of the iOS app are options that let you automatically upload the photos that are sent to the iPad to your desktop computer as well as a setting to only do so when connected to Wi-Fi (a smart option if you have a 3G device with a data cap).
As we had a Flickr account associated with the Eye-Fi account, both photos taken were automatically uploaded there and onto our account on the Eye-Fi site.
Screenshot from iPad Eye-Fi app after uploading a photo of our laptop's screen (confusing, we know)
You can share photos that were transferred to the iPad manually too if you like, but it appears you can only share to services you set up in your Eye-Fi account already.  In other words, if you don't have Facebook added to your account and you want to share a photo from your iPad on Facebook through the app, you're out of luck.
However, the photos transferred from the card to the iPad do get imported to the iPad's built-in Photos app, which then lets you share them in other ways, like email.
Take a lot of photos and don't want to leave the app open on your device?  While we weren't able to test this out ourselves, Eye-Fi's Vieira said the iOS app will run for an additional ten minutes, transferring and uploading photos.  He said iOS restricts activity beyond that period of time.
However for most Eye-Fi users, he said, the typical 25 to 30 pictures they take each week will be uploaded quickly enough.  Further, he said if uploading over 3G, users can pick which photos upload over the mobile connection and which wait for Wi-Fi.
The app itself was mostly stable, but it did freeze up a few times when we tried using sharing an individual photo.  We had close out and manually kill the app from the background to restart it.
Android Experience
The process of installing Eye-Fi's free Android app was basically the same as for iOS.  For our test, we used an HTC Incredible smartphone.
As with the iPad app, the Android app quickly picked up a new photo we had taken with the digital camera and then uploaded it to the Eye-Fi and Flickr accounts.
One neat feature of the Android app is its integration with the OS's notification system, showing up alongside emails and text messages.  It even showed the progress of the upload as it was sending the photos into the cloud.
Further, the app was able to transfer new photos in the background when the app wasn't even actively open.
HTC Incredible's notification screen showing the uploading a movie to the cloud with the Eye-Fi app
We then tried taking a high-definition video (720p) on the camera it, naturally, took a lot longer than a photo, but it worked well transferring to the phone.  Uploading to the Eye-Fi site and Flickr, on the other hand, seemed to stall with the 40MB file.  That could be partly the fault of Flickr or the Internet connection used, however (photos were uploaded via Wi-Fi with a cable modem connection).
When we tried taking a shorter 9MB video seemed to work much better, taking roughly six minutes.  Again, the connection speed being used will be a large factor in how uploads take.  Uploading over a smartphone or tablet's 3G/4G connection would likely take even longer.
The good thing, though, is that once the photos and videos are transferred to the smartphone or tablet, you can power off your camera.
We were able to view the photos in the Droid's built-in photo app (just like on the iPad), but not the video.  Inside the Eye-Fi app, while we saw the photos and the video file, we were not able to play the video there either.  This could potentially be because of the format it was recorded in (.mov) or the video software on the phone.
Bottom Line
If you are a super mobile user and often take your iOS or Android device on the go with you, the Eye-Fi Mobile X2 could be a good match for you to get photos and short video clips onto your device and share with others whether directly on the device or from up in cloud.  This is despite the slightly buggy performance of the app (this will likely be improved in future updates).  Heck, you'll even save the $29 you'd need to spend on the connection kit Apple sells for its iPad and have one less cable to carry around.
Check out Eye-Fi's video intro for the Mobile X2, demonstrating Direct Mode: