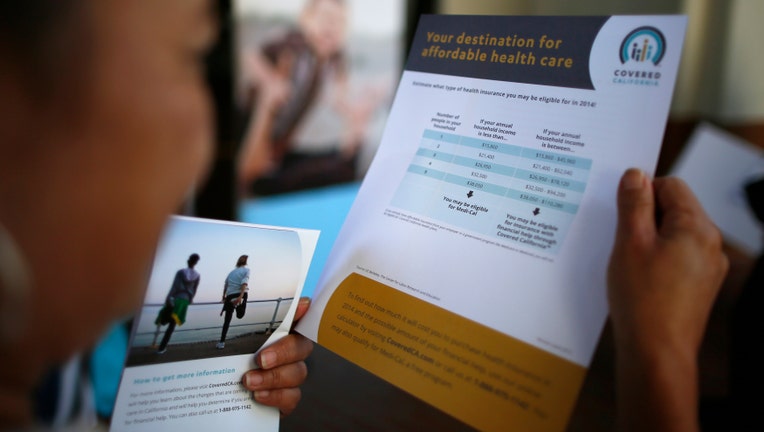 It's the giant question mark hanging over the success of the president's signature legislation: just how many people will enroll on the Affordable Care Act's health insurance exchanges?
The ACA mandates every individual in the country has to sign up for insurance by March 31, or they will face a fine of $95 a year or 1% of their annual income for failing to comply. The more people that enrollee in coverage, the easier it is for insurers to contain costs. The law prohibits insurance companies for denying or charging more to any person based on their medical history, which makes the young (and presumably healthy) crowd important to have in the risk pool.
The administration first sought to sign up 7 million people in year one, with 2.7 million of which being young adult demographic. But following the glitch-riddled rollout of the federal exchange on Oct. 1, expectations have been pared down.
The nonpartisan Congressional Budget Office trimmed projections in February to 6 million enrollees. That same month, Vice President Joe Biden chimed in, saying the ACA would likely enroll between 5 and 6 million in its first year. The goal has always been to have around 40% of the pool between the ages of 18 and 34.
With just a few days left in the enrollment period for year one, 5 million people have selected plans, as of last week, the Department of Health and Human Services reports. An updated demographic breakdown has not yet been released, but as of two weeks ago, of the 4.2 million people who had selected plans, 25% were between the ages of 18 and 34.
The language used by the HHS in its enrollment figures is key: it defines enrollees as people who have "selected" plans, which means they may or may not have yet paid their first month's premiums. The insurance industry typically considers a person enrolled once they have made that initial payment.
FOXBusiness.com reached out to analysts to see what their enrollment projections are for this year's total enrollment figures. Here's what they had to say:
Yevgeniy Feyman, Manhattan Institute scholar
Estimate: Between 5.5 million and 6 million enrollees
"Paying customers is a different story though," Feyman says. "Not everyone who has enrolled has paid their first month's premium. The rates of payment will likely vary quite a bit by state. Red states will likely have lower rates than Blue states. This matters, because it will affect the total number of people who have insurance through the exchanges. And the few months of claims insurers will have for these people will partly play into 2015 rates."
Bob Laszewski, writer of the Health Care Policy and Marketplace Review Blog
Estimate: 6.2 million enrollees, 5.2 million of which have paid first month's premium
"Based upon the paid-for information I have gotten from carriers, of the 5.2 million, 4.5 million will be subsidy eligible (administration reports to date put the subsidy eligible at 83%). Kaiser Family Foundation says that 17.2 million are subsidy eligible. Therefore, the administration will have signed up only about 25% of the subsidy-eligible people--not even close to a sustainable pool," he says.
Paul Howard, director of the Center for Medical Progress at the Manhattan Institute
Estimate: 5.5 million enrollees
"Healthcare.gov appears to be much closer to hitting the 6 million mark than even a few weeks ago, with enrollment at over 5 million to date.  My guess is that they'll get to around 5.5 million with a few big asterisks.  First, there appears to be a 15-to-20% non-payment rate on average," Howard says. "That means around 1 million of these enrollees don't really have insurance.  Second, we still don't know if the risk pool is stable - only about 25% are between 18 and 34.  That may mean big cost increases next year.  Finally, we don't know how many were previously uninsured.  We need to net out those numbers to have a real picture of how the law is performing and at what cost."
Devon Herrick, senior policy analyst at the National Center for Policy Analysis
Estimate: 6.2 million enrollees
"My calculations don't take into account the prevailing wisdom among insurance agents that one-quarter to one-third of new individual policy holders tend to drop out during the year," Herrick says. "Moreover, various policy analysts believe millions of people will 'churn' in and out of exchange coverage as their income fluctuates between Medicaid and Exchange eligibility."