Expectant Mom Turns Idea Into Thriving Business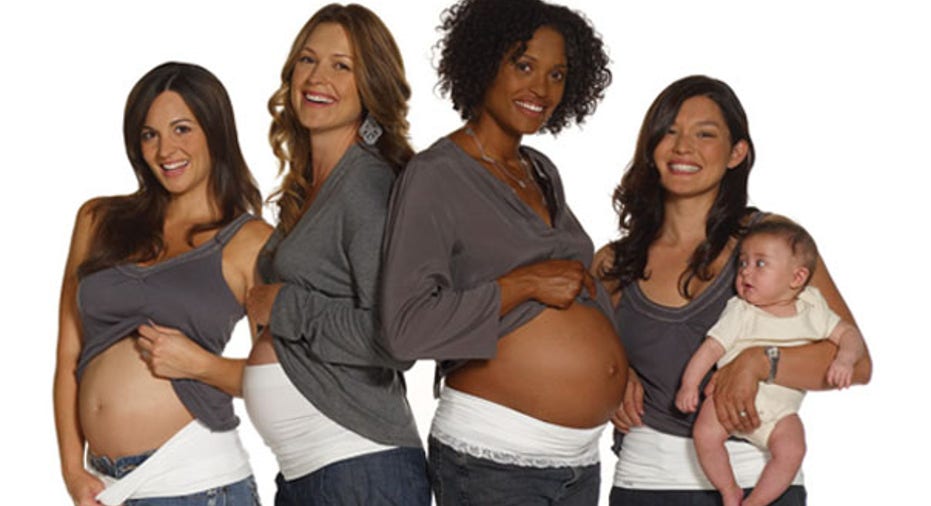 How many wild business ideas do you have a day that you just let disappear into thin air?Ingrid Carney turned a frantic-pregnancy-induced spur-of-the-moment idea about how to hold up her too-small pants into a $20 million business in just a few short years. Carney, founder of Ingrid & Isabel and the creator of the BellaBand – the younger sibling of which is the lighter weight BeBand - credits much of her success to listening to the ideas of others, and having confidence in her product."When I first had it [the idea] and was showing a couple of people … I was kind of giggly when I showed it to them, saying 'look what I did to hold my pants up!'" Carney said. "I felt it was my own fix-it -- it wasn't a Band-aid, it wasn't a safety pin, it's a band."So what exactly was Carney's great money-making idea? A pregnant woman's dream come true when it comes to fitting into a too-tight-around-the-midsection wardrobe.
During pregnancy, a woman's waist can expand significantly -- making room for a growing baby -- literally, overnight. When Carney couldn't fasten her suit pants on the day of an important business meeting, she scoured the house for any sort of make-shift contraption she could use to hold up her pants. She tried rubber bands, safety pins, ace bandages, panty-hose with the legs cut off and more; but everything added too much bulk or wouldn't stay in place properly."I just kept looking down at my stomach and thinking 'I need something flat – something really flat' – [the same as I would use] a Band-Aid for [a cut]."In the end, Carney threw a tube top – a spandex-elastic strapless top for women that clings to any body shape -- on over her pants. It did the job, she wore the suit to the meeting and no one knew her pants weren't buttoned.
She continued to use her made-up pants-size adjuster for several months, bringing it out each time her maternity pants didn't fit and again, for the reverse, after she gave birth. But she had to keep making adjustments to keep it in place. With just a few alternations, Carney thought, I could really have something here."Being at three different startups, I had been through the process – I had no fear of starting something new," Carney said.So, the recently laid-off marketing-veteran, now a stay-at-home mom, went into product testing in February 2001. Carney said she tirelessly attempted to use various kinds of fabrics in tubular form, looking for the "just-right" material and design with the exact amount of stretch needed for a growing belly, and not so much that it would lose shape.
The right mix would "last a woman throughout her pregnancy and after, and still have the same stretch and recovery nine months later," she said.When she had a sample product ready to go, she recruited about 20 women through a San Francisco-based Yahoo! social-network of moms to try her belly band. Pregnant women of all ages and sizes were given bands, product instructions and questionnaires; Carney regularly checked in via phone or e-mail."I realized that a lot of women could use this accessory – it was more than just me," Carney said."This Is a No Brainer"After receiving the positive feedback from the sample group, Carney and her husband invested some money into her business. She then went to work coming up with a name, budget, location for her business, and writing a two-page executive summary, or "vision," of what her company was going to be. All this was done during her child's naptime.
While she was testing and marketing her product, Carney hired a patent attorney to navigate the patent application process. It took a few years, but Carney now has a utility method of use patent for her bands.
She shipped her first product to retailers around Thanksgiving of 2003, nearly one year after she decided to make her "wild idea" a reality. Her first sale – albeit a reluctant one, she said, was to a local boutique in the Bay Area.
"I knew it would work just based on the research. I actually went to the store wearing the Bella Band, even though I wasn't pregnant. I begged the store owner [to see me]," Carney said. "When I showed up, she was seven-months pregnant and her pants were falling down, which was brilliant."
The store clerk put on the BellaBand to try it out herself."She walked the length of the store and back to me and said 'this is a no brainer – I'll take 10.' Of course, I was over the moon," Carney said. "What I realized is, if I invited these stores to try them on themselves even if they're not pregnant, they would understand what the BellaBand is all about – it's an accessory, not a replacement" for clothing.A few smaller retailers soon signed up. Then came Nordstrom.com (JWN), Amazon.com (AMZN), JCPenny and Neiman Marcus. When Target (TGT) signaled interest, Carney knew she had reached her goal.
"It's what I envisioned back in the day writing that executive summary," she said, adding that mass retailers could offer lower prices than specialty maternity stores, and with a market of 4.2 million successful baby deliveries every year in the United States, that was a lot of women looking for more comfortable ways to wear their clothes.Now, just six years later, her company is expecting to bring in $20 million in revenue for 2010. The 43-year-old mom of two – Isabel, the inspiration for the company name and the reason the BellaBand was originally created – 8 and Alexandra, 5, has a San Francisco-area office with a staff of seven and flexible work schedules for parents. Carney's company went from offering a one-size-fits-all BellaBand in black and white, to adding more sizes depending on the customer's pre-pregnancy size, in various colors, even seasonal ones like "harvest" and "berry" for the fall. She got idea of adding lace or eyelet to her bands after talking to women at a house party. Carney later introduced to her line the lighter-weight BeBand, an organic cotton band, and an Essentials Collection of camis, belly leggings, ruched tanks and everywear pants.A key to her success, Carney stressed: don't expand too much, too fast. She said she didn't begin generating a profit until 16 months after she launched, and was cash-flow positive just two months later."Remember that you are a sample set of one," Carney said. "You have to break out of your shell and show a lot of people – show the right people. Show the people you think might buy it – get their comments, get their thoughts, take in their editing of your idea, and listen - and listen well."