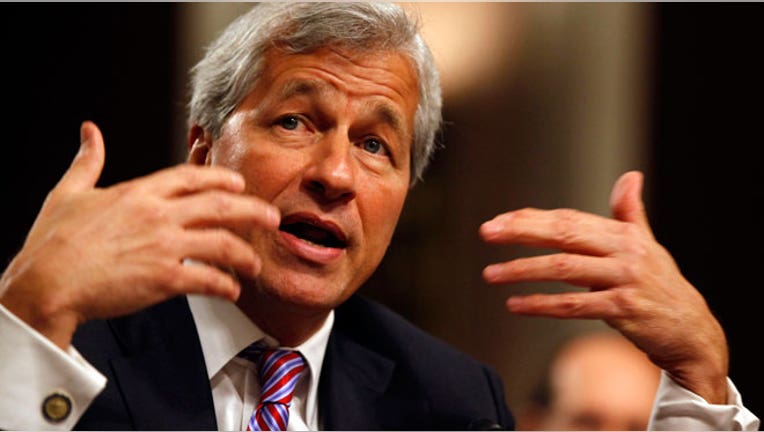 JP Morgan (NYSE:JPM) chief executive Jamie Dimon will leave the big bank if he loses a key shareholder vote next week that would strip him of a chunk of his power, several Wall Street analysts told FOX Business.
Shareholders are set to vote on Tuesday whether Dimon should retain the title of chairman in addition to his role as CEO; the vote is "non-binding", meaning the board could ultimately ignore the verdict. But the nation's largest bank has recently come under intense regulatory scrutiny, particularly following a big trading loss in London, known as the "London Whale," and some shareholders believe the bank could be better managed if Dimon had his job split.
Wall Street executives and people inside JP Morgan say regulatory officials and activist shareholders running public pension funds and union pension money want to split Dimon's job to diminish his power as the banking industry's leading spokesman. Dimon has spoken out against parts of the Obama Administration's economic agenda, including the Dodd-Frank financial reform law.
Rafferty Capital analyst Dick Bove said it's unclear as of now how the vote to split Dimon's job will turn out. But if shareholders vote to remove Dimon as chairman it would be seen as a rebuke to his leadership, and would prompt Dimon's exit, Bove told FOX Business.
"If he loses the vote, the vote of confidence would be with the government," Bove said. "In reality, this is no longer a corporate governance issue. It's all about what the government wants to do with this guy."
Another banking analyst who spoke on the condition of anonymity said if Dimon lost the chairman job it would be like "a pro athlete playing for a local sports team. He ends up feeling underappreciated and leaves."
A JP Morgan spokesman declined to comment.
Bove said that Dimon steered JP Morgan away from much of the risk-taking that led to the 2008 financial crisis. He added that while JP Morgan took government bailout money, it did so reluctantly and ultimately repaid the government at a profit.
Dimon and JP Morgan executives have argued that there is little evidence that separating the role of chairman and CEO is better for large, complex companies like JP Morgan, using the examples of such infamous corporate scandals as Enron and Worldcom. Both had split the CEO and chairman roles before their demise.
Analysts broadly agree that if Dimon leaves JP Morgan, shares of the bank could decline 10% or more.
Shares of JP Morgan rose 1.1% yesterday after FOX Business reported that JP Morgan officials are increasingly confident that shareholders will vote in favor of Dimon keeping both jobs. The stock is up another 2.3% Wednesday as the broader financial sector rallies.