Exclusive: Hedge Clippers Shut Down Major Investor Conference
Angry protesters shut down a major investor conference on Wednesday that boasted former president George W. Bush and a host of Wall Street heavyweights including hedge fund manager Dan Loeb as top guests the FOX Business Network has learned.
Taking credit for the melee is the activist group the 'Hedge Clippers,' which has targeted several hedge funds over the past year, protesting both the exorbitant pay such investors pull down, as well as some of causes championed by prominent hedge fund executives, such as charter schools.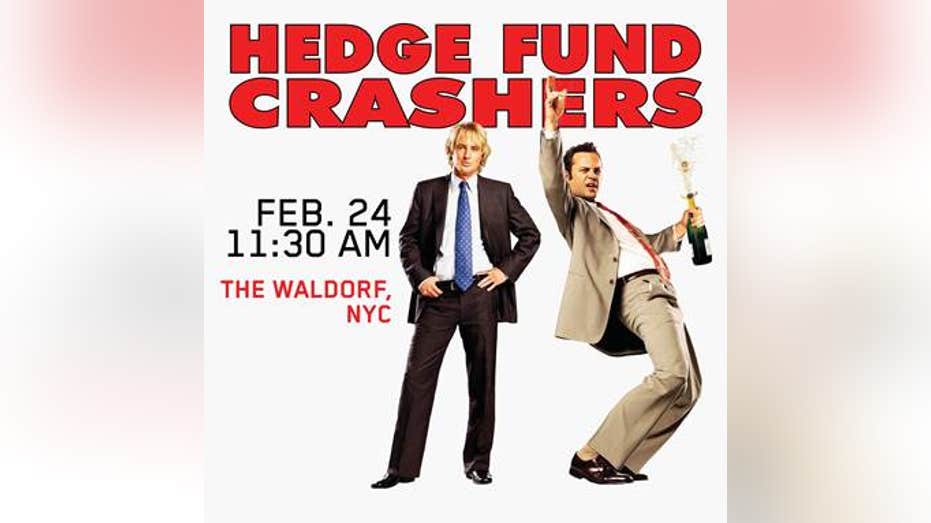 The FOX Business Network confirmed the incident with conference attendees and the protesters.
The conference was hosted by EnTrust Capital, which has $12 billion in assets, at the famed Waldorf-Astoria Hotel in New York City.
Hedge Clippers was launched in early 2015 as an offshoot of the Occupy Wall Street movement. It has targeted hedge funds and their roles in a number of issues including Puerto Rico's ongoing debt crisis, education reform and university endowments. The group is backed by the Strong Economy for All, a collection of labor unions and community groups, and has the support of Zephyr Teachout, a candidate for the U.S. House of Representatives and a former New York gubernatorial candidate.
The protesters barged through hotel security lines and began shouting "hedge funds, billionaires pay your fair share." According to a press release on Monday, the Hedge Clippers detailed Wednesday's protest calling for higher taxes on the wealthy elite, and closing the carried interest loophole.
Approximately 30 protesters swarmed past security and into the main ballroom as EnTrust's president Gregg Hymowitz was about to start a panel that featured several hedge fund executives, including Marc Lasry, the co-founder of Avenue Capital. Aside from his role as an investor, Lasry is a prolific fundraiser for Democratic political candidates as well as Hillary Clinton's 2016 presidential run.
The conference was disrupted for about 20 minutes as Hymowitz herded the panel off the stage to safer confines, according to attendees. Security escorted the protesters, some carrying signs that read "Hedge funds = Inequality", outside the ballroom and out of the hotel.
A spokeswoman for EnTrust had no immediate comment and Dan Loeb declined to comment through a spokeswoman.
In a statement provided to FOXBusiness.com, Michael Kink Executive Director of the Strong Economy for All Coalition and a leader of the Hedge Clippers said: "We crashed this ritzy investor party today at the Waldorf-Astoria hotel to make it clear to hedge fund managers and greedy speculators that they have to pay their fair share of taxes. These are the guys who collectively owe billions in unpaid taxes. The most vulnerable communities across our country will benefit greatly from the increased revenue that can be raised by taxing hedge fund billionaires. It's basic fairness and economic common sense."
Some hedge fund executives who attended the conference criticized the lack of security at the Waldorf. A spokesman for the Waldorf had no immediate comment on the apparent security lapse.
Former President Bush spoke during a reception on Tuesday night. Also appearing on the panels were activist fund manager Nelson Peltz, and hedge fund manager Dan Loeb, who has been attacked by the activist group in the past particularly over his staunch support of charter schools. The group protested outside of Loeb's Hampton's house in July while he held a fundraiser for New York Governor Cuomo, a supporter of charter schools. Loeb is chairman of the board of Success Academy Charter Schools.
The panel that the Hedge Clippers disrupted was scheduled to discuss the inefficiencies in the debt market, which has exploded in part due to massive government spending. Many Wall Street executives believe the market is at risk for a potential meltdown that could squeeze deficit spending and force cutbacks to social programs since most banks have caps on how much debt they can keep in inventory under banking regulations pushed by Democrats in Congress and signed by President Obama.
"The irony is the hedge fund guys were looking for solutions to keep governments from cutting back the social programs these jerks want," said one Wall Street executive who attended and spoke under the condition of  anonymity.