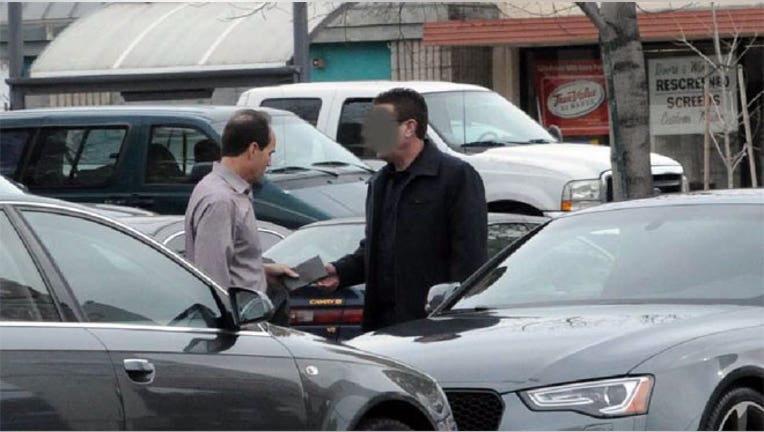 A federal indictment filed Thursday in Los Angeles accuses former KPMG LLP partner Scott London of passing inside information on clients such as Herbalife (NYSE: HLF), Skechers USA (NYSE: SKX) and Deckers Outdoor Corp. (NASDAQ: DECK).
According to a 24-page criminal complaint, London and a close friend, Bryan Shaw, who was acting as an informant for federal investigators, often met in public on street corners in Southern California, exchanging large bundles of cash for valuable inside information.
London and Shaw were also hit with civil charges Thursday by the Securities and Exchange Commission stemming from the same allegations.
London, 50, was fired Friday by KPMG and the Big Four accounting firm has resigned as auditor of some of the companies for which he worked.
London, of Agoura Hills, Calif., has been charged in the complaint with one count of conspiracy to commit securities fraud through insider trading, according to a statement released by the Department of Justice. He faces a maximum penalty of 5 years in jail, and a fine of $250,000 or twice the gross gain or loss from his crimes.
The evidence collected against London includes a picture of London allegedly accepting $5,000 in cash in a parking lot. He is also accused of accepting high-priced jewelry and concert tickets from Shaw.
Scam Generated $1 Million in Illegal Proceeds
Nutrition company Herbalife and footwear maker Skechers revealed on Tuesday that KPMG had resigned as the companies' auditor due to an insider-trading scandal.
London, described in the criminal complaint as a "former senior partner" who oversaw KPMG's audit practice for the Pacific Southwest, was charged in the criminal complaint by the U.S. Attorney's Office for the Central District of California.
"The public has every right to fully expect a level playing field in our financial markets," said U.S. Attorney André Birotte Jr. in a statement. "As alleged in the complaint, Mr. London chose to betray the trust placed in him as a financial auditor and to tip the trading scales for the benefit of insiders like himself."
The complaint alleges that London provided confidential information about KPMG clients to Shaw over a period of several years. Shaw then allegedly used the information to make "highly profitable securities trades" that generated more than $1 million dollars in illegal proceeds, according to the DOJ's release.
According to the complaint, London supervised more than 500 accountants at KPMG and personally handled audits for major clients, including Herbalife and Skechers USA. That position gave London access to confidential information about KPMG's clients before that information was disclosed to the public, the complaint alleges.
"Mr. London's alleged activity paints a disturbing picture in which confidential information was compromised for personal greed at the expense of the investing public," said Bill L. Lewis, Assistant Director in Charge of the FBI in Los Angeles.
The complaint alleges that from late 2010 and continuing until March 2013, London secretly passed highly sensitive and confidential information to Shaw regarding upcoming earnings announcements by certain KPMG clients, including Herbalife, Skechers, and Deckers Outdoor Corp., before that financial information was disclosed to the public, according to the DOJ statement.
A $12,000 Rolex and Bundles of Cash
On some occasions, the complaint alleges, London called Shaw two to three days before press releases were issued for KPMG clients and read confidential information from the draft releases to Shaw. In addition, London allegedly revealed to Shaw confidential information about impending mergers concerning KPMG clients before that information was made public.
London, according to the court papers, helped Shaw structure stock purchases in certain companies in order to protect the two from being discovered.
In exchange, Shaw gave London "tens of thousands of dollars in cash, typically arranging with London to meet him on a side street near Shaw's business in order to give him bags containing $100 bills wrapped in $10,000 bundles," according to the DOJ.
Shaw also allegedly gave London a Rolex Daytona Cosmograph watch worth about $12,000, as well as jewelry and concert tickets. Shaw is believed to have profited by more than $1 million from illegal trades based on the inside information given to him by London.
"London was honored with the highest trust of public companies, and he crassly betrayed that trust for bags of cash and a Rolex," said the SEC's George S. Canellos, acting director of the Division of Enforcement, in a statement.
Shaw, as part of the investigation, agreed to cooperate with federal authorities and recorded conversations with London. In those conversations, London allegedly told Shaw specific details about upcoming earnings announcements for Herbalife and another KPMG client, Deckers Outdoor Corp.
In one call London allegedly referenced rumors that had been spread about Herbalife going private, and told Shaw that if that took place, "[t]hat is going to be where you make a ton of money."
The full indictment follows: