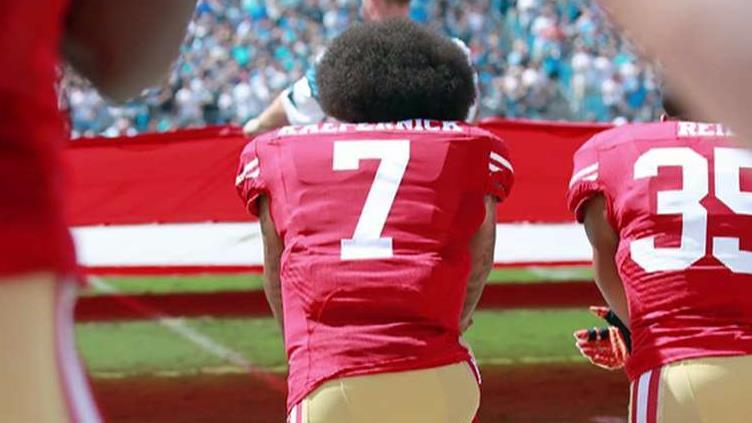 Britt McHenry, one-time ESPN reporter who famously suggested that she was fired from the network for being a conservative, is now blasting GQ magazine for naming free agent NFL quarterback and national anthem protest ringleader Colin Kaepernick as its "Citizen of the Year."
Kaepernick became the first NFL player to kneel for the national anthem during the 2016 season when he played for San Francisco, but currently remains a free agent unable to ink a deal in the league. GQ writes in its story titled, "Colin Kaepernick Will Not Be Silenced" that the anthem protest "transformed Colin Kaepernick into a lightning rod and a powerful symbol of activism and resistance." Kaepernick is never quoted in the story.
Kaepernick's protest sparked widespread kneeling among players across the league and has been a controversial issue throughout the 2017 season.
"Kaepernick is unemployed, he's suing the NFL for collusion. I think there should have been many more examples, JJ Watt is one," McHenry said during an interview with FBN's Liz MacDonald.
In response to the cover, McHenry tweeted: "JJ Watt raised $37 million for Hurricane Harvey victims. 37 MILLION! But Kaepernick refused to stand for our national anthem (a year ago) and is Citizen of the Year. Right…"
"In the rest of that video, they compared Colin Kaepernick to Muhammad Ali and Jackie Robinson. Liz, I'll tell you right now Jackie Robinson did not receive a guaranteed $39 million - there is a little more adversity, in my opinion, those athletes had to face and stood for," McHenry said. "And that's the thing, Colin Kaepernick didn't even do an interview for GQ, he's not speaking out. He took a knee again a year ago and that's what I tweeted and I stand by it."
McHenry says that she does not believe Kaepernick deserves to be name "Citizen of the Year" and that she no longer respects his protest. She also claims that Kaepernick's position changed when he needed to get back into the NFL.
Kaepernick opted out of his contract with the 49ers in March and has not been able to reach a deal with another NFL team.