Even 'Father Time' Can't Slow Down the Amazing Stan Lee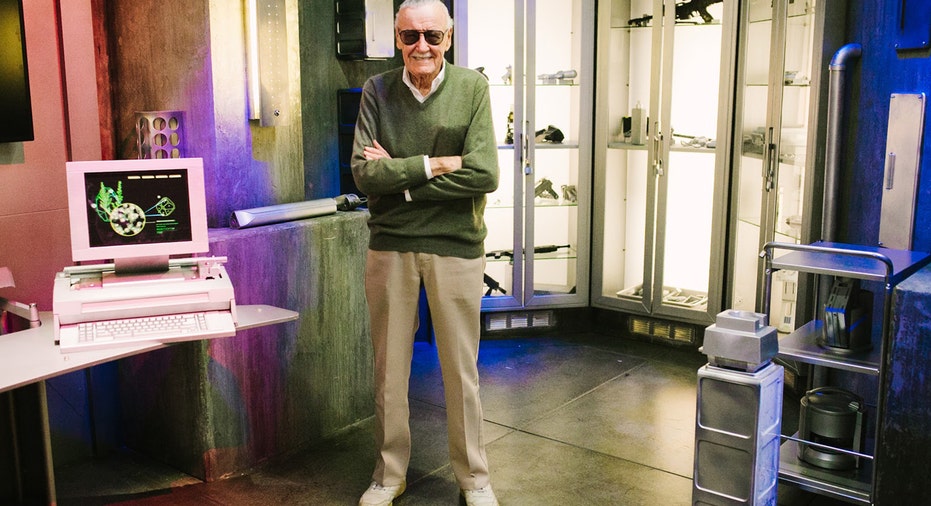 Stan Lee is the godfather of super heroes and at 92 years-old, he could easily retire, but even an archenemy like Father Time can't slow down the prolific creative genius behind The Avengers, Spider-Man, and the X-Men.
Lee is still conjuring up new characters through his company, Pow! Entertainment, and in classic comic book fashion, the company teamed up with Google's (NASDAQ:GOOGL) YouTube Spaces to create YouTube's World of Superheroes. The program was designed to discover new, creative forces in the genre.
They invited video creators to utilize specially-made "super" sets at Spaces in Los Angeles, New York, London, Tokyo, and Sao Paulo over the summer and made a green screen for stunts and flying in some locations.
In an interview with FOXBusiness.com, Lee said the next generation of heroes and villains will be "created next door or in somebody's backyard. Anybody can create it and thanks to the technology and YouTube, anybody can get it so the world can see it."
The comic book creator plans to share his story-telling super powers with several of the YouTube channels as part of the project and a number of creators will be invited to speak on panels and present their content at Lee's Comikaze Expo next month in LA.
Like Alfred Hitchcock, Lee has become famous for cameos in silver screen versions of his super hero tales and the nonagenarian also appeared in some of the YouTube videos; Lee even delivered the punchline in SourceFedNerd's "If Superheroes Were Real".
The group's Matt Lieberman describes this tongue-in-cheek production as a Hollywood "crisis"—all visual effects people were killed so real super heroes were "made" to create stories around them.
In between takes, the ensemble cast and creators said they were all excited, especially when Lee improvised his role, making up a line instead of just having a walk-on part.
Lieberman said they hope to work with Lee again on future scripts, but the group seems happy working on this medium and aren't necessarily looking to jump to the silver screen. "I'm not sure we could support a film, but we jumped at the chance to work on a YouTube Space set and working with Stan [Lee] is amazing. Anything else is just gravy," he said.
The Woodland Hills, California-based company produces up to seven pieces of content per day and has more than 800,000 followers on its YouTube channel. SourceFedNerd's Steve Garagoza says the super hero parody is "a fun way to reach out to fans. As a nerd, this counterculture is important."
YouTube Creators use the LA Space's Super Set to launch new super heroes - Source: Google
After seeing such enthusiasm, Lee was impressed with the concepts: "There are always new ideas. The people who say there are no new ideas are crazy."
But he added that serialized YouTube videos won't kill the comic-book star: "I don't think they'll replace [comics]. I think they're a good adjunct.
"The good thing about it, people who aren't in the business really can show their things. They don't have to go to a producer like in the real world. You can create your own feature and put it on YouTube. That's something that's never been done before. A tip of the hat to YouTube for that."
Although he famously found success later in life, Lee started writing for comics as a teenager and credits financial pressure with getting the creative juices flowing. "It was my job, if I didn't come up with stories they would've fired me…when I got the job at the comic book company, I tried to come up with new ideas all the time."
And he's still doing it, with an eye on global domination: "At Pow! [Entertainment], we're working on new characters right now. We have an Indian super hero, we have a Chinese super hero, two American super heroes, we're working on a Latino super hero."
When asked what keeps him going, Lee chuckles and retorts: "Greed," pauses, then adds, "I don't know, I just enjoy doing it."
For budding cartoonists and writers, the man who's been doing it for nearly eight decades simply says: "The first thing they have to do when it comes to storytelling is learn the art of writing a story…Become a good writer first, and then when you're a writer, if you want to specialize in super heroes, that's fine, but it's just one genre. It seems to be the most popular genre right now, but it's just one."
And when it comes to fleshing out that super hero story, Lee is clear about the key ingredients for success. "I personally am most interested in the characters themselves," he says, "A character that you want to read more about, that you care about. Are the villains imaginative? And the situation? There are so many stories about a good guy fighting a bad guy. How do you do it in a way that you don't feel you've seen it before--the originality factor is really the big thing."