European shares drop on Trump win, trim losses on acceptance speech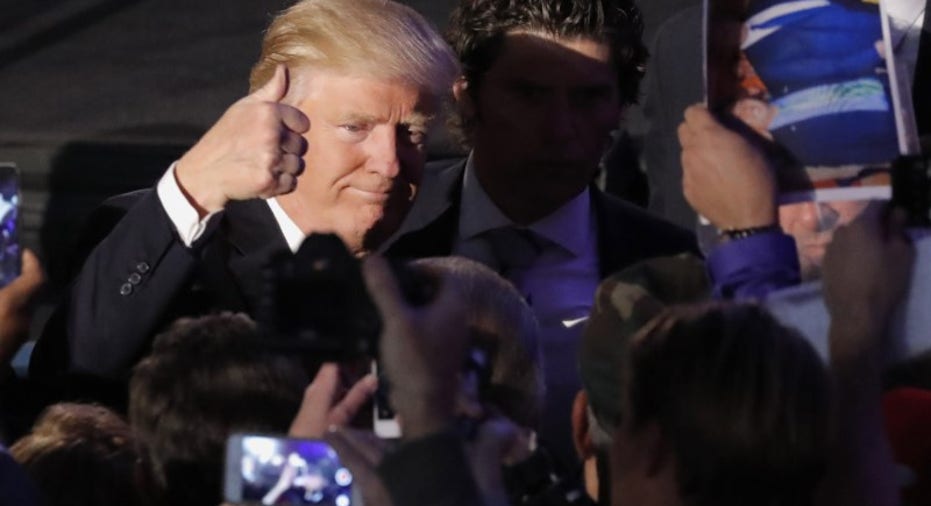 European shares fell on Wednesday after Republican nominee and political outsider Donald Trump won the U.S. presidential election, bringing uncertainty that roiled global markets.
However, the market rallied off its lows, with traders saying Trump's acceptance speech was balanced and conciliatory, raising hopes that some of the more fiery rhetoric of his campaign might be behind him.
The STOXX Europe 600 fell 0.6 percent, having been down 2 percent in early trade. Growth-sensitive sectors such as autos, financials and oil were among the biggest fallers.
Markets had priced a win for Democrat Hillary Clinton, who was seen as a status quo option. There is substantial uncertainty about Trump's policy positions, as well as market scepticism over his views on topics such as trade.
"Republican Donald Trump has claimed an upset victory in the race for the White House, upending the political establishment," said Mark Haefele, Global Chief Investment Officer at UBS Wealth Management.
"Trump's win heralds a period of greater uncertainty in U.S. policy, and market reaction has been a reflexive flight to safety."
Top faller was Spanish bank BBVA , down 7.6 percent. It had been tipped by analysts to suffer if Trump won, as it has the biggest Mexican revenue exposure of all European banks. The Mexican peso slumped 13 percent on Wednesday.
Italian stocks underperformed, with the FTSE MIB down 2.3 percent. Traders said the shock election of Trump, following on from Britain's vote to leave the European Union in June, had increased jitters over a constitutional referendum in Italy next year.
Prime Minister Matteo Renzi and his reformist agenda are expected to be undermined if the "no" campaign prevails.
European renewable stocks fell sharply, hit by fears over Trump's aim to promote oil and gas drilling and revive the U.S. coal mining industry.
Shares in Vestas , the world's biggest wind turbine maker, and German peer Nordex fell 7 percent.
Initial indicators had suggested market falls of up to four percent at the open. Shortly before European markets opened, Trump gave a victory speech in which he said he would seek common ground and not hostility, seeking to work with other nations and to bring the country together.
"The statements of long-standing Republican exponents and the President elect will soothe some of the immediate pain," analysts at Julius Baer said in a note.
Safe havens, which outperform in times of uncertainty, rose. Swiss stocks were up 0.7 percent.
Healthcare stocks were the standout sector performers, up 2.7 percent in early trade as potential risks to pricing practices in the United States were seen as significantly reduced with a Trump win.
Gold miners were poised for a strong day as the precious metal enjoyed its best day since Britain's vote to leave the EU. Fresnillo rose 8.5 percent and was the best performing stock across the Stoxx 600.
As well as being a gold miner, the stock has many of its costs in Mexican pesos, so benefits when it falls.
(Editing by Mark Potter)