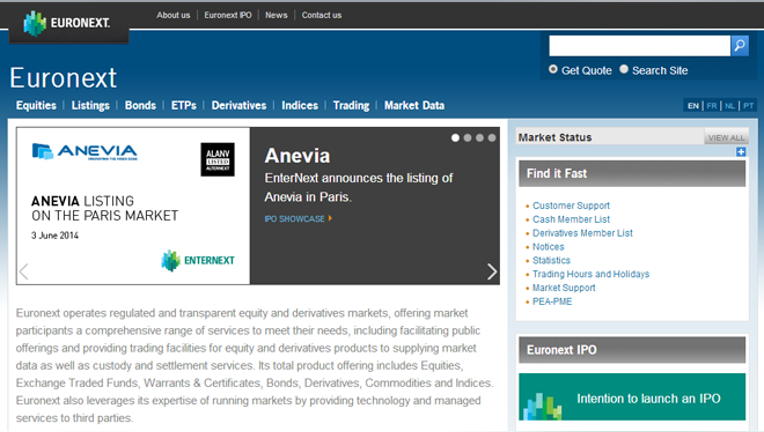 European financial markets operator Euronext unveiled plans to raise up to 1.16 billion euros in an initial public offering valuing the firm at 1.75 billion euros ($2.38 billion) and forecast a return to revenue growth over the next three years.
The exchange group said it aimed to deliver 5 percent annual revenue growth in the years up to 2016, reversing declines in both 2012 and 2013.
Euronext's parent Intercontinental Exchange Inc is to offer up to 60 percent of the capital of the group in the IPO, or 42.1 million shares, with an over-allotment option for up to 10 percent. Shares are expected to be priced at between 19 and 25 euros per share.
A group of European institutional investors will take a 33.4 percent stake in the market operator at a 4 percent discount to the IPO price, designed to allay local regulators' concerns that the pan-European bourse could be snapped up by another foreign firm.
The group of investors, which have agreed to hold their shares for a minimum of three years, includes French banks BNP Paribas and Societe Generale, Dutch firm ABN Amro, Belgian government investment vehicle SFPI, European clearing house Euroclear, and a unit of Portugal's Banco BPI .
In addition, French utility GDF Suez and Belgian lender KBC Bank NV have agreed to take a stake of about 1 percent each in Euronext, which operates equity, fixed-income and derivatives markets in Paris, Amsterdam, Brussels and Lisbon, and has recently received approval to operate as a full exchange by Britain's financial regulator.
"We're delighted to have these 'reference shareholders', it's a great sign of confidence, it's great for the prospects of Euronext," Chief Executive Dominique Cerutti told reporters in a press conference.
Euronext, which mostly competes with the London Stock Exchange Group, Deutsche Boerse and BATS Chi-X Europe, a unit of U.S. exchange operator BATS Global Markets, said it aims to diversify its products, expanding its range of derivatives and exchange-traded funds, and regain market share in Europe's recovering IPO market.
Cerutti said Euronext plans to boost revenue by 5 percent annually for the next three years, while ongoing cost cutting measures should help the group lift earnings before interest, taxes, depreciation, and amortization (EBITDA) margins in the next three years to 45 percent from 42 percent currently.
The Euronext prospectus said 2011 revenue was 557 million euros and fell to 495 million in 2012 and to 482 million in 2013.
Using a projection from Euronext's first-quarter net income of $36 million, a share price of 19 to 25 euros would value the firm at a price-to-earnings (P/E) ratio of 12.5 to 16.4, according to Reuters calculations. This compares with P/E ratios of 17.9 for LSE shares, and 14.8 for Deutsche Boerse, according to Thomson Reuters data.
The final IPO price and exact number of shares offered will be announced on June 19, and the shares will start trading the following day on the regulated markets of Euronext in Paris, Amsterdam and Brussels under the symbol 'ENX'.
IntercontinentalExchange acquired NYSE Euronext in a $11 billion deal last year. The U.S. exchanges group committed to spinning off Euronext at the time.
ABN AMRO Bank, J.P. Morgan and Societe Generale are acting as joint global coordinators for the IPO.