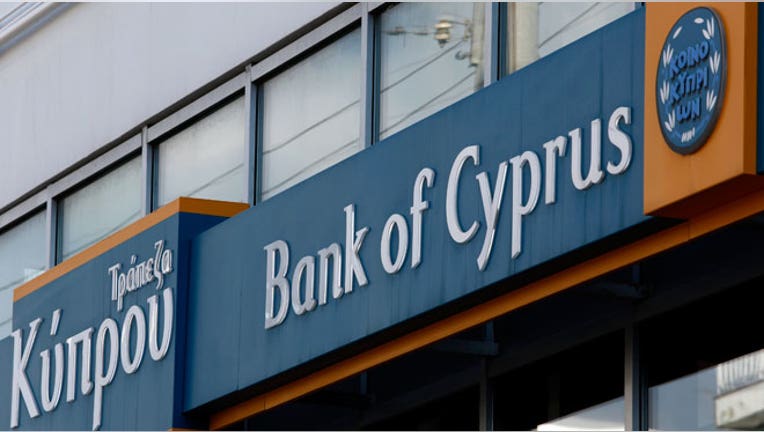 Shares of European lenders like Deutsche Bank (NYSE:DB) and Credit Suisse (NYSE:CS) sold off Monday morning as investors fret about the consequences of a bailout of Cyprus that would impose an unexpected and controversial tax on depositors.
The proposed deposit levy, which would seek to raise $7.58 billion, rattled the global markets over the weekend, raising questions about the impact on the banking systems of other struggling eurozone countries. If approved by lawmakers, it would mark the first such tax on depositors during the current European crisis.
"The risks of contagion are now more contained than in 2010-12," Barclays (NYSE:BCS) analysts wrote in a note to clients. "We consider the likelihood of a bank run in other periphery countries to be limited, including in Greece."
Still, shares of European banks suffered a knee-jerk negative reaction to the developments in Cyprus.
U.S.-listed shares of Barclays, UBS (NYSE:UBS), Deutsche Bank and Credit Suisse all retreated more than 2% Monday morning.
Other European lenders felt even more pain: French banking giant Societe Generale (NYSE:SCGLY) lost 4.4%, Spanish bank BNP Paribas (NYSE:BNPQY) fell 4.1%, Credit Agricole (NYSE:CRARY) slumped 5% and the National Bank of Greece (NYSE:NBG) dropped nearly 6% to a new 52-week low below $1.00.
Cyprus delayed a debate on the deposit levy until Tuesday as a new proposal was floated.
According to The Wall Street Journal, the new proposal would tax smaller depositors (up to 100,000 euros) at 3% instead of 6.75%. Those with 100,000 euros to 500,000 euros would be taxed at a 10% rate, while those with 500,000 euros or more would be hit at 15%, the paper said.
European leaders said similar taxes on depositors of other countries are not likely.
Cyprus is a different case from its eurozone peers due to its status as a tax haven and the enormous size of its banking system relative to gross domestic product. Barclays estimated Cyprus's bank recapitalization needs at about 60% of GDP, compared with 40% for Ireland, 27% for Greece and just 6.5% for Spain.