ESPN's Jon Gruden offered $100M to coach NFL's Raiders: Report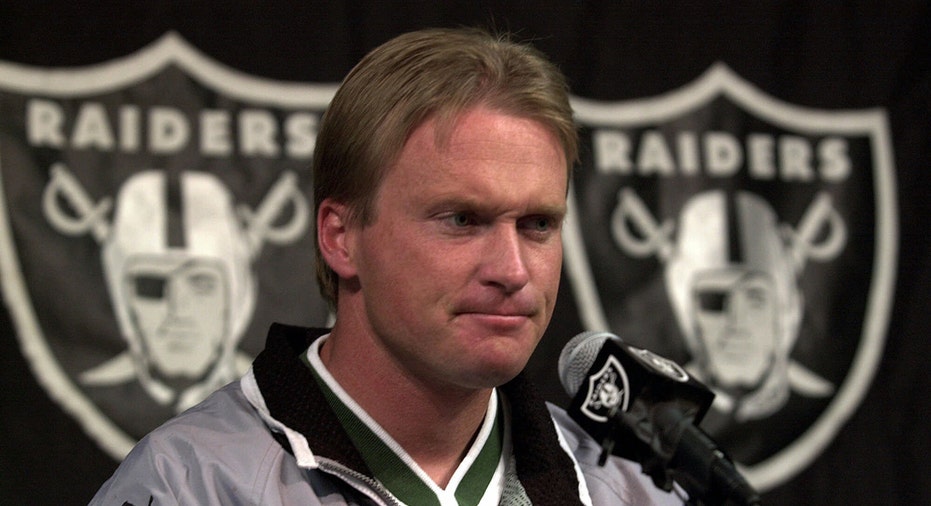 The NFL's Oakland Raiders are reportedly set to sign Jon Gruden, the Super Bowl-winning coach-turned-ESPN analyst, a record-setting sum to become their next head coach.
Gruden will sign a record 10-year contract worth roughly $100 million, ESPN's Adam Schefter reported on Friday. The Raiders will purportedly announce the deal at a press conference on Tuesday.
At present, it is unclear if Gruden's contract is fully guaranteed. If so, the 54-year-old coach's deal would have more guaranteed cash than any active NFL player. Detroit Lions quarterback Matthew Stafford holds the current record, with $92 million in guaranteed earnings, according to ESPN. Gruden will also out-earn all but three active Raiders players in terms of average annual contract value.
Gruden previously served as the Raiders' head coach from 1998 to 2001. Oakland traded Gruden to the Tampa Bay Buccaneers in 2002, and he defeated his former team in the Super Bowl that season. Gruden remained with the Bucs until 2008, when he left coaching and began a career in television.
Gruden has spent the last several years as an ESPN analyst and color commentator on the network's "Monday Night Football" broadcasts. He is purported to be one of ESPN's highest-paid personalities.