ESPN College Football Championship Ratings Sink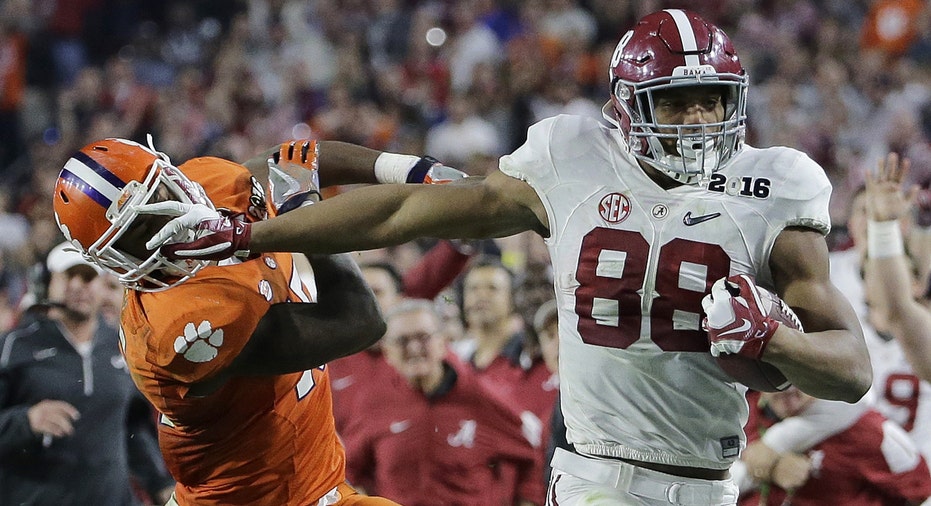 ESPN's (NYSE:DIS) broadcast of the 2016 College Football Playoff National Championship drew a 15.8 overnight rating, the network said Tuesday. Ratings were down 15% compared to last year despite a competitive game that saw the Alabama Crimson Tide narrowly defeat the Clemson Tigers, 45-40.
According to Nielsen's live-plus-same-day metric, this year's national championship drew a 14.7 final rating. Roughly 25.6 million viewers tuned in to watch Alabama vs. Clemson, down from more than 33 million viewers a year ago. The online stream of Alabama vs. Clemson drew more unique visitors than any other game in ESPN history, with the exception of the 2014 FIFA World Cup.
Even with the ratings decline, the broadcast generated the third-highest overnight rating of any game in ESPN's history and drew the sixth-largest audience in cable history, ESPN said. The network's "megacast" of the national championship – the combined coverage for the event on ESPN, ESPN2 and ESPNU, drew a 16.0 overnight rating.
"ESPN and sponsors are probably cool with the expected slight decline in ratings for the CFP Championship game between Alabama and Clemson," said John Vrooman, a sports economist at Vanderbilt University. "Declines for the championship game were expected because of the loss of novelty from the inaugural CFP and the deep south regional nature of the teams involved."
ESPN charged an estimated $1.2 million to $1.3 million for 30-second commercials during Monday night's broadcast, according to Navigate Research. Corporate sponsorships for the College Football Playoff cost anywhere from $14 million to $16 million each, the Sports Business Journal reported.
In January 2015, the first-ever College Football Playoff championship between the Ohio State Buckeyes and the Oregon Ducks drew an 18.2 rating. It was the highest-rated cable broadcast in history.
The ratings decline for this year's College Football Playoff semifinals, which saw a 36% drop in viewership compared to last year. Critics attributed the drop to the decision to hold the games on New Year's Eve rather than New Year's Day.
The lack of interest in this year's semifinal games likely had a negative impact on the championship game's ratings.
"My guess is sponsors are not thrilled with the rating, but also not surprised," said Andy Billings, director of the University of Alabama's sports communication program. "The game itself was everything a college football fan could ask for, but the headwinds of having two schools from the same region of the country, combined with lower built-in interest from the semifinals having much lower numbers likely led to this lower rating."
ESPN declined FOXBusiness.com's request for comment on this story.