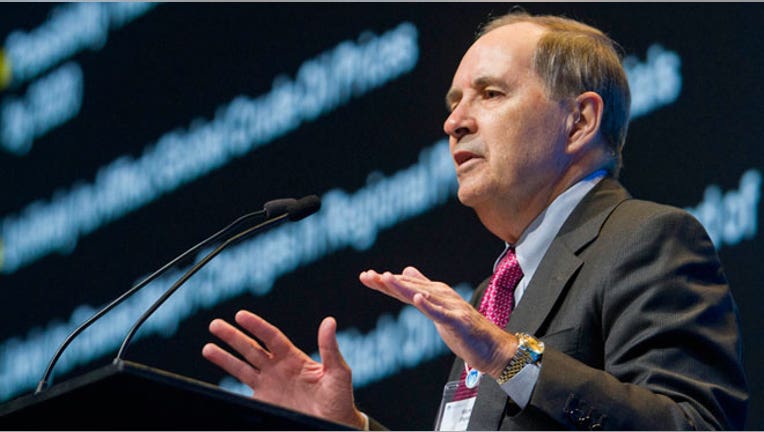 EOG Resources (NYSE:EOG) shares rallied 3.8% Wednesday morning after the oil and natural gas producer reported a big earnings beat on improved shale performance.
The company said Tuesday its second-quarter profit leapt 67%, as crude oil and condensate revenue, EOG's largest top-line contributor, climbed 46%.
Like other shale players EOG, which produces about 95% of its oil domestically, has faced weakness in natural gas prices and is now focusing more on oil. Recent quarters beat profit expectations thanks in part to higher oil prices, but in the latest period, revenue from oil and natural gas both showed improvement.
And shale plays helped drive second-quarter oil production to a total of 214.4 million barrels per day of oil equivalent, well above a forecasted range of 192.3 million to 208.8 million.
In the wake of its strong quarter, EOG raised its outlook for crude oil production to growth of 35%, up from 28%. Its overall production growth target got a boost to 7.5% from 4%.
"EOG has captured premier positions in key U.S. onshore oil plays—the South Texas Eagle Ford, North Dakota Bakken and Delaware Basin, and we continue to enhance their profitability," Executive Chairman Mark G. Papa said in a statement.
EOG saw its overall profit jump to $659.7 million, or $2.42 a share, up from $395.8 million, or $1.47 a share, in the year-ago period. Excluding one-time items, adjusted per-share earnings rose to $2.10 from $1.16, beating Wall Street estimates of $1.74.
Net operating revenue was up 32% to $3.84 billion, handily topping calls for $3.54 billion.
Revenue from natural gas rose 29%, while natural gas liquids recorded 19% growth. Total expenses were up 23.96% at $2.75 billion.
Shares climbed $5.88 to $159.10 in early morning trading.