Entrepreneurs: Born or Made? Princeton Dropout vs. Wharton MBA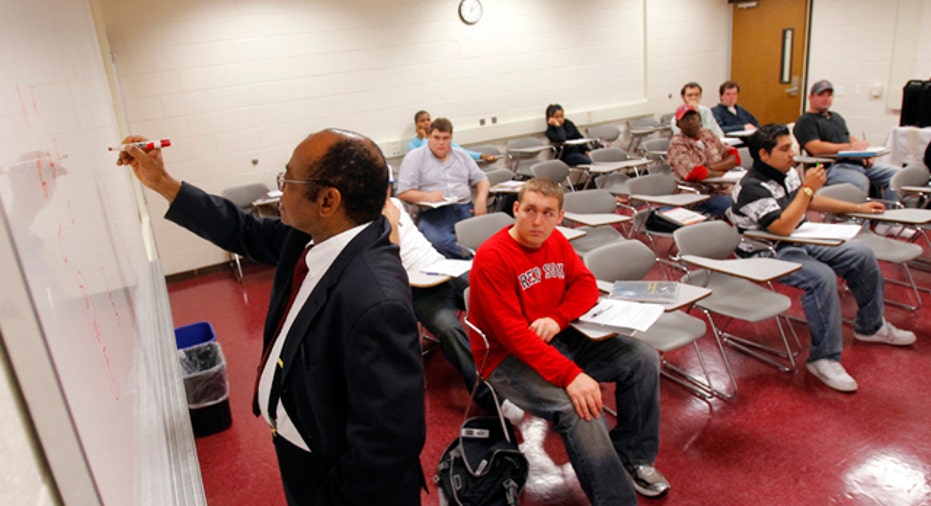 According to U.S. News and World Report's 2013 ranking of the United States' best colleges and universities, Massachusetts-based Babson College (Olin) ranks No. 1 for its graduate MBA in entrepreneurship. Following Babson, Stanford University ranked second and Harvard University third for this year's title of best entrepreneur-based MBA program – which U.S. News says can help students channel creativity, participate in business plan competitions and launch a business. MIT (Sloan) and University of Pennsylvania (Wharton) placed fourth and fifth, respectively. The annual survey results were released on Sept. 13.
The debate continues, however, over whether an entrepreneurial MBA degree is worth the time and money for aspiring entrepreneurs. Can the necessary skills for successful entrepreneurship be taught? Or, are entrepreneurs better off skipping the upwards of $85,000-per-year price tag for an MBA, and using that money to help fund their own start-ups?
FOX Small Business spoke with two successful entrepreneurs, one with an MBA from Wharton, the other a proud Princeton dropout, about their respective entrepreneurial paths and thoughts on the benefits and/or setbacks on taking time out for an MBA.
MBA-Entrepreneur Makes Case for Pursuing an MBA
Prasad Thammineni, who holds an MBA from University of Pennsylvania's Wharton, is CEO and Co-Founder of Cambridge, Mass.-based OfficeDrop, a document management company that provides complete cloud solutions for small businesses. Prasad co-founded OfficeDrop in 2007 after graduating from Wharton and credits much of his recent success to the skills and network he acquired in grad school. OfficeDrop has grown from 7,000 active users in 2010 to over 100,000 active users in 2012.
FOXBUSINESS.COM: Knowing that you wanted to be an entrepreneur, what made you decide to pursue an MBA?
Thammineni: Prior to my MBA from Wharton, and starting my latest venture OfficeDrop, I started four other companies. The last one was a technology consulting services firm called jPeople that I grew to about $3 million over seven years. However, during a growth period at jPeople, I realized that I'd hit a wall with my business knowledge. I had the computer science and mathematics background, plus the knowledge and drive to successfully launch a business, but I started to become risk averse when I became responsible for more employees. I needed to learn more about the fundamentals of running and growing a business effectively. When you want to grow your company larger, you need a whole new set of tools, including forecasting, marketing, managing risk and limiting company exposure, plus hiring and managing the right type of people at the right time in your company's growth. I felt the best way to acquire this knowledge would be through an MBA program where I could build a new network at the same time. FOXBUSINESS.COM: What skills did you learn at Wharton that you applied to running OfficeDrop?
Thammineni: I started OfficeDrop in 2007, and we launched a brand new product in 2008 right when the market crashed. The skills I learned at Wharton helped me to not panic and look at the situation from a risk management perspective. During the economic downturn, we took the time to really survey the market and decided to refocus our company to serve small businesses instead of focusing on consumers. We also managed our cash very carefully during that time, which helped the business survive. Business school really lays out all of these scenarios for you and gives you the knowledge to handle them. We got a vote of confidence from investors in 2009 with $2 million in funding. They believed in our team and our ability to survive the market. The analytical, risk management, strategic planning, and marketing tools I acquired at Wharton all helped me during this crucial time at our company.
FOXBUSINESS.COM: Do you feel you were better prepared to lead from receiving your MBA?
Thammineni: Yes, I was definitely better prepared as a leader. It's easy to be a leader when things are going well. However, when your business is faced with adversity, you need to know how to rally and encourage your employees. This is especially true with a start-up where you have a lot more down days than up ones and things aren't always crystal clear. In business school I learned that I was a collaborative leader, which doesn't always work in a start-up environment. Sometimes you need to make fast decisions. Business school gave me the chance to reflect on different types of leadership styles and receive feedback from my peers on what I needed to change to become a more effective leader. Plus, the knowledge I garnered from my MBA program allowed me to make informed decisions as opposed to relying solely on my gut.
FOXBUSINESS.COM: In your opinion, are entrepreneurs born or made?
Thammineni: I think it's a little of both. Entrepreneurs definitely have some common innate characteristics like dedication, willingness to go it alone and take risk, and that drive of wanting something different than the norm. However, it's your experiences along the way that ultimately determine your success.
Princeton Dropout Makes Case for Skipping the MBA
Seth Priebatsch is a 22-year-old Princeton dropout, who founded and heads up Boston-based mobile gaming startup SCVNGR, which is parent company to mobile payments application LevelUp. Piebatch's SCVNGR – which he plans to make "a game layer on top of the world" – is currently valued at approximately $172 million. Priebatsch, who coins his leadership role at SCVNGR as "the Chief Ninja," doesn't plan on getting an MBA, or for that matter, even finishing his undergraduate degree.
FOXBUSINESS.COM: What made you decide to leave Princeton and forge ahead with SCVNGR?
Priebatsch: I came up with the idea for SCVNGR during my freshman year at Princeton. With the help of my favorite computer science teacher, I entered SCVNGR into Princeton's annual business plan competition. I won, and took my $5,000 prize down to the nearest Bank of America and tried depositing it into one of the ATMs. It didn't work of course, but I did leave Princeton that year and set up SCVNGR's headquarters at my parents' house. Google Ventures soon came on board with a $4 million investment, and headquarters moved to Boston. I knew Princeton would be around for a long time and that I needed to take advantage of the opportunity in front of me.
FOXBUSINESS.COM: Do you think there are drawbacks on getting an MBA if your goal is to be an entrepreneur?
Priebatsch: For certain established sectors, such as healthcare, engineering, or manufacturing, an MBA can be very valuable. However, if the sector you're involved with doesn't have much history to it, like the mobile payments world, an MBA might not be as worthwhile. Of course there are certain valuable lessons you can learn through school. However, there are some business situations, especially that you encounter running a start-up, that I just don't think can be simulated through a case study in a text book. Sometimes you just need to be thrown into the fire. We have several MBA grads that work at SCVNGR, and I'd say that school maybe brought them from being 5% prepared to 10% prepared, but now they're learning through real-world experience, like myself. No level of practice can really prepare you for this type of environment. If I have a question, I have mentors that I go to for advice. Overall, there's no right way or wrong way to do it. Sometimes you just need to be put outside your comfort zone.
FOXBUSINESS.COM: What skills do you possess that make you a successful entrepreneur?
Priebatsch: The psyche that I think most entrepreneurs share is that 1) the world is not fixed, but rather full of possibilities 2) certain things are broken and should be improved upon, and 3) I can be the one who makes the problem better. As for what makes me a successful entrepreneur, I'm the most aggressively optimistic person you'll ever meet. A 72-hour stretch of no sleep all seems worth it if you're on an upward trajectory. If things are bad today, I believe they'll always be better tomorrow.  I also believe in never asking someone at my company to do something I can't do by myself. That doesn't mean I'll continue to do it myself, but I'll have the general concept of absolutely everything people do at my company. CEO is not a managerial role … it should mean you're the hardest worker and help to make each person that works for you more effective.
FOXBUSINESS.COM: Do you plan on going back to school in the future?
Priebatsch: I think it's pretty unlikely that I'll return to school. The speed of life in the start-up world is so intense and exciting that I think I'd be bored at school and not feel as if I'm doing enough. The amount you learn in a given day running a start-up is unbelievable, and I would miss that if I was sitting in a classroom.
FOXBUSINESS.COM: In your opinion, are entrepreneurs born or made?
Priebatsch: That's a tough question. I think you can equate it to poker or blackjack … there is some level of skill required, but the way your cards are dealt also plays a role. Certain people are born with abilities that make them excel in something, whether that's a sport, a career, or any type of talent. But, environment also plays a large role. Overall, great entrepreneurs are made by a choice of their own to be very good at what they do.
Complete rankings of the Top Ten Best Undergrad Entrepreneurship Colleges and Entrepreneur-focused MBA programs can be found here.