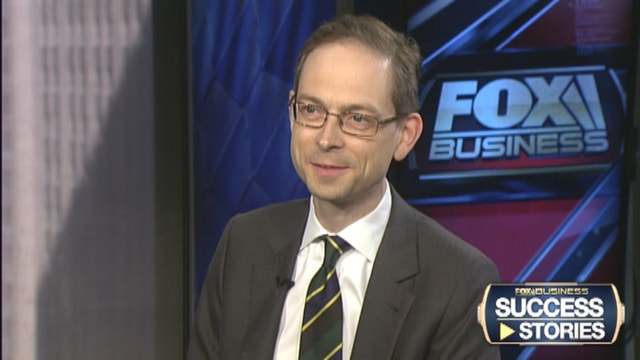 At 26-years old, Matt Calkins called his stock broker and told him to sell all of his shares in MicroStrategy (NASDAQ:MSTR), a firm he loved, and the only "real" job he'd ever had.
As the minutes on the phone with the broker ticked up, so did the price of MicroStrategy's stock, which went from $89 at the start of the call, to somewhere around the $100-per-share mark.
"There's a certain amount of hubris necessary for thinking that at 26 you can change the world by making software everyone is going to want."
"The stock price was leaping forward as we talked. And every time it went higher, he'd say 'Are you sure you want to sell,'" Calkins recalls.
He was firm in his decision, and sold millions of dollars' worth of stock in the company in 1999, walking away from millions more that hadn't yet vested.
"MicroStrategy was an Internet darling: Fast growing, profitable, run by sharp people, just about to be 'discovered,'" he said.
Despite the temptation of growing with part of what would become a $1.5 billion company, Calkins took his cash and walked in the other direction.
A Dream, and a Kind-of-Sort-of Plan
Calkins earned a degree in economics, an area of study he really enjoyed, from Dartmouth after dropping his first major in computer science.
"I took a course in computer science, was doing great, but I dropped out of the major after two courses because I thought I didn't want to do it as my career. Ironically, I wish I'd stayed with it…it shows you how little idea I had (about what I wanted to do after school)," he said.
After graduation, with "embarrassingly few plans," Calkins took a job at MicroStrategy where he worked for most of the 90s. At the height of the dot com boom, when the company's value was skyrocketing, he made what many would consider to be the toughest decision of his career. But he said it just made sense.
"No one leaves at a time like that," he said. "I was the youngest director at the firm; I had good responsibilities. So it was a very personal decision to go. I wanted to actualize myself: Do something I can't do working for someone else. I wanted to shape a culture."
So, despite the throngs of people telling him he was crazy to leave it all behind, Calkins made the decision to start his own company and leave MicroStrategy.
The only problem was, he didn't know exactly what company to start.
His loyalty to the company he'd worked to shape for so many years prevented him from conceptualizing a business model before he actually gave his two-weeks notice. So when he walked out the door for the last time, all he really had was a faint idea of the direction he hoped his life would one day go. He says overconfidence was half of the reason for his decision.
"When I left, I had nothing on paper, didn't even know what field I'd be in. The thing essential to me had to do with people and values, and I figured that was my business plan. And that's what I did," he said.
An Evolving Strategy
Calkins now runs a company called Appian. He describes it as the secret ingredient that allows companies to do what they're good at.  Every year companies spend $100 billion on software. Essentially, Calkins said, they have two options when it comes to software: A pre-packed version bought off the shelf, or a custom-built version. But either option eventually leads to the same problem: What happens when the software becomes outdated or new devices are released with which the software isn't compatible?
"We wish custom-software was easy and modern, but it's not. Appian makes it that way."
Instead of hiring a company to write new code for a website or app or other platform, Appian gives its customers the ability to draw a flow chart of the way they want the software to work. Appian publishes that drawing, and applies it to every device on the market. Not only that, Calkin's company continues to publish the software natively on every new platform to ensure the software is fresh and never out of date.
It's a concept that's worked well for Calkins and his partners: The company has major clients including government agencies, Amazon (NASDAQ:AMZN), and Enterprise Rent-a-Car.
But the path to success wasn't always nicely paved. Calkins and his partners launched Appian right before the dot com bubble burst – not the best timing for a tech company.
"There were difficult times: I've had to guarantee lines of credit, take risks myself. There were times the market wasn't buying, or our plan was out of sync with what the world wanted, or even times when we couldn't deliver," he said.
But he said even in the toughest circumstances, leaving a sure-thing job for one of much greater risk has never been a decision he's doubted.
"There's a certain amount of hubris necessary for thinking that at 26 you can change the world by making software everyone is going to want," he said.
"The business, I thought, was a sure thing, but sometimes it wasn't…we never got into a market and said 'we're going to sell what they're selling.' We always got in and thought 'everything in this market is doing the wrong thing, the wrong ideas and we're going to show them.' It's dangerous and risky to do that – it lead us into dire straits – but we got through it."