Entrepreneur on Best Advice: Don't Work TOO Hard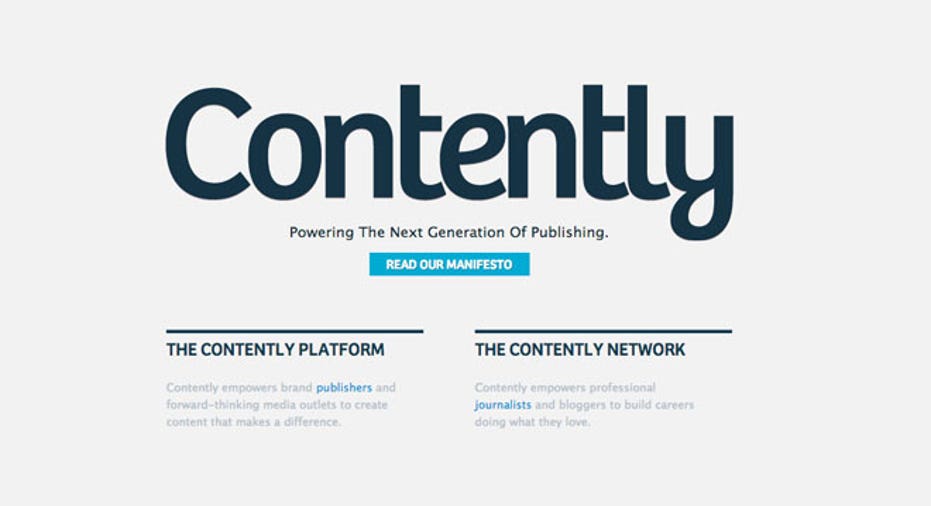 Small Business Spotlight: Contently
Who: Shane Snow, @Contently
What: A service that aims to connect journalists and companies for content deals, without the traditional hassles of freelancing.
When: 2010
Where: New York, NY
How: Co-founder and Chief Creative Officer Shane Snow was working as a journalist himself when he says he realized many of his colleagues, classmates from Columbia's School of Journalism and professors were either freelancing by choice or being pushed into freelancing, as salaried jobs in the field were cut.
Snow also recognized that many were "terrible freelancers," either because they were bad at selling their own abilities, or couldn't muster up the courage to hassle companies for their payments.
In response to this problem, Snow and his two co-founders created Contently, which provides a tool to help journalists build a free online portfolio, and then connects those journalists with publishers or companies looking for writers to report stories or produce content.
Biggest challenge: "As a manager, hiring takes up a lot of time – it's very tough" to find the right candidate, says Snow.
One moment in time: Snow says that he is proudest of being able to bring Contently to life. "Creating something from nothing and witnessing how it is able to provide value for others is my greatest accomplishment, as well as building a sustainable company that will hopefully make investors a lot of money."
Best business advice: "I grew up in Idaho building houses and fixing cars. My dad is an engineer, and he always told me, 'Don't just work harder, work smarter.' It's the principle of 'Why use all your strength?, when you can use a hammer or build a level. Find the smartest solution to hack the situation."
Influential book: Snow says that Contently actually has a monthly book club, where employees choose a book related to something the company cares about.
"On a business note, 'Made to Stick,' by Chip and Dan Heath has been influential, in terms of how to get people to remember your ideas and make them sticky and resonating. It had lots of practical advice from a business standpoint."
Quote from the owner: "Revenue-wise, we grew 51% last month over the month before that, so we're climbing pretty well."
We're highlighting small businesses from around the country as nominated by you, our readers. If your favorite small business is using Twitter to communicate with customers, let us know about it @fbsmallbiz with the hashtag #mysbc, and it may be featured as an upcoming Small Business Spotlight.