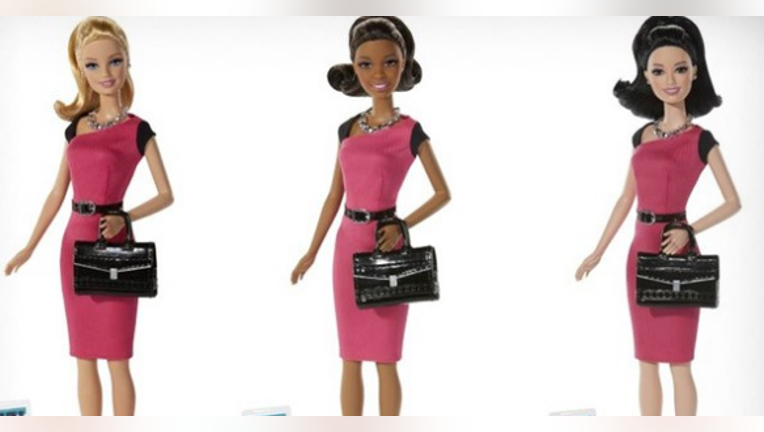 Is it a case of better late than never? After more than 150 careers, Entrepreneur Barbie is starting a business of her own.
The latest iteration of the multi-talented doll was unveiled this week at the American International Toy Fair, held in New York City.
"After 150+ careers, Barbie doll has finally decided to start a business of her own!" said toy maker Mattel. Perhaps ready to take on Silicon Valley, Entrepreneur Barbie comes with a smartphone and a tablet, in addition to the more traditional briefcase.
Adding entrepreneur to other Barbie careers like ballerina and dentist may well encourage more girls to consider business ownership. And yet, the at-times controversial doll (who most recently ruffled feathers for "posing" in Sports Illustrated) isn't being universally applauded for her latest venture.
Here's what some women executives and entrepreneurship advocates have to say about Entrepreneur Barbie:
No. 1: Joanne Wilson, angel investor and founder of Gotham Gal
"I don't think it's going to spur any valuable conversation," says Wilson. In recent experiences, she says she's found that even young women in their early 20s don't really understand what entrepreneurship is – let alone the target demographic for Barbie dolls.
Wilson, an investor in electric engineering toy startup littleBits, suggests there may be more valuable toys out there for children interested in entrepreneurship.
"I hope the next generation of toys would not be so gender-specific and would be inciting and spurring an interest in play and discovery," says Wilson.
No. 2: Caroline Ghosn, founder of women's career network Levo League
"I think it's important and a move in the right direction for Barbie," says Ghosn. "In play, you define the limits of what your own life will be. You have to dream it before you can do it."
Ghosn says she is hopeful that the new Entrepreneur Barbie will serve as a role model for young girls. She also appreciates that four versions of Entrepreneur Barbie will be available, representing different ethnicities.
"It will give many more girls a chance to assimilate the toy they're playing with and [realize] they too can be an entrepreneur, independent of their ethnicity," says Ghosn.
No. 3: Marilyn Nagel, CEO of women's leadership nonprofit Watermark
"It's nice to have a Barbie that talks about women as entrepreneurs, but it's important that you don't see a difference in the look in particular. The big challenge is that we need to have visual images for girls of a variety of looks [and] body styles … that embody the diversity of reality," says Nagel.
Nagel also isn't sold on Barbie's attire – a form-fitting hot pink sheath dress, big necklace and  bouffant hairdo.
"There are women entrepreneurs in tech and in supply chain and in every other facet of business that would not walk into a meeting looking like [Barbie, in order] to command respect," says Nagel. "The more we reinforce this old notion of young girls getting value from their looks, hair or pretty dress, the more we push them into that categorization and the harder it is to break later in life."