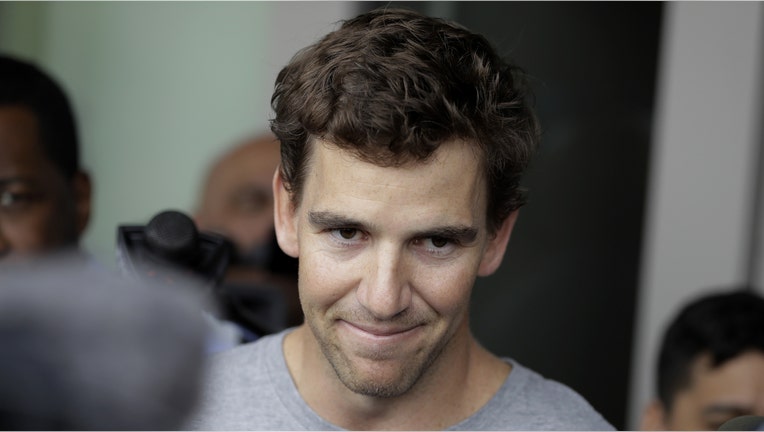 New York Giants quarterback Eli Manning on Thursday denied allegations made in a civil racketeering lawsuit that accuses him of knowingly providing memorabilia collectors with fake "game-used" equipment.
"I've tried to do everything with class and be a stand-up citizen. That's what I have done and that's being attacked right now," Manning told reporters, according to ESPN. "I'm just more angry than anything ... having to deal with this and knowing that I did nothing wrong and [am] still being attacked."
Manning's comments marked the first time he has personally addressed the allegations laid out in a civil lawsuit filed on behalf of three memorabilia collectors. Court documents made public on April 11 included a 2010 email in which Manning purportedly asked a Giants equipment manager to furnish "two helmets that can pass as game-used" to fulfill a deal with Steiner Sports, a company that sells sports memorabilia.
The 36-year-old quarterback, Steiner Sports and the Giants are named as co-defendants in the lawsuit. The case is set to go to trial in September. Manning added that he would not be able to discuss specific aspects of the civil case because the lawsuit is still underway.
"I will say that I've never done what I've been accused of doing. I have no reason, nor have I ever had any reason, to do anything of that nature," Manning said. "I've done nothing wrong and I have nothing to hide. And I know that when this is all done everybody will see it the same way."
Attorneys representing the Giants said last week that the email included in the civil lawsuit misrepresented the situation. The team has denied further comment.
"The email, taken out of context, was shared with the media by an unscrupulous memorabilia dealer and his counsel who for years has been seeking to leverage a big payday," the Giants' attorneys said in a statement. "The email predates any litigation, and there was no legal obligation to store it on the Giants server. Eli Manning is well known for his integrity and this is just the latest misguided attempt to defame his character."