Eleven Well-Paying Jobs that Don't Require a 4-Year Degree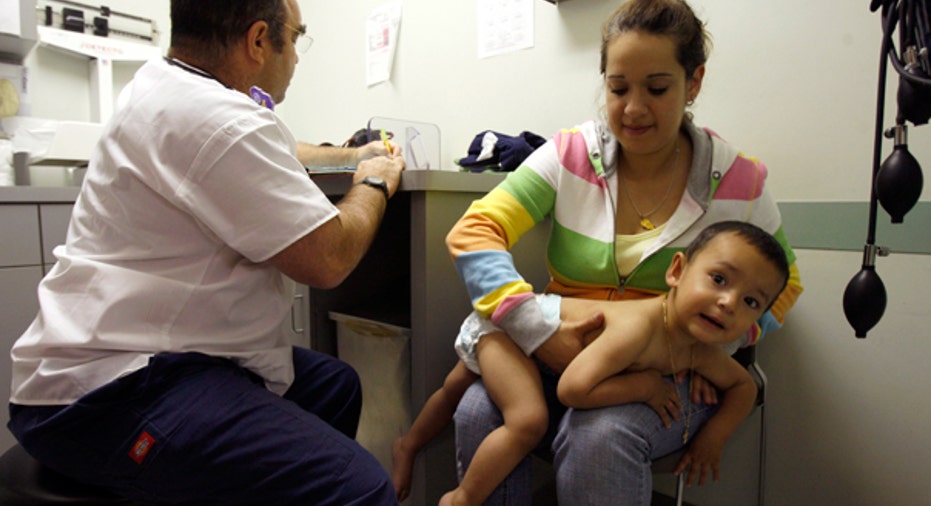 Conventional wisdom says that the higher your degree, the higher your salary. A study by the College Board shows that the median salary of a worker holding a bachelor's degree is more than $20,000 higher than the salary of a high school graduate.
While four-year college grads earn 66% more than the average high school grad, those with two-year degrees could be catching up. According to a report by the Florida Education and Training Placement Information Program, a nonprofit dedicated to state education and job training research, associate degree and certificate grads in certain fields landed higher starting salaries than the state's four-year public college grads.
According to the College Board, the median education debt for two-year degree holders was $7,130 in 2008 -- the most recent year for which statistics are available. This compares to an average of $24,000 in student loan debt for those who completed bachelor's degrees in 2009, according to the Project on Student Debt.
With more years in the workforce and far less student debt to deal with, two-year grads can come out with a higher lifetime worth than their four-year counterparts. Check out these 11 jobs that provide four-year degree pay and benefits without requiring a bachelor's degree.
Electrical technicians
"As the market is bouncing back, we're seeing more of our grads get hired in the trades areas," says Wendy Cullen, vice president of employer development for Everest College. "In the trades we offer, electrical technicians have the highest increase in earnings over a 15-year period. There are a lot of opportunities for them right now."
Aside from earning a decent wage -- the Bureau of Labor Statistics reports that the median electrician salary is $46,426 per year -- future electricians can frequently opt out of paying tuition by landing one of the many apprenticeships available in the field. In addition to sidestepping $20,000-plus in student loan debt that the average four-year grad takes on, electrical technicians who complete a four-year paid apprenticeship program enter the field with experience and a bank account that's in the black.
Radiologic technician
It's a sweet deal for workers who can collect medical diagnostic images like MRI scans, X-rays and mammograms. A two-year degree along with a passing score on your state's radiologic licensing exam generally means a median salary of $52,210, full benefits, the ability to work in medical settings ranging from hospitals to private practices and sometimes a flexible schedule, too.
The BLS reports that the radiologic technician field is one of the fastest-growing occupations, expected to expand by 17% between 2008 and 2018. Though workers are on their feet for most of the day and are required to complete 24 hours of continuing education every two years -- don't worry, it's usually paid for by the employer -- technicians can be rest assured that their salaries will cover a foot massage every now and then.
Dental hygienist
The median salary of $66,570 can make you smile -- that's more than $10,000 per year higher than the median salary for a four-year grad, according to the College Board. But the real perk in this job is the hours.
"You can be (a dental hygienist) in a big city or small town. It has a flexible schedule and you can work part time," says Laurence Shatkin, author of "300 Best Jobs Without a Four-Year Degree." The job's flexibility and high hourly wage make it attractive to family-oriented employees, as does the fact that approximately half of dental hygienists are given an employee-sponsored benefits package, according to research from the American Dental Hygienists' Association. An associate degree is the only requirement to break in. That means future dental hygienists take on far less debt than their four-year college counterparts.
Graphic designer
In certain fields, experience and self-education trump formal degrees.
According to Tyson J. Spring, vice president and senior consultant for Elever Professional, an executive recruitment firm in Los Angeles, graphic designers will impress future bosses more with an impressive portfolio than a fancy degree.
"Some of the most exciting creative design roles that we've worked on require no four-year degree," says Spring. "With the swift transition from print to digital that the marketing and ad world is experiencing, everyone is scrambling for talented technical designers."
Graphic design students can opt for a four-year degree, but they can also learn the technical aspects of the trade in a two-year degree or certificate program and then intern to pick up the artistic side. The BLS reports that graphic designers draw in a median salary of $42,400; freelance and contract designers bring in $57,000. Design directors and those with owner or partnership interests in their firm earn a median salary of $95,000.
Registered nurse
"Nursing is the No. 1 best (two-year degree job)," says Alexia Vernon, author of "Awaken Your CAREERpreneur."
"The need is never going to go away. It's not about what's hot in the next two or five years. It's a lifetime profession."
Vernon adds that registered nurses, or RNs, who graduate from an accredited diploma or two-year program fare well fiscally, earning a median of $62,450 per year. They also generally enjoy added job perks, including flexible schedules, generous benefits packages, the ability to work in a wide variety of settings and tuition help should they decide to pursue further education. With job opportunities expanding at a rate of 22% per year, according to the BLS, finding a position shouldn't be a hassle either.
Paralegal
Behind every good attorney is a good paralegal. Dedicated to helping attorneys prepare cases, organize files, draft contracts and maintain ongoing relationships with clients, paralegals find work in law offices, federal government offices, private companies and corporations and nonprofit organizations.
Newbies can break into the field with a two-year associate degree program (or a shorter certificate program for career changers who already hold a bachelor's degree) and can expect a median salary of $46,210, according to the BLS, with the top 10% of paralegals reeling in $73,450 per year.
Solar energy consultant
Solar energy consultant is a really good gig, especially for people who have been laid off from construction," says Vernon. "In places like Arizona, Utah and California, the starting pay is typically $15 to $17 an hour."
According to CareerBuilder.com's salary data site, CBsalary.com, solar energy installers earn $50,479 per year on average. To break into the profession, wannabe solar experts can enroll in a diploma or two-year degree program through their local community college or technical school, or they can get paid to learn by taking the apprenticeship route.
Police and detectives
Break in with a high school diploma or associate degree in criminal justice. Walk out with a higher salary than those who paid for pricey private four-year colleges.
"Police, detectives, (criminal) identification and records officers, criminal investigators and special agents -- they all pay around $60,000 and they're growing fast with a lot of job openings," says Shatkin.
After taking 12 to 14 weeks of academy training, law enforcement personnel ages 21 and up are rewarded with a decent salary, a great benefits package that frequently includes tuition reimbursement perks and the ability to move into a wide array of federal, local and private agencies. According to the BLS, police and sheriff's patrol officers earn a median salary of $51,410. Those who move up the ranks to a supervisor position earn a median salary of $75,490.
Hospitality managers
No formal education is required to break into a hospitality career, but a two-year degree or certificate in hospitality management combined with working in the field can help you move up the food chain much quicker. Hospitality managers typically start in lower-level, lower-paying positions, then work their way up to manager status.
Once you're there, it's smooth sailing. The BLS reports that food service managers earn a median salary of $46,320 per year, while those who manage hotels and lodging establishments earn $45,800.
Spring adds that the salary range for hospitality managers is wide. His company recently placed a client in a group manager position with the Morton's The Steakhouse chain with a salary of $100,000 per year.
"We're seeing a lot of (job opportunities) with major national brands right now, and a lot of these positions pay very well," he says.
Funeral director
"The good news is that you're always going to have a market," says Shatkin. The bad news is that you work with the dead. Those who can stomach the job (and pass the licensing exam) will be rewarded with a median salary of $52,210, the opportunity for self-employment and limited student loan debt since the job requires a two-year mortuary degree to break in and, in most states, a one-year paid apprenticeship. Additional licensure is required for directors who want to embalm.
According to Shatkin, future funeral directors won't have to look too hard for a job. "There are a whole bunch of baby boomers who are getting up there in age," he says. "It's always something that people are going to need."
Computer support specialist
News of computer support jobs getting outsourced to distant foreign lands makes the headlines, but according to Shatkin, the field is still growing at home, too.
"There are a lot of things that have to be done on site," he says. "If you have to change a disk drive for instance, someone has to be there to do that. There's still a need for (support personnel) in the office."
Shatkin adds that you can break in with a two-year degree (though the BLS notes that some jobs in the field require a four-year degree). Statistics show that investing in information technology education pays off in the end. Computer support specialists bring in a median salary of $44,300 per year and a full benefits package, which may include free tuition reimbursement. Computer support specialists also shouldn't spend too long in the job hunt since the field is growing by 14% each year, according to the BLS.