Eleven Travel Tips to Snag a Free Airline Flight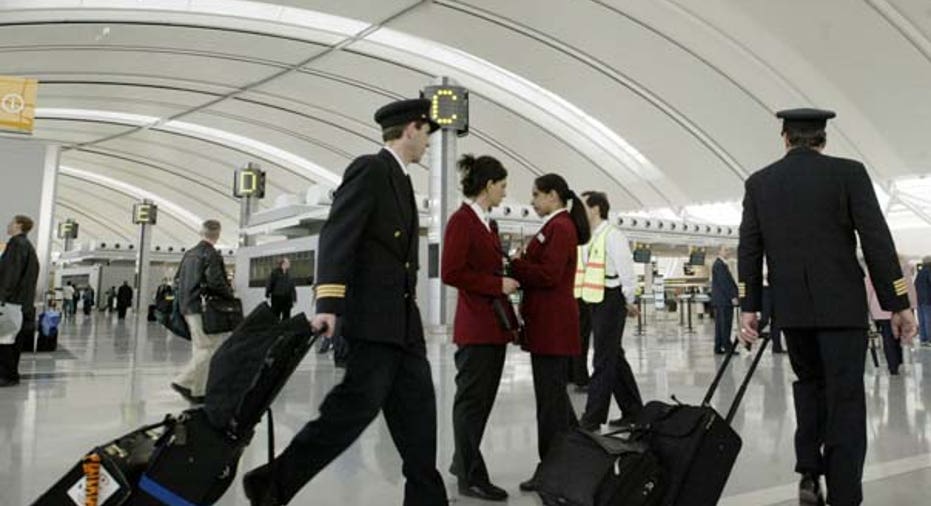 If you've ever heard an airline representative ask for volunteers to be bumped from an overbooked flight, you may have cringed and hoped you wouldn't be forced to give up your seat.
Scott Ford, who blogs at PackaBagandGo.com, jumps at the chance to get bumped. In fact, he offers to be bumped the moment the gate agent arrives. Why? Ford has leveraged travel vouchers provided for bumped passengers into 52 free trips in 2011.
"I flew 489,000 miles in 2011, and if you include the bonus miles, I racked up 1 million miles," says Ford, who visited more than 400 cities worldwide and took nearly a dozen vacations to Hawaii. Ford suggests adding travel days to the beginning and end of a trip to increase your options for delayed travel.
While not every traveler has the flexibility to be bumped from every flight, Bankrate offers a strategy for snagging free flights.
According to the February 2012 report from the Department of Transportation, there were 125,243 voluntary passenger bumps from October through December 2011 out of more than 145 million passenger flights.
Want a Flight Voucher?
While all airlines handle voluntary bumps differently, they generally provide vouchers to be used toward free flights within one year.
"The amount you earn depends on the length of your delay," says Rick Ingersoll, author of "The Frugal Travel Guy Handbook." "If you are going to be one or two hours late, they may offer you $200 or $300, but if it's a longer delay, you may get $400.
"On international flights, you'll get considerably more -- maybe as much as $800 or $1,000," he says.
In addition to the voucher for future free travel, you may get food and hotel vouchers for a lengthy delay.
Sarah Schlichter, editor of Independent Traveler website, suggests that travelers who want to get bumped have a backup plan, including potential alternate flights.
"Passengers should make sure they read the fine print before they agree to be bumped and check the terms and conditions for using the flight voucher," Schlichter says. "There may be an expiration date, blackout dates or restrictions against using the voucher toward the cheapest fare," making getting bumped a lousy deal.
Ford has used airline vouchers to book vacation packages through the airline website to get free hotels as well as free flights. He shared the story of another frequent flier who also offers to be bumped.
"He's told me that he's been voluntarily bumped five times and was able to take his wife to Hawaii for free," Ford says.
How to Get Bumped
Ford developed a strategic plan for getting free travel through frequent bumps.
Be flexible.
Always book as many connections as possible to increase the chances of an overbooked flight.
Research which flights are likely to be full and oversold by checking seat maps when booking online.
Check for weather delays that may result in cancellations followed by overbooked flights.
Always arrive at the airport one and a half hours before your flight.
Be first to arrive at the ticket counter, and ask to be bumped if the flight is oversold.
Use carry-on bags only, or pack a change of clothing in your carry-on, so you won't need your luggage to arrive when you do.
Stay cool and calm, so you are more likely to be chosen even if there are other volunteers.
Ingersoll suggests going first to the ticket counter and then to the gate to volunteer to be bumped on every scheduled flight on your travel day. He recommends booking flights at peak travel times such as early weekday morning flights, Friday afternoons and Sunday evenings. He says flights on Tuesday, Wednesday and Saturday typically have the lowest bookings.
"You should emphasize your loyalty to the airline, too," Schlichter says. "Not only does this help you negotiate for extra vouchers for meals and access to an airport lounge while you wait for your next flight, but it helps you build up your frequent-flier miles if you stick with one airline."
Three More Ways to Earn Free Flights
Complain. If something bad happens on a flight, such as a major delay causing hardship or lost luggage, write a polite letter of complaint and request reimbursement for your flight and other expenses, Schlichter says.
Ingersoll says to include your flight number, date and seat number and write a complimentary letter that includes a description of a problem such as a broken light or video monitor.
Credit cards. Ingersoll and his wife accumulated almost 1.2 million airline miles by signing up for new credit cards to take advantage of their new customer bonuses. He says you need a credit score of 700 or higher to do so. Be sure to check the requirements for earning the bonus and the annual fee before applying.
Shop around. Schlichter says various resorts and cruise lines, such as Atlantis, occasionally offer airfare credits or free companion fare vouchers. She recommends signing up for airline newsletters to stay current on the latest deals.
While you may not have Ford's flexible schedule or the discipline to sign up for dozens of credit cards without going into debt, a free flight may be within reach each time you head into the skies.