Eight Hotels for the Larger-Than-Life Traveler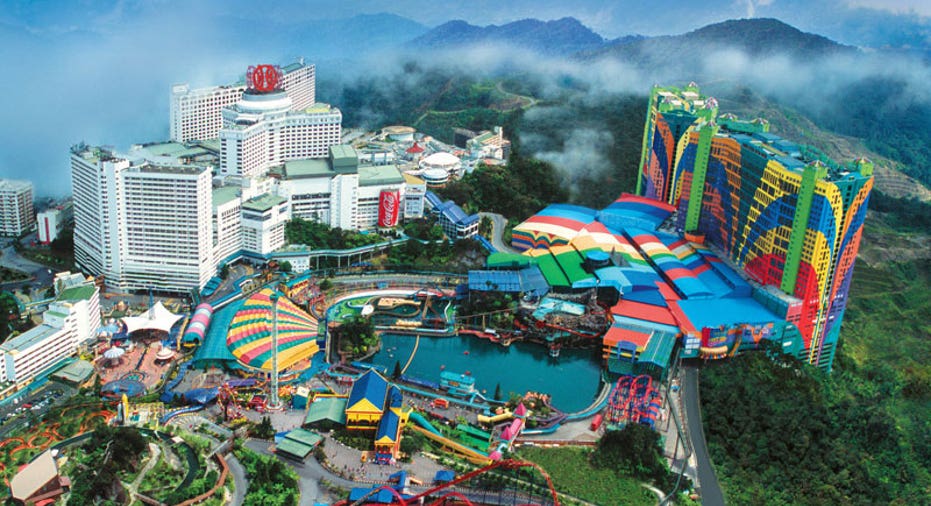 We all know people who like to brag about their travels.
Here are eight hotels recommended by Hotels.com that are big enough, tall enough or expensive enough to warrant some boasting from even the humblest globe trekkers.
1. First World Hotel - Genting Highlands, Malaysia
Why? It's massive.
In 2006, the First World Hotel had more guest rooms than any other hotel in the world. While its 6,118 units have now been eclipsed by The Venetian & The Palazzo in Vegas, the Izmailovo Hotel in Moscow and the MGM Grand Las Vegas, First World is still one of the most sprawling hotels. It features a 500,000-square foot entertainment complex with an indoor tropical rainforest and an amusement park.
2. Ritz-Carlton – Hong Kong, China
Why? It's dizzyingly high.
The Ritz-Carlton in Hong Kong occupies floors 102 to 118 of the International Commerce Centre – which, at 1,588 feet – is the tallest building in Hong Kong. The hotel opened in 2011 and contains 312 rooms. (Interestingly enough, the world's tallest building – the  2,717-foot Burj Khalifa in Dubai – also houses a hotel, but on lower floors.)
3. Grand Hills Hotel and Spa – Broumana, Lebanon
Why? It has the largest suite in the world.
At 45,000 square feet, the Royal Residence at The Grand Hills Hotel and Spa is more like a palace than a suite. Recognized by the Guinness Book of World Records for its size, the Royal Residence is an independent mansion with six floors, a fitness center, two saunas, a Turkish bath, and several private gardens and swimming areas. A request for pricing was not returned.
4. President Wilson Hotel – Geneva, Switzerland
Why? It boasts the most expensive room.
The Royal Penthouse Suite in the President Wilson Hotel costs an eye-popping $65,000 a night. It boasts 12 rooms (not including its 12 bathrooms), as well as a fitness center, billiards and a Steinway grand piano.
5. San Alfonso del Mar – Algarrobo, Chile
Why? It's home to the largest swimming pool in the world.
The pool at San Alfonso del Mar, which holds a Guinness world record, stretches for three-quarters of a mile and contains 66 million gallons of filtered water pumped in from the Pacific Ocean. It reportedly costs an estimated $4 million to maintain each year.
6. Hotel Everest View – Namche, Nepal
Why? It's the hotel with the highest altitude.
At nearly 13,000 feet above sea level, Hotel Everest View is hidden on a ridge overlooking Mt. Everest. All rooms have a view of Everest and neighboring peaks, and according to Hotels.com, each room has a "24-hour flow of fresh oxygen" to help guests adjust to the altitude shock. The only way to get to the hotel is to fly to the hotel's airstrip and either climb 45 minutes or charter a helicopter to the entrance.
7. Hyatt Regency – San Francisco
Why? It's got a really impressive lobby.
The atrium of the Hyatt Regency in San Francisco measures 9,547,200 cubic feet, according to Hotels.com, and boasts a 40-foot-high sculpture by Charles O. Perry at its center.
8. Shun Jing Hot Spring Hotel – Beijing
Why? It has the biggest spa.
At more than one million square feet, the spa at the Shun Jin Hot Spring Hotel boasts more than 90 different Japanese-style baths as well as napping rooms and a movie theater, according to Hotels.com.