Edmunds: These 6 new SUVs are worth the wait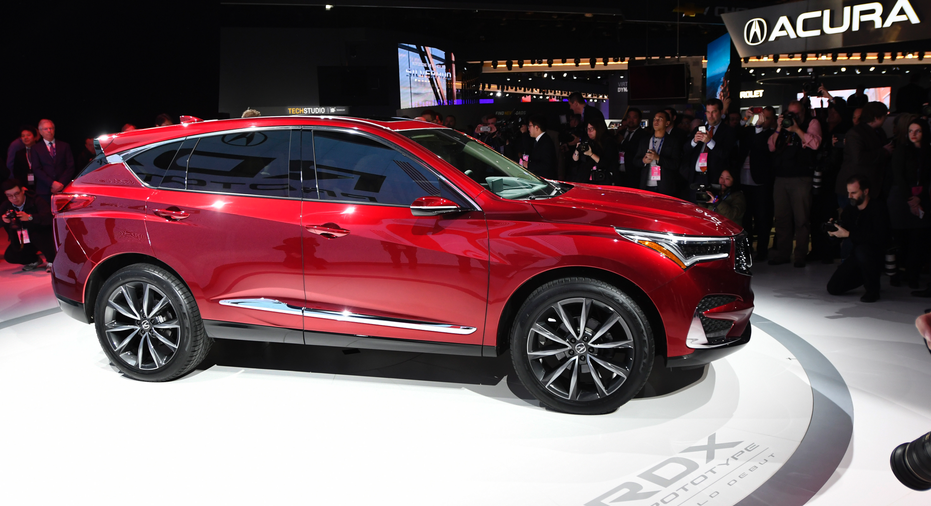 If you're in the market for a new SUV, it's important to know not only what's available now but also what's coming. Here are six SUVs going on sale in the next several months that we at Edmunds think are worth waiting for.
Why these six? One thing they have in common is the latest technology. On top of updated infotainment systems, every vehicle on this list offers a full suite of advanced safety features. Some have a few more tricks up their sleeves, and all offer something unique in the hopes of winning your hard-earned dollar.
VOLVO XC40
Volvo's newest SUV is the subcompact 2019 XC40. It offers plenty of safety and technology features, and it's been built to make the most of its available space. Some useful highlights include an integrated trash bin, a hook for holding takeout food, and door pockets that can fit a 15-inch laptop. Acceleration comes from a punchy 248-horsepower turbocharged engine. And a hybrid model is coming.
Volvo is also using the XC40 to pioneer its new subscription-based Care By Volvo service. Similar to a pay-as-you-go phone plan, consumers pay a fixed monthly fee to get the XC40 with nearly everything covered, including insurance, and the option to change to another vehicle in as little as one year.
The XC40 Momentum — the only trim available at launch — comes with a price tag of $35,200. Future base pricing starts at $33,200.
HYUNDAI SANTA FE AND SANTA FE XL
We have high hopes for the redesigned 2019 Santa Fe. The lineup includes a two-row compact SUV and the larger three-row Santa Fe XL. Both look modern and upscale inside and out and should be very competitive with SUVs from Honda and Toyota.
Three engines will be available, including a 232-horsepower turbocharged gas engine and a 200-horsepower turbodiesel. The latter, along with optional load-leveling suspension, should make the Santa Fe a capable tow vehicle. The Santa Fe also offers a new Safe Exit Assist feature that can lock a door if it senses a passenger is about to swing it open in the path of an oncoming vehicle.
Pricing on either SUV is not yet available. The Santa Fe Sport currently goes for about $25,000 while the Santa Fe is $31,000.
ACURA RDX
The newest generation of Acura's compact luxury SUV looks to be its biggest step forward. The 2019 RDX will feature Acura's agility-enhancing all-wheel-drive system, a new look, lots of interior storage space and a nicely appointed cabin. Acura has also replaced the RDX's dual-screen infotainment setup, which was clunky and outdated. The new system uses a clean, high-definition screen and a touchpad controller.
Further equipped with luxury features, such as a panoramic sunroof, heated and cooled front seats, heated rear seats, a head-up display and a premium audio system, the RDX should be one of the best new Acuras in years.
No pricing information is available for the newest Acura RDX, but the current generation starts at $36,000.
SUBARU ASCENT
Those in need of a capable family hauler will have a new choice to consider: the 2019 Ascent. Subaru's three-row SUV is packed with features to keep both driver and passengers happy. With up to eight USB ports available, the Ascent can keep everyone's devices charged. Three-zone climate control and Apple CarPlay and Android Auto smartphone integration are all standard, as are traffic-adaptive cruise control and a frontal collision mitigation system.
With a $31,995 base price, the Ascent can also be optioned with lots of luxury-oriented comforts, including cooled front seats, second-row sunshades, and a premium Harman Kardon sound system. With 260 horsepower, standard all-wheel drive and a 5,000-pound towing capacity, the Ascent should make a compelling midsize choice.
LEXUS UX
Another new subcompact luxury SUV, the 2019 Lexus UX takes a different approach to the segment with its overstated, aggressive styling. Inside, you'll find a sleek design reminiscent of Lexus' flagship LC 500 coupe, as well as a digital gauge cluster. Both a 168-horsepower gasoline engine and a 176-horsepower hybrid with all-wheel drive will be available.
The UX is a high-tech little SUV. It can use GPS information to adjust the vehicle to road conditions and maximize fuel efficiency. And it can be outfitted with an adaptive suspension to enhance ride comfort and handling precision.
Pricing is not yet available.
JAGUAR I-PACE
If you wanted an all-electric SUV, your only choice up until now was the Tesla Model X. But Jaguar will give you another option with its 2019 I-Pace. The I-Pace should provide about 240 miles of driving range on a fully charged battery and yield a sports-car-worthy 0-60 mph sprint of about 4.5 seconds.
The I-Pace doesn't offer a lot of cargo space, but it comes with a luxuriously appointed interior and a sleek-looking tech interface. Before incentives, the I-Pace should come in around $70,000, which also makes its price tag smaller than the Model X's.
EDMUNDS SAYS: Though there's no shortage of good SUVs available now, it's worth taking note of new models hitting dealer showrooms this summer and fall. One could end up suiting your needs the best.
____
This story was provided to The Associated Press by the automotive website Edmunds. Will Kaufman is an associate staff writer at Edmunds. Instagram: @didntreadthestyleguide.
Related links:
— 2019 Volvo XC40 Review http://edmu.in/2FmfkVd
— 2019 Lexus UX First Look http://edmu.in/2IfTOPW
— 2019 Acura RDX Prototype First Look http://edmu.in/2DaMtgN
— 2019 Subaru Ascent First Look http://edmu.in/2G6z506
— 2019 Hyundai Santa Fe First Look http://edmu.in/2FqU9gE
— 2019 Jaguar I-Pace Test Drive http://bit.ly/2G8IUuH