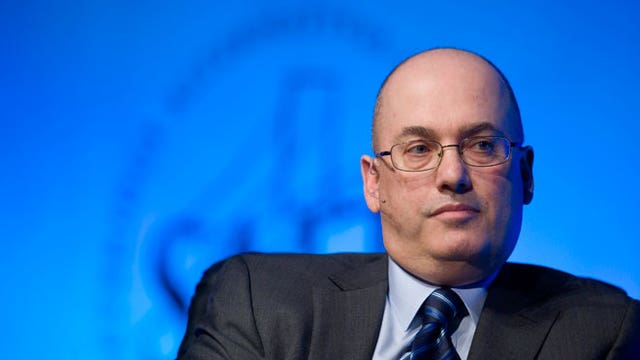 Count hedge fund honcho Steve Cohen as one of the Wall Street executives doing a victory dance after a key court ruling made it harder for the Feds to crack down on insider trading.
"Ebullient" was the way Cohen was described following the precedent-setting ruling by the second circuit court of appeals that overturned the convictions of traders Anthony Chiasson and Todd Newman. Now it won't be enough just to show that traders relied on "material non-public information" to buy or sell stocks. Prosecutors will have to prove that traders have complete knowledge that the information they used was of the illegal variety, and that some sort of gift of "consequence" was exchanged with a tipper to get the insider information.
Cohen's firm SAC Capital—once a dominant force in the markets—was shut down last year by Manhattan US Attorney Preet Bharara who indicted the hedge fund calling it a "veritable magnet of market cheaters." Nearly a dozen former SAC traders have been snared in Bharara's five-year-long insider trading crack down. Cohen himself wasn't criminally charged but he was forced to open up a "family office" renamed Point 72 Asset Management where he can manage no outside money and only his personal wealth. He also faces a civil charge of failing to supervise traders at his firm that could lead to a life-time bar from the securities business.
But Cohen, at least according to people who know him, believes things are looking up for him and his people particularly after the ruling. Although the Justice Department hasn't charged Cohen with insider trading, he has long been a target. That status will likely change following the court ruling because Cohen's attorneys have argued that he, like Chiasson and Newman, had no knowledge if information he traded on was illegally obtained. Raising the bar to bring insider trading charges might also aid Cohen in fighting off  the civil case brought by the Securities and Exchange Commission that Cohen failed to properly supervise his traders, some of whom might now have their convictions reversed.
Indeed Cohen's festive mood was front and center at the company's annual holiday party, held at the swanky Cipriani 42nd street location just hours after the second-circuit decision on Wednesday. That's when the normally reticent Cohen gave a speech where he told astonished traders and executives that "today we received very good news" from the courts that would benefit both the firm going forward and its traders who have been snared in the crackdown, according to people who were in the room.
People close to Cohen say he still desires to manage money from outside investors, which is one reason he's continuing to fight the SEC charges. Cohen has maintained he's done nothing wrong.
A spokesman for Cohen, Jonathan Gasthalter, would not comment on the matter, but wouldn't deny Cohen made the remarks at the holiday party.
Lawyers for one of  Cohen's traders, former SAC portfolio manager Michael Steinberg, fully expect to have his conviction for insider trading and three-year jail sentence reversed, following the ruling. The facts involved in the Steinberg case closely resemble those in the Chiasson and Newman cases including the lack of evidence of that Steinberg knew that he was trading on illegal insider information.
He isn't alone, legal experts say. Several of the so-called "downstream tippers" who pled guilty in exchange for cooperation in the cases against Chiasson and Newman and Steinberg could also seek an appeal. One of the most prominent was former SAC analyst Jon Horvath, who became a key witness against Steinberg after he was arrested for insider trading and pled guilty in exchange for leniency.
Horvath's attorney declined to comment.
Former McKinsey & Co. chief Rajat Gupta was convicted of providing Galleon chief Raj Rajaratnam with insider tips and sentenced to two years in prison. His lawyers argued that, like Chiasson and Newman, the government had never shown that Rajaratnam provided Gupta with anything more than friendship as a benefit, which the latest court ruling shows might not be enough. Gupta's attorney Gary Naftalis is "weighing" his next move, including a possible appeal, people close to him say. Naftalis declined comment.
Depending on how many cases are overturned, the 2nd-Circuit ruling might deal a political blow to Bharara, who compiled a near perfect record of insider trading convictions during his 5-year crackdown. Bharara has political ambitions, people who know him say, such as possibly running for governor of New York.
A spokeswoman for the Manhattan US attorney's office declined comment.