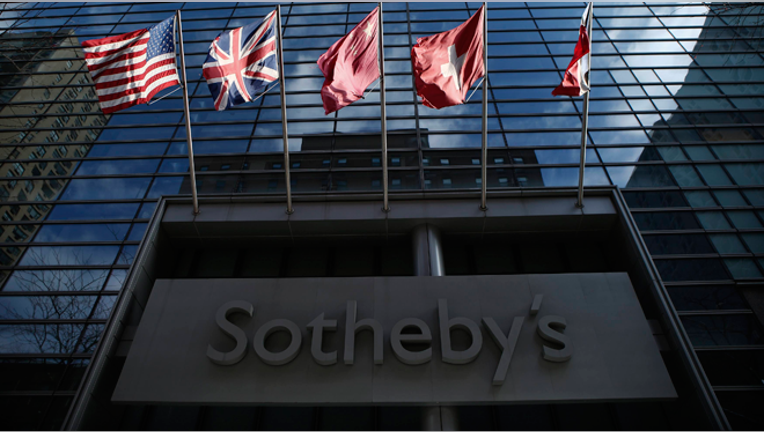 EBay is known as the place to score a designer bag at a lower price or to bid on concert tickets, but now art collectors can get in on the auction action.
The online shopping giant is partnering with world-famous auction house Sotheby's to allow customers to bid on antiques, art and collectibles from anywhere on the globe. EBay will host a live stream of Sotheby's auctions that lets customers bid on items in real-time.
The duo says they may soon attempt time-based and theme-based auctions on 18 different collecting categories. The first auctions will take place at Sotheby's New York City headquarters, and will then branch out to other auction houses across the globe.
The move isn't Sotheby's first attempt at an online retail partnership. It tried to partner with Amazon (NASDAQ:AMZN) in 1999 to allow customers to bid on antiques and collectibles online, but that shuttered in less than a year.  Sotheby's also struck a deal with eBay in the early 2000s, but lack of demand caused that partnership to fizzle.
Now, nearly 15 years later, both companies say the time is right and the demand is there. In a joint release, they estimate 145 million global customers to be reached with the partnership, and expect online art sales to hit $13 billion by 2020. Online sales at Sotheby's have also increased significantly, up 36% from 2012 to 2013 year-over-year.
The consumer has evolved significantly since Sotheby's last attempts to sell online, says Rommel Dionisio, Wedbush Securities, senior vice president of equities research, who expects this attempt to succeed.
"To have a technology partner like eBay, Sotheby's is capturing not just the U.S., but a global basis," Dionisio says. "You have the authentication of an auction house like Sotheby's to back this, and art and collectible buying has become more global with dramatic growth in Asia in particular."
It can be hard to make it to an auction in New York or London, he says, but now people just need internet access.
This, coupled with a changed mentality among consumers, means much more interest in online art buying, he says.
"It will likely be the lower end for the auction house in terms of bids," he says. "North of $1 million, people will gravitate towards the traditional channels."
The Loeb Factor
Activist investor and hedge fund manager Daniel Loeb recently joined the board of the 240-year-old auction house and had been openly critical of its business model.
A source close to the matter told FOXBusiness.com that talks of this partnership being an attempt to push Loeb out or appease him are completely "off the wall."
The source says Loeb and the board are in full support of the eBay partnership and the board is working really well together. He adds Loeb "just got there" so he won't be going anywhere anytime soon.
Loeb's hedge-fund, Third Point LLC, declined to comment to FOXBusiness.com on the partnership.