Eat Out Often? Stuff Yourself with Rewards for Dining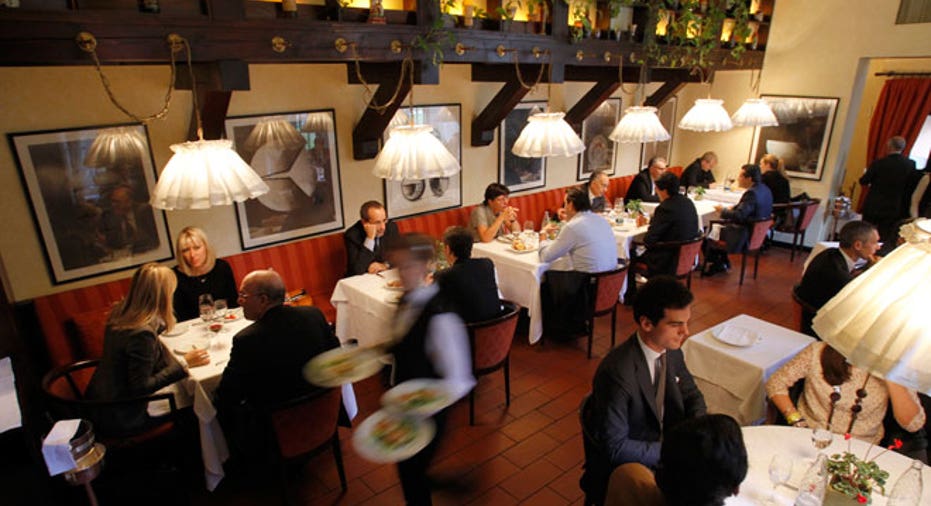 Dear Cashing In,
My boyfriend and I eat out two or three times a week, and I go out to lunch with work friends almost every day. How can I earn the most rewards from eating out?
- Carmen
Dear Carmen,
Dining out can be a nice break from the routine of cooking at home. Of course, you're paying more for that privilege. But if you're paying more, you should at least receive some extra benefit, right?
Credit card companies have cooked up many different ways to earn rewards points at restaurants.
For people like you, Carmen, who enjoy dining out regularly, the path to greater rewards through dining begins by having the right card. As always, figuring out the perfect card can be complicated. It depends partly on your spending habits and what kinds of rewards you like to receive. Most people tell pollsters they like receiving cash back or gift cards, while others like travel rewards. If you want to earn more dining experiences from eating out, most reward programs allow you to redeem for gift cards at chain restaurants. Figure out your priority, then choose a card with a program that makes available the sorts of rewards you like.
Next, look at the earnings side of the equation. A handful of cards let you earn extra points for use at restaurants. A short list of these would include Discover It Chrome (2 percent cash back at restaurants, no annual fee), Citi ThankYou Preferred (2 percent at restaurants, no annual fee), the Barclaycard Arrival World MasterCard (2 percent on dining and travel, no annual fee) and Chase Sapphire (2 percent at restaurants, no annual fee). Those cards offer enhanced rewards on dining out, and none has an annual fee.
Each of those issuers also offers cards with annual fees that boost rewards further, usually by extending the 2-percent-back to other categories. Citi's ThankYou Premier card offers 3 percent back at restaurants, 2 percent on airfare and hotels and 1 percent on all else, but it costs $125 a year (waived the first year). Annual fees can take a big bite out of any rewards you might earn.
If you have the right card -- and you remember to use it when you go out for meals -- your points can add up quickly. An advanced technique is to generously offer to pay the bill when you're dining with friends, then have them reimburse you for their share in cash, although they soon might catch on to your strategy -- or start employing it themselves.
Many people are content just to have the right card, but there are other ways to boost dining rewards, too.
For instance, many U.S. airlines and hotels have dining-rewards programs, in partnership with a company called Rewards Network, which allows you to register one or several cards. When you dine at a participating restaurant, you receive up to 8 points or frequent flier miles per $1 spent. These rewards are in addition to any rewards you receive from your card. You might not dine regularly at a participating restaurant, but there's no harm in linking your card, and you probably will receive a small bonus just for signing up.
It's not directly related to credit cards, but OpenTable allows you to make reservations at many restaurants. When you dine there, you receive points that go toward earning a restaurant gift certificate. If you're going to make a reservation anyway, perhaps check with OpenTable first.
If you use some of these strategies, you'll be feasting on additional rewards before you know it. Enjoy!
See related: Automated tip amounts: how to regain control, Rewards programs move toward flexible, immediate spending