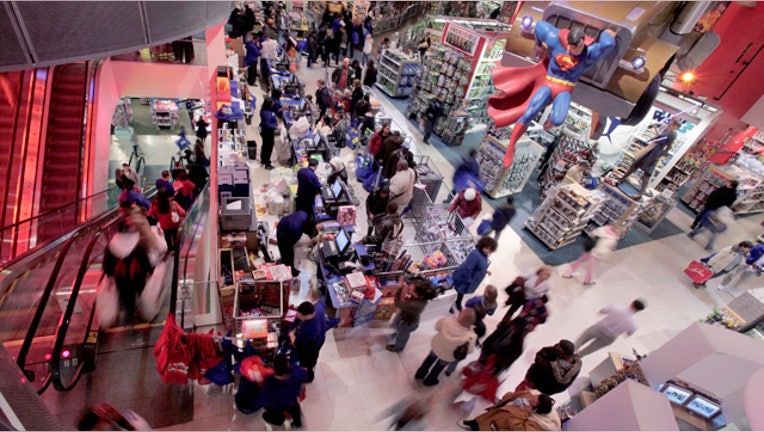 Last-minute shoppers will be out in droves this week, rushing to get all their holiday purchasing complete. While procrastination isn't the worst thing in the world, it can easily lead to overspending if you aren't careful.
"Shoppers who wait until the last minute are often more vulnerable to making poor shopping decisions, and should exercise extra caution," said Gail Cunningham, spokesperson for the National Foundation of Credit Counseling or NFCC.  "Last-minute shopping, often in the form of impulse buying, can be the final budget-busting straw that destroys an otherwise well thought out holiday plan."
It's easy to panic and charge away to make sure you get everyone on your list but it's better to think before you spend. From sticking to a list to taking advantage of shipping discounts, here's a look at six ways to not break the budget on last minute gifts.
Never leave home without your list
Santa Claus never jumps in his sled without his list in hand and nor should you. The easiest way to overspend is to not have a plan.  According to Cunningham, shoppers, especially in the days leading up to Christmas, should never, ever leave home without their list. It's also a good idea to check it not once but twice to make sure your spending plans match your budget.
Look for deals on shipping
Anyone who waits to the week before Christmas to do their online shopping knows they will be hit with extra shipping charges, but Scott Kluth, president and founder of CouponCabin.com, says it doesn't have to be that way. He says shoppers should be on the lookout for free upgraded shipping codes starting today and going through the weekend. "With these codes, most of the top retailers will pay the difference from regular ground to 3-day express shipping," says Kluth.  "You still have to pay the base rate, just not the expedited rate."
Consider gift cards if it's too late to get cheap shipping
If you plan to do your shopping after December 22, chances are slim that your packages will arrive on time but that doesn't mean you have to be a Grinch.  Giving the gift of an ecard, magazine subscription, sports tickets or anything else that can be delivered via email will save the day. You can also buy online but pick up in-store at countless retailers this holiday season.
Total your holiday spending before purchasing
In the frenzied days leading up to the holidays it's easy to lose track of what you purchased and how much you've spent so far, but it's important to stay on top of that. Cunningham of NFCC says consumers should be totaling up how much they've spent before hitting the stores for those last minute gifts. If you find you've gone over budget, then consider a homemade gift like holiday cookies as an alternative.
Become a member to save money
Some retailers including Amazon.com offer yearly subscriptions services that gives you free shipping throughout the year and will ship as late as the 22 for Christmas delivery. While Amazon Prime, which costs $99 a year, is the one most people think of, ShopRunner,  which charges $79 a year also offers free 2 day shipping at over 100 stores. ShopRunner offers a free 30-day trial and American Express (NYSE:AMX) cardholders can enroll for free at https://www.shoprunner.com/americanexpress/ says Kluth.
Resist opening new accounts unless necessary
This time of year the retailers are making it really attractive to buy now and pay later thanks to their store credit cards. They will even give you a discount if you open an account on the spot. That is great if you plan to pay your balance off as soon as you get the bill but if you are going to have to carry some debt try to avoid the store credit cards. They often come with high interest rates, which can create or continue a cycle of debt. "Open new accounts only when needed, not simply to save on today's purchase," says Cunningham.