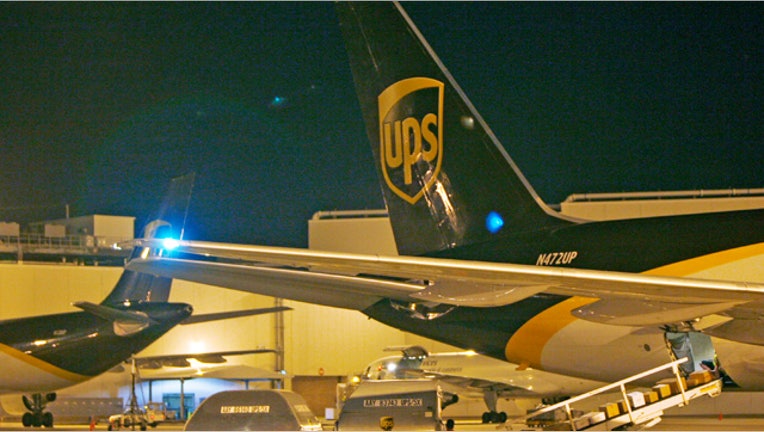 United Parcel Service (NYSE:UPS) saw e-commerce demand lift revenue in the second quarter, but the company dampened its outlook as it readies for the busy holiday season.
Last year, UPS struggled to handle an onslaught of packages being shipped to holiday shoppers. The bottleneck caused delays to many shipments.
UPS is looking to get a head start on its peak season this time around, anticipating strong demand for e-commerce shipments to continue. The company suggested a future surcharge on peak-season shipments is possible if e-commerce trends continue to drive operating expenses higher in 2015.
The shipping giant said it plans to be fully operational on Black Friday, accelerate the deployment of route optimization software and increase network capacity. Operating expenses for capacity and projects related to peak season are now estimated to hit $175 million in fiscal 2014.
"This dramatic shift and increase in [business-to-consumer] shipments is creating some challenges in our network, and we are making investments this year to better handle it," chief financial officer Kurt Kuehn told Maria Bartiromo on Opening Bell.
Kuehn added that the investments will help UPS "prepare for the great holiday onslaught that will be coming."
Due to the increase in expenses, UPS lowered its full-year guidance to adjusted per-share earnings of $4.90 to $5, which would reflect a 7% to 9% increase over 2013. UPS previously forecasted a profit at the low end of its original initial outlook, $5.05 to $5.30 a share.
Chief operating officer David Abney, who will replace Scott Davis as CEO in September, said the projects were already planned. UPS is "simply advancing them" in response to accelerated volume, he told analysts during a conference call.
UPS booked a second-quarter profit of $454 million, well below earnings of $1.07 billion in the year-ago period. On a per-share basis, earnings fell to 49 cents from $1.13. The latest results included a $665 million write-down tied to the transfer of post-retirement liabilities for certain Teamster employees to defined contribution healthcare plans.
Adjusted earnings climbed to $1.21 a share from $1.13. Analysts were looking for $1.25 a share. Revenue was up 5.6% at $14.27 billion, beating the consensus estimate of $14.11 billion.
Shares fell 3.3% to $99.25 in recent trading on Tuesday. UPS was already down 2.3% year-to-date through Monday's close.
The surge in online shopping is both a gift and a curse for shipping companies. While e-commerce has created more demand for services provided by UPS and others, online retailers often turn to lower-cost options and strain network capacity with large, lightweight boxes.
Macquarie analyst Kelly Dougherty said UPS has the technology to streamline deliveries but is just now starting to roll it out more quickly, with business-to-consumer volume growing much faster than business-to-business shipments.
The added $75 million in operating expenses highlights Citigroup's concerns with UPS this year, since the company "must remain focused on network fluidity in the face of growing volumes, especially in peak season, in order to avoid a second year of service issues," analysts at the bank wrote in a research note to clients.
Citigroup maintained its neutral rating for the stock, adding that peak-season spending by UPS will likely "mute financial performance" in the near-term.
For the period ended June 30, e-commerce shipping in the U.S. and strong international export growth contributed to a 7.2% improvement in global package shipments for UPS.
Domestic revenue grew 5.2% to $8.67 billion, as daily package volume increased 7.4%. UPS noted that SurePost shipments surged more than 60% year-over-year and accounted for roughly half of the company's ground product growth. UPS SurePost ships packages to the U.S. Postal Service, which makes the final delivery.
UPS said the rapid growth in SurePost was the primary reason why total revenue per package declined 2% during the quarter.
Last month, Atlanta-based UPS announced that rates for all domestic ground shipments will be based on package size beginning Dec. 29. The cost of a shipment is determined using dimensional weight if it exceeds the package's actual weight.
Rival FedEx (NYSE:FDX) made a similar move, saying dimensional-weight pricing will apply to all shipments at the start of 2015.
UPS has said the adjusted rate structure should lower fuel costs and encourage shippers to pack boxes more efficiently. On Tuesday, executives said UPS is working with customers on their packaging practices.
Retailers like Amazon.com (NASDAQ:AMZN) often pack small items in large boxes, sending lightweight packages that can take up a lot of space on delivery trucks.
"Dimensional-weight pricing will force customers to address their packages," Dougherty said, explaining how the new rates should convince shippers to match box sizes to the items inside. "It frees up capacity."
Internationally, UPS reported a 6.2% increase in small package revenue to $3.25 billion amid higher export shipments. Supply chain and freight revenue checked in at $2.35 billion, up 6.5%.
Kuehn said UPS continues to make heavy investments in Europe, while emerging markets are an increasing focus for the company.
"E-commerce is growing in Europe as well and around the world. UPS is taking the lessons they learned in the U.S. and applying them internationally," Dougherty said.