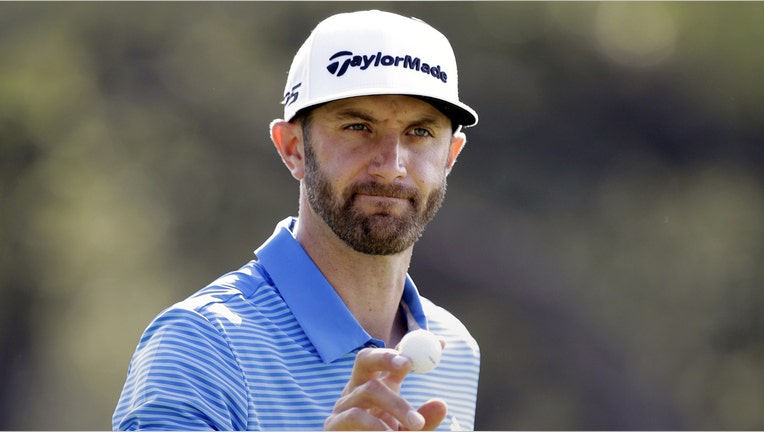 Update (2:15 p.m. ET): Dustin Johnson withdrew from the 2017 Masters Tournament on Thursday after he experienced lingering back pain shortly before his scheduled tee time.
-
Dustin Johnson, currently the world's top-ranked golfer, was the favorite to win the Masters Tournament at Augusta National Golf Course this weekend until an accident put his playing status in doubt. Still, experts say he doesn't even need to play this week to continue his trajectory as one of the sport's most marketable stars.
Johnson suffered a lower back injury from a "serious" fall down a flight of stairs on Wednesday, his agent David Winkle said in a statement. The freak occurrence stands to interrupt the best run of Johnson's career. The 32-year-old has won six PGA Tour in the last 12 months – including his first-ever major at the 2016 U.S. Open last summer – and was named the world's No. 1 golfer in February.
After years of close calls and murky allegations of misconduct, Johnson has recently been cashing in on his prodigious talent – both on and off the course— in what sports fans have identified as a great comeback story. That trend will continue regardless of whether Johnson puts on Augusta National's iconic green jacket on Sunday, according to Tamara Jacobs, a senior vice president at Ketchum Sports & Entertainment.
"At the moment, Dustin Johnson is one of golf's most marketable and hottest players," Jacobs told FOX Business. "Winning in Augusta would make back-to-back Majors for him, which is always an incredible feat. But with six wins in less than a year including a Major, he doesn't need the win, there's no doubt about his abilities right now."
Johnson's success on the PGA Tour has translated to increased attention – and income – off the course. He ranks as golf's seventh-highest paid golfer in 2017, with $12.7 million in winnings and an estimated $7.1 million in earnings from endorsements, bonuses and appearance fees, according to Golf Digest's annual ranking.
As of this year, Johnson has endorsement deals with several of the top golf-associated brands, including Adidas, TaylorMade and New Era caps, as well as an equity partnership with fledgling sports drink company BodyArmor. His relationship with model Paulina Gretzky, the daughter of hockey legend Wayne Gretzky, draws regular attention from tabloids.
With his recent run of success, Johnson (along with Jordan Spieth, Jason Day, Rory McIlroy and several other young golfers), is vying to join the likes of Tiger Woods and Phil Mickelson in golf's highest echelon of stardom.
So far, Johnson has trailed Spieth and McIlroy in terms of marketability – both rivals out-earned him in 2016. Jonathan Jensen, a sports marketing consultant and assistant professor at the University of North Carolina at Chapel Hill, notes that Johnson has yet to partner with many companies outside the golf world's orbit.
"To me, you have the triumvirate of Spieth, McIlroy, and Day, and then everyone else. While Spieth is the face of Under Armour golf, Nike has chosen Day and McIlroy, and Adidas is with Johnson, I don't think Johnson is on their level in terms of marketability," Jensen said. "I don't think a win at The Masters or continuing the recent success he's had in his last few tournaments will change that."
Johnson is still working to shake the reputation as a hard-partier that dogged his career's early days. He took a leave of absence in 2014 to "seek professional help for personal challenges," but subsequently denied rumors that he had failed multiple drug tests. The PGA Tour, which does not comment on disciplinary matters, denied media reports at the time that said Johnson had been suspended.
"Johnson is among those hoping to more fully, and for a very long time, fill the marketing and endorsement opportunities arising for the next generation of golfers," David Carter, executive director of the University of Southern California's Marshall Sports Business Institute, told FOX Business. "His brand, as well as his play and overall positioning, afford him the opportunity to capitalize on this early success. Of course, in order to do so, he will have to consistently perform on the course and avoid big mistakes off of it."
Nearly three years after his leave of absence, Johnson is focused and playing the best golf of his career. If Johnson can recover from his injury and make a strong showing at the Masters, his appeal would receive a major boost, according to Carter.
"Winning the Masters forever places golfers in one of the rarest fraternities in sports. While golfers can succeed as marketers and brand ambassadors without winning the green jacket, doing so routinely serves as a marketing accelerant of sorts," Carter said.