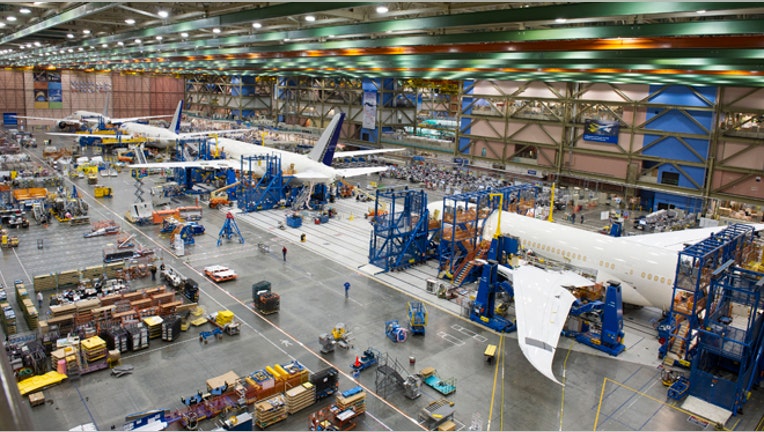 Orders for long-lasting U.S. manufactured goods unexpectedly rose in April, but a drop in a measure of business capital spending plans could temper expectations for a sharp rebound in economic growth this quarter.
The Commerce Department said on Tuesday durable goods orders increased 0.8 percent as demand for defense capital goods surged and orders for fabricated metal products, transportation equipment and electrical equipment, appliances and components rose.
Durable goods range from toasters to aircraft and are meant to last three years or more. Orders advanced by a revised 3.6 percent in March. Economists had forecast orders falling 0.5 percent after a previously reported 2.5 percent rise in March.
"We are the same track as we were before, which is still a slow track. There is not a dramatic case for companies to expand capacity because they don't think the economy will improve dramatically," said Mark Vitner, a senior economist at Wells Fargo Securities in Charlotte, North Caroline.
Non-defense capital goods orders excluding aircraft, a closely watched proxy for business spending plans, fell 1.2 percent after rising by a revised 4.7 percent in March, which was the largest gain since November.
The so-called core capital goods orders had been previously reported to have risen 2.9 percent in March.
U.S. stock index futures slightly added to gains on the data, while prices for U.S. Treasury debt slipped. The dollar gained against the euro.
Separately, house prices continued to appreciate in March, which could hurt affordability. Rising house prices and high mortgage rates have undercut home sales.
The Standard & Poor's/Case Shiller gauge of house prices in 20 metropolitan areas increased 12.4 percent in March from a year ago.
The durable goods report could cause economists to trim expectations for a sharp rise in growth in the second quarter after the economy sputtered in the first three months of the year.
Core capital goods shipments fell 0.4 percent last month. Shipments of core capital goods are used to calculate equipment spending in the government's GDP measurement. They increased 2.1 percent in March.
While the durable goods report is volatile month-to-month, it added to weak industrial production data in suggesting some cooling in factory activity. The Institute for Supply Management's survey of national factory activity also showed a slowing in new order growth in April.
Business are placing fewer orders while working through a stockpile of goods amassed in the second half of 2013. Last month, durable goods inventories rose 0.1 percent after increasing 0.2 percent in March.
Orders for defense capital goods jumped 39.3 percent, the largest rise since December 2012. Transportation equipment rose even as bookings for civilian aircraft and automobiles fell.
Orders excluding transportation rose 0.1 percent after increasing 2.9 percent in March.
There were declines in orders for machinery, primary metals and computers and electronic products.