Dunkin's Profit Sinks 61%, Investors to Sell 22M Shares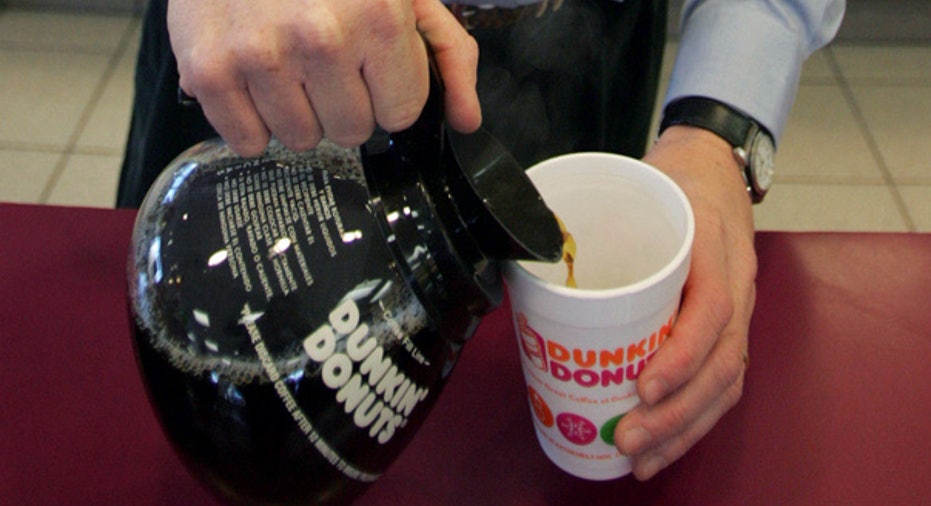 Dunkin' Donuts and Baskin-Robbins' parent Dunkin' Brands (NASDAQ:DNKN) reported on Tuesday stronger third-quarter sales that surpassed Wall Street expectations as customers spent more per visit, however its profit narrowed on IPO and other costs.
Dunkin's shares fell as much as 6% in the early afternoon after it announced that some of its major investors would sell a large stake in the company.
Private equity companies Bain Capital, Carlyle Group and Thomas H. Lee Partners, which bought Dunkin' Brands from global spirits company Pernod Ricard in 2006, said they would sell 22 million shares of Dunkin' common stock in a secondary offering before the year's end.
The Canton, Mass.-based quick-service bakery and ice-cream store chain operator said it earned $7.4 million in the third quarter, down 60.7% from $23.7 million, or 24 cents a share, in the same quarter last year.
Excluding one-time costs such as its initial public offering, the company earned 28 cents a share in its first quarter as a public company, which is ahead of average analyst estimates polled by Thomson Reuters of 25 cents a share.
Revenue for the three months ended Sept. 24 was $163.5 million, compared with $149.5 million a year ago, trumping the Street's view of $159 million. The food-service retailer saw system-wide sales climb 8.9%, with consolidated U.S. comparable sales growth of 5.6%.
Dunkin' CEO Nigel Travis attributed the third-quarter growth in system-wide and comparable sales to positive gains at both of its outlets. Dunkin' Donuts comparable sales in the U.S. increased 6%, with Baskin-Robbins up 1.7% from a year-earlier loss of 5.8%.
Sales of new items such as frozen lemonade and chicken salad helped to increase sales at Dunkin' Donuts, while new Keurig cups it released last quarter helped boost the amount spent on average by each customer.
Travis noted the gains "reflect the strength of our overall business and underscore the opportunity we have to accelerate our profitable growth in the U.S. and around the world."
International sales were up 13% during the three-month period.
Like its rivals, Dunkin' has been forced to raise prices to deal with heavier costs for commodities and raw materials such as coffee beans and milk.