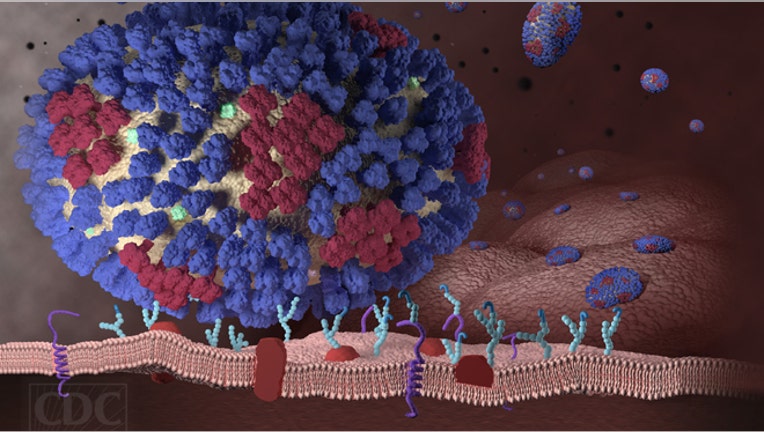 This year's early and potentially severe flu season has created shortages of the children's formulation of the leading treatment and most forms of the top-selling flu vaccine in the United States, according to their manufacturers.
Roche Holding AG told Reuters late on Wednesday that it had a shortage of the liquid formulation of Tamiflu, which is used mainly to slow down or stop the symptoms of the flu in children already infected with the virus.
Roche said the company had informed wholesalers and distributors in recent weeks that they would face temporary delays in shipments. Pharmacists can create a substitute oral formulation by dissolving Tamiflu capsules into a sweet liquid, according to Tara Iannuccillo, spokeswoman for Roche's Genentech unit, which makes Tamiflu.
Sanofi SA, the largest flu vaccine provider in the United States, said on Thursday that it had sold out of four of its six formulations of its Fluzone seasonal flu vaccine due to the unanticipated late-season demand for vaccines.
"At this point we are not able to make any more vaccine because we are gearing up for next year's vaccine," said Michael Szumera, a spokesman for Sanofi.
Most of the United States is nearing peak levels seen during moderately severe flu seasons, according to the Centers for Disease Control in Atlanta. As of last Friday, the percentage of people seeing health care providers for influenza had increased for the previous four consecutive weeks to 5.6 percent. That compares with 2.2 percent the previous year when flu was mild.
"We are hearing of spot shortages. Given the time in our flu season, it isn't surprising. People who haven't been vaccinated and want to get the vaccine may have to look in several places for it," CDC spokesman Tom Skinner said on Thursday
It is not unusual to run out mid season during a moderate to severe season, which is what this year looks like, he said.
The South and Southeast were the earliest regions to report flu activity picking up in November, but it is now seen throughout much of the country. The vaccines that are available this year are a fairly good match to the strains of the flu that are circulating, a CDC spokesman said recently. It takes about two weeks for the vaccines to provide protection.
According to the CDC, the manufacturers planned to produce 137 million doses of the vaccine and as of late last year, 112 million people had been vaccinated.
Sanofi produces 60 million of those doses and GlaxoSmithKline PLC had planned to produce 25 million doses.
A spokesman for GlaxoSmithKline said on Thursday it expected to have the vaccine available until mid-February.
WALGREEN FLU SHOTS UP
Walgreen Co., which provides flu shots in some of its pharmacy locations, said on Wednesday that it had given 5.7 million flu shots so far this flu season, up from 5.3 million in the prior year.
"We've kept our reimbursement rates the same, so we are making a consistent level of profitability on flu shots," Walgreen's President of Pharmacy, Health and Wellness Kermit Crawford said after the company's annual shareholder meeting in Chicago. Walgreens is the largest distributor of flu vaccines in the United States other than the government
Walgreen is reimbursed by health insurers such as UnitedHealth Group, Wellpoint Inc. and Aetna Inc., whose profitability can be hurt by the flu because of such reimbursements to pharmacies, doctors and other providers for vaccines and treatments.
Aetna said this week it has seen a spike in flu cases this year but it is not resulting in more inpatient admissions and it is budgeting about $40 million to $50 million for a normal flu season. That compares with $100 million it spent during the H1N1 flu, or avian flu, season in 2009.
"We don't see this flu season, even at its worst, getting close to that number," Aetna CEO Mark Bertolini said during Tuesday's J.P. Morgan Healthcare conference in San Francisco.
Inpatient admissions often help hospital results during flu outbreaks, analysts have said.