DroneDeploy Is Building an App Store and OS for Drones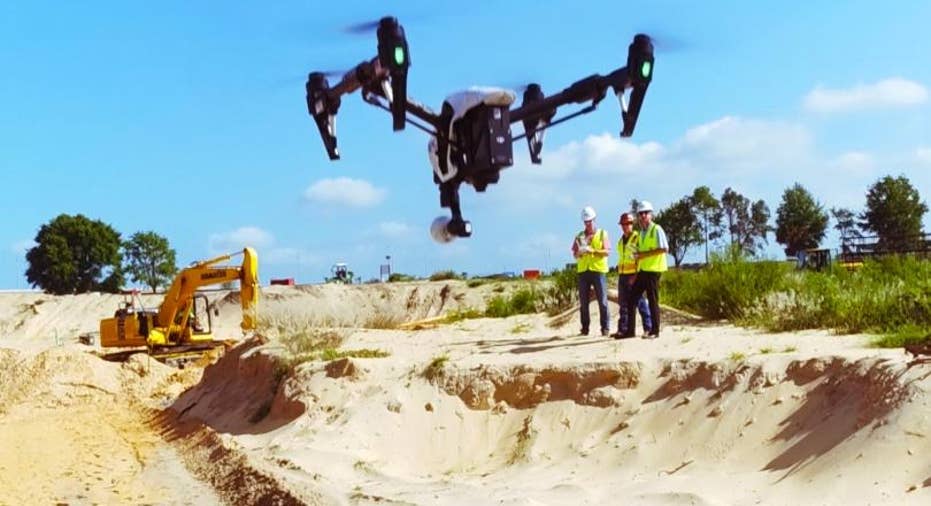 Drones are everywhere. PricewaterhouseCoopers (PwC) projects the global market for commercial applications of drone technology to rise from $2 billion this year to as much as $127 billion by 2020. Yet for all the drone manufacturers building cutting-edge unmanned aerial vehicles (UAVs), there's also the question of the software platforms that will power, control, and manage all these new assets. Plenty of companies are vying to become the "OS for drones," but one of the more intriguing startups is DroneDeploy.
When most people think of drones, the first examples that come to mind are usually consumer quadcopters sold by UAV manufacturers like DJI, 3D Robotics, and Parrot. Either that, or the fleets of delivery drones planned by tech giants like Amazon PrimeAir and Alphabet's Project Wing (most recently seen delivering Chipotle burritos via drone). According to PwC, those use cases only scratch the surface of drone technology's potential to disrupt and reinvent the way businesses worldwide approach everything from agriculture, infrastructure inspection, and construction to telecommunications, mining, and a host of other industries.
DroneDeploy is an aerial mapping, image capture, and data analytics platform making up an operating system (OS) that could be used for any drone hardware. More importantly, the startup is building out an ecosystem around its cloud-based software across all these business use cases. The company recently launched a free Drone Mapping Directory to help businesses worldwide connect with drones-as-a-service providers—companies offering "turn-key" drone solutions for whatever businesses need—and followed that up with the launch of an open developer platform and the Drone App Market, currently featuring 19 drone-specific apps.
Why It Works for BusinessesFor a company like DroneDeploy, the value for businesses is in the knowledge that with a unified software platform underneath, any drone hardware you plug into the system or data you extract from it will just work. Drone regulations are different depending where you are, but in the U.S. the Federal Aviation Administration's (FAA) approval of the Part 107 provides the first set of uniform drone regulations that will pave the way for an influx of even more drone hardware for your business to choose from.
Mapping software company Esri accepted DroneDeploy into the Esri Startup Program in 2015. DroneDeploy has since leveraged Esri's ArcGIS mapping processing software to improve the platform's drone image processing capabilities. Kurt Daradics is the Global Program Manager of the Emerging Business Group, and runs the Startup Program. Esri is working with a number of drone startups, but Daradics said what stood out about DroneDeploy is how it's layering computer vision on top of an integrated platform designed specifically to solve different business use cases.
"DroneDeploy is focusing a lot on imagery for work with enterprise customers around things like mining and agriculture. For agriculture they might be helping farmers do precision ag on how to detect crop health and infestation. With mining, they might be helping track asset management of moving raw materials around," said Daradics.
"There's an innovation gap being closed now with hardware being delivered with military-grade capability at consumer pricing," he added. "Drone companies are coming out the wazoo and we're getting pounded with new applications, but DroneDeploy's [App Market] being able to connect them all as third-party app plugins and then analyzing that image data with ArcGIS is really radical."
Company DossierName: DroneDeployFounded: 2013Founders: Mike Winn, Nicholas Pilkington, Jono MillinHQ: San Francisco, CACompany Size: Approx. 40 employeesWhat They Do: Cloud-based drone mapping and analytics platformWhat That Means: An operating system and app store for dronesBusiness Model: SaaS subscription modelCurrent Status: LiveCurrent Funding: $31 millionNext Steps: Expanding the customer base, app marketplace, and data analytics capabilities
Inside the PlatformDroneDeploy CEO Mike Winn, CTO Nicholas Pilkington, and Chief Product Officer (CPO) Jono Millin co-founded the startup in 2013 with the mandate of "building software that made drone hardware into simple, repeatable product for people who don't know anything about drones," explained Pilkington. The company established its headquarters in San Francisco and was accepted into the AngelPad incubator later that year.
Even before the commercial drone market began really taking off, Pilkington said the company knew it wanted to build a universal drone OS incorporating deep business intelligence (BI) and data visualization capabilities.
"The first thing we tried to do is make it easy to operate drones, by building a piece of software that flew drones automatically. That in and of itself doesn't provide much value though, so onto that we built the capability to control the drone camera and collect aerial imagery," said Pilkington. "But just collecting the images didn't solve business problems, so we started building Map Engine, which became our image processing pipeline. Now you can push a button to turn real-time mapping data into a 3D model, and we're adding tools to actually answer questions and let you collaborate on and share that data."
The DroneDeploy platform itself can be broken down into a few different levels. The DroneDeploy app for mobile and tablet is available on Android and iOS in 135 countries, and gives users the ability to fly drones while creating interactive 3D maps and models. The apps work with all drone software, but the company has partnered specifically with DJI. As such, the app works particularly well with drones like the DJI Phantom 4, DJI Inspire 1, and other DJI models.
The app's functions include building drone flight plans, automating takeoff and landing, and giving users a live first-person view of the drone in flight as it captures images. Users can also build and navigate 3D maps and models, with a number of built-in tools to measure area, distance, volume, and other mapping metrics. The company also recently added flight log access capabilities integrated with seven drone flight log data partners.
The DroneDeploy desktop application sports the same responsive interface as the mobile app, but houses more complex mapping, image processing, and drone data analysis features. Many of these are designed to address specific uses cases for the company's main verticals: agriculture, construction, inspection, mining, and drone services.
The platform runs data visualizations and mapping services, including normalized difference vegetation indexing (NDVI) for agriculture crop health analysis, terrain and topographic modeling, and orthomosaics with annotated notetaking and photo attachment capabilities. Pilkington talked about some of the hands-on business uses cases DroneDeploy sees with some of its customers such as crop counting, land surveying, and utility inspection.
"One of the core things you're looking for with aerial imagery is to measure volume, and for mining or construction this is used to make operational predictions about a site. Normally whoever's managing the site would bring in surveyors to measure this, but with drone mapping you can do it more efficiently and start predicting how you'll need to allocate resources," said Pilkington. "In agriculture it's more about precise high-resolution measurements of what's going on within the farm. If you're managing 8,000 acres of corn growing 11 feet tall, we can give you an aerial overview of let's say what fraction of seeds you have germinated. Then we can count how many crops have been harvested and sold to draw more useful insights like making sure the distributors have been billed for the accurate amount of crops sold."
DroneDeploy has designed its platform to facilitate specific business use cases, but is now building out its developer and third-party ecosystem. The goal of the App Marketplace and developer platform is to open the platform while distributing drone data collected by DroneDeploy's more than 10,000 users across 135 countries. The platform's users have collectively mapped more than 2 million acres in its Drone Map Gallery, according to the company.
The App Market is still newly launched, but already includes integrations with tools like Box for file sharing, John Deere, on-demand drone insurance with Verifly, and a number of agriculture-specific drone mapping and data apps. The Drone Mapping Directory that's essentially playing the role of curated Craigslist or Amazon Mechanical Turk for drone pilots and businesses looking to list and buy services in different areas.
"We've always pushed DroneDeploy as being a horizontal platform. We don't want to go too deep into one specific vertical because then you end up with a myopic view of the market. We want to enable the entire drone economy," said Pilkington. "We've been accumulating a huge amount of data and high-res imagery down to 1cm per pixel where you can see a nickel on the ground. Up until now we've built different tools for different verticals, but through API access and app integrations we're giving businesses more programmatic control over building DroneDeploy functionality customized to their own use case."
Business Plan BreakdownDroneDeploy has amassed $31 million in venture capital (VC) funding across two seed rounds, and Series A and B funding rounds. The startup most recently raised a $20 million Series B round led by Scale Venture Partners. The company prices its platform on a software-as-a-service (SaaS) model with a free plan, and premium tiers with greater upload capacities, map resolution, data processing, and export features. There's also an enterprise plan with custom branding and application programming interface access.
"We started with features for farmers, miners, and other business use cases with a bird's eye view and analytics on top, but the horizontal nature of drone software is one of the key differentiators for us," said DroneDeploy CEO Mike Winn. "The actual mission of the company is to make drones accessible and productive for anyone. Free users can download the app and fly a drone with two taps of a button."
From a market standpoint, the most daunting challenge for DroneDeploy is the host of other startups and companies in the space offering similar platforms. Players like Airware, Dronifi, Kespry, and a number of others are all offering similar types of mapping and intelligence software as part of larger drone OS platforms. Then there are open-source efforts like the Linux Foundation's open-source Dronecode software as well. The question for DroneDeploy is whether the startup's burgeoning ecosystem with the app store and drone services marketplace will entice enough businesses, developers, and users to the platform.
At the same time, the company needs to continue building out its BI data processing and analysis capabilities to make the platform truly enterprise-ready. Winn sees enterprise adoption as the biggest avenue of growth for the company.
"Commercial drones are a truly global phenomenon. We have one of the largest user bases of any drone data company, and compared to most of our competitors, we think we have industry-leading cloud-based data visualization capabilities," said Winn.
"From the industry sense, about a third of our users right now are in agriculture, seeing their crop fields in one snapshot. But we also have enterprise use cases across forestry, fishing, environmental research, the list goes on," he added. "There's one company mapping coral reefs underwater for environmental research to measure coral bleaching. It's about providing a highly accurate mapping product like Google Maps that works with drones across every industry. All you need to do is go into the DroneDeploy app, press the New Flight button, choose the areas to fly over, and press Go."
Ask the Experts: Startup AdviceColin Snow, CEO and Founder of Skylogic Research LLC and DroneAnalyst.com, has kept an eye on the evolution of online drone data services over the past few years. When evaluating a platform like DroneDeploy against its competition in the market, Snow recommends five tips: know your business objectives, compile a list of requirements, do your due diligence on the company behind the technology, keep platform speed and usability in mind, and pay attention not just to cost, but security."The current wave of development and innovation in online drone data services is focused on mapping and analytic solutions that drone business service providers can use to help customers solve real world problems—problems like infrastructure decay, crop yields, stockpile inaccuracies, improper construction sequencing, mining site logistics, etc," said Snow. "With so many choices, it can seem hard to know which one you should use. What advantage does one have over another? Unfortunately, the answers are not simple. A lot depends on your business model, your target market, what functions you need, and quite frankly how much you are willing to spend."James Newell, Vice President at IVP said the broader drone space finds itself in the trough of the Silicon Valley hype cycle right now. Eeveryone has been waiting for clarification on FAA rules and for tangible commercial use cases to emerge. Newell considers DroneDeploy more of a software company than a drone company, and said their healthy early stage capital gives them plenty of time to figure out an enterprise feature set for different verticals."DroneDeploy may have 'drone' in their name but it is more accurate to see them as a data and image processing software company with some drone management features layered in. They should be focused on developing deep analytics and actionable insights in certain verticals that have repeated imaging needs, with agriculture being the most obvious," said Newell. "However, DroneDeploy still appears to be focused on generalized small business use cases and they will need to get to a much higher average selling price if they want to build a large company. Unlimited mapping and processing is available for only $3K annually, and it isn't clear if they currently have features that are compelling enough to convince customers to move into an enterprise service tier."Andrew Schoen, Associate at NEA believes there is a clear product-market fit for automated drone mapping software as a category. He said that as these technologies get easier to use, more reliable, and cheaper, companies that have a need for regular aerial mapping will likely move away from hiring external specialists and start using solutions like DroneDeploy. But beyond the technology's applicability in industries like construction, surveying, utilities, agriculture, telecommunications, mining, and others, the biggest hurdle Schoen sees for the startup is competition."SaaS does make sense here as the most valuable segment in this market is companies that have a recurring need as opposed to one-off mapping projects; the ROI on acquiring these recurring customers should be much higher. That said, competition in this space is my biggest concern and there are a number of other players," said Schoen. "Competition could drive up CAC [customer acquisition costs], put downward pressure on pricing, and eat away at addressable market share. I'd recommend that the company keep a particularly close analytical eye on churn (customer accounts lost) and on sales wins and losses. That'll yield lots of information on the state of competition in the market and on the quality of Drone Deploy's pricing model. Overall, it's a great product in a growing space. I'm excited to see where this company goes."
Know a cool startup we should spotlight next? Are you a VC firm interested in weighing in on featured startups? Email your suggestions to robert_marvin@pcmag.com.
This article originally appeared on PCMag.com.