Dow, S&P 500 hit records as fed nominee Powell fails to rock boat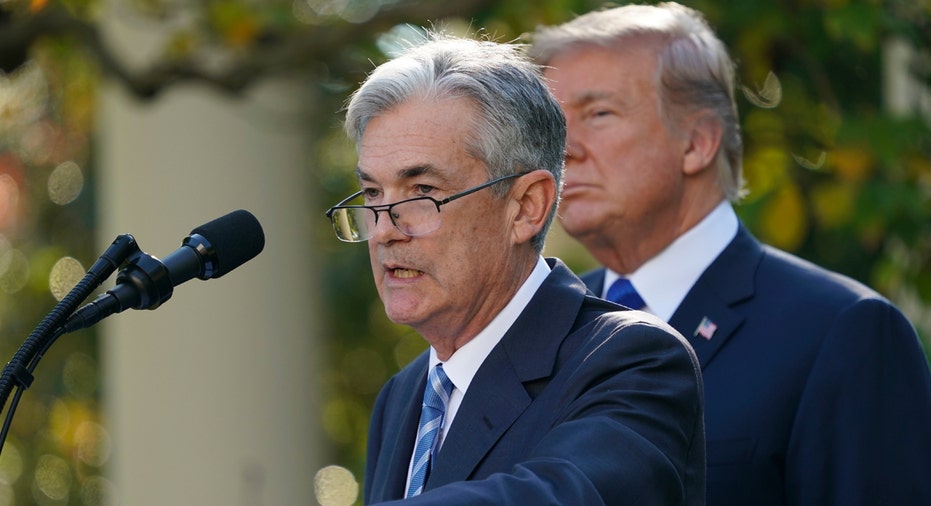 Ten of the 11 primary S&P 500 sectors are higher on the day
U.S. stocks extended gains Tuesday, with both the Dow and the S&P 500 extending a run into record territory after upbeat economic data and as Jerome Powell, President Donald Trump's pick to run the Federal Reserve, indicated he wouldn't make drastic changes to central bank policy.
What are the main benchmarks doing?
The Dow Jones Industrial Average advanced 133 points, or 0.6%, to 23,715. The S&P 500 added 14 points, or 0.5%, to 2,615. The Nasdaq Composite Index was up 19 points, or 0.3%, to 6,897. Both the Dow and the S&P hit all-time highs, while the Nasdaq was fractionally below its own record.
The three equity benchmarks have set multiple records in 2017, boosted by factors such as an expanding U.S. economy, rising corporate profits, anemic expected returns for other assets and bets that the Trump administration will deliver tax cuts and other business-friendly policies.
The day's gains were broad, with 10 of the 11 primary S&P 500 sectors higher on the day. Financials were the top gainers, up 1.2%, while real estate lagged behind with a 0.4% fall.
What's driving markets?
Powell testified at a Senate confirmation hearing Tuesday morning, giving investors their first big clue on how he hopes to operate at the Fed. His opening statement for the hearing was released Monday, indicating he expects to stay on the course set by the current Fed chief, Janet Yellen.
In a speech Tuesday, New York Fed President William Dudley called for the public reporting of Treasury market transactions.
Late Monday, Dudley said he still expects a strong job market will help push inflation up over time, and he repeated his view that low inflation with low unemployment is "not actually a bad thing."
On the data front, the Conference Board's consumer-confidence index jumped to 129.5 in November, well above the 124.8 forecast from economists polled by MarketWatch and marking a 17-year high.
Also, the advanced U.S. trade deficit in goods rose 6.5% to $68.3 billion in October. Separately, home prices rose at their fastest pace in more than three years in September.
Stocks shrugged off the cancellation of a meeting between Trump and congressional leaders, including top Senate Democrat Chuck Schumer and top House Democrat Nancy Pelosi after the president tweeted that he didn't see prospects for a deal to avoid a government shutdown on Dec. 8.
What are strategists saying?
"I think Powell will keep things steady. Everything I've heard and read suggests he'll be pretty much a continuation of [current Fed Chairwoman Janet] Yellen. While there's historically some concern about changing Fed chiefs, that's something we'll worry about more next year," said Wayne Kaufman, chief market analyst at Phoenix Financial Services.
"Meanwhile, this is a strong market that continues to grind up, and I expect the market will continue to move higher throughout the end of the year. The market is very comfortable with valuations here, and so long as earnings continue to move up, I don't see that changing."
"Good earnings and strong economic data" continue to be the main focus for investors, said Art Hogan, chief market strategist for Wunderlich and B. Riley FBR.
Hogan said market participants appear confident congressional leaders will seek to avert a government shutdown ahead of midterm elections in 2018, noting that recent shutdown showdowns have resulted in deals.
Which stocks are key movers?
Shares in Buffalo Wild Wings Inc. climbed 6.4% after Arby's Restaurant Group Inc., which is owned by private-equity firm Roark Capital Group, agreed to acquire the restaurant chain for $157 a share in a deal valued at $2.9 billion, including debt.
Shares in Amazon.com Inc. rose 0.4% as investors assessed how the e-commerce giant performed on Cyber Monday. Adobe data have indicated this year's Cyber Monday sales set a record. The SPDR S&P Retail ETF was up 0.5%.
Wells Fargo & Co.'s stock rose 1%. Earlier, it was reported that the bank overcharged foreign-exchange clients.
What are other assets doing?
European stocks  traded higher, while Asian markets closed mixed. Oil futures continued to pull back, as some analysts voiced doubts over what a Thursday meeting of key producers will achieve. The ICE U.S. Dollar Index rose, and gold futures were roughly unchanged.