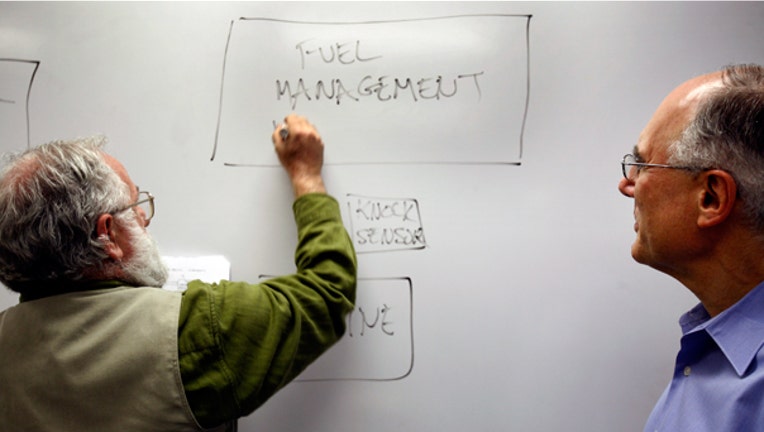 When it comes to feeding their babies, most moms put serious thought into what products they put into their child's mouth. But what about on their babies' skin?
After two cancer diagnoses in their family, Ayo and Nigel Hart were so concerned about the products they used on their babies that they launched their own organic skin care line for children—and it took off. Now they are watching both their babies and business grow up.
Many businesses have started out of necessity: someone needed a product, couldn't find it and decided to fill the market void themselves.
After Nigel's mother was diagnosed with breast cancer in 2009, the family's oncologist encouraged her to avoid artificial and potentially harmful chemicals that can be found in everyday products, such as shampoo or deodorant, while undergoing chemotherapy. The next year, Nigel lost his father to cancer. His parents grew their own food on their farm in England, so the couple didn't think pesticides or chemical-laden food was necessarily to blame for the diagnosis. The Harts blamed environmental factors.
"We started becoming more aware that the things we were using weren't really natural," Ayo said. "It's a little bit of an eye opener."
"Two teaspoons of an eight-ounce bottle may be a chemical you probably wouldn't inject in the mouth," Nigel added.
As parents of twins, Ayo and Nigel wanted to make sure their children used only truly-natural products, which were hard to find. So, they launched their own line of baby shampoos and bath products called Dolphin Organics. All the ingredients in the products claim to be 100% natural and organic – as well as functional.
"I think the more targeted you are, the easier it is to market to the group, but it's also a much smaller group. So that may limit your sales potential"
"It's hip to be green, so people are plastering that word all over their bottles," said Nigel, noting that many so-called "natural" products will still contain ingredients such as paraben and phthalates. "We're not just natural, we're all-natural, we're all plant-based. Anything that can come in organic form, we're going to use it."
Finding Their Target Audience
Dolphin Organic shampoos, lotions, bubble baths, and body washes have been approved by Quality Assurance International (QAI) to certify their organic ingredients and The National Safety Foundation, which confirms products meet strict safety standards. Dolphin Organics is also a member of the Natural Products Association. In addition, Dolphin Organics products are made in the USA.
It is these associations that the Harts are hoping will separate Dolphin Organics from other natural lines such as California Baby, Burt's Bees and Johnson & Johnson Naturals. "We wanted a parent to be able to pick up our bottle and look at our logo and understand [what was inside]," explained Ayo. "We have responded to the frustration of parents and created an innovative ingredients label which is clear and easy to decipher. Dolphin Organics doesn't just say we're natural, we prove it."
Dolphin Organics launched in June after receiving input from parents dedicated to raising organic babies. The Harts kept the launch silent so they had time to learn more and better understand their market.
They put on product launch parties at moms' homes and relied heavily on word-of-mouth referrals to  gain more exposure, particularly important among the mom circuit. After realizing that social media was a large source of recommendations and product reviews, the couple hired a social media expert and sent samples to moms requesting more information on the company's Facebook page.
"Getting [mothers] on your side is absolutely critical to having a long-lasting product" in the baby space, Nigel said.
The couple is still trying to determine whether to try to convert customers of brands with similar products, or try to win over non-organic consumers.
Dolphin Organics products are now in 29 stores across the country and available online. The Harts said they receive two to three requests daily about their products from independent retailers, and are planning a product expansion this winter.
From Idea to Viable Business
Neither Ayo nor Nigel had any experience in the children's product market. Nigel worked on Wall Street for 20 years and has found his business experience has been helpful with the startup. Ayo has been a stay-at-home mom for six years and coaches varsity girls' basketball at their local high school.
Working 15-hour days, the couple is confident in their product because they know they are bringing a unique product that consumers are looking for. There biggest tip for potential entrepreneurs is to become as knowledgeable as possible about their anticipated market.
"There's so much out there to learn and obviously we're bringing a product to market we knew about as a consumer, not a manufacturer. Knowledge is key. You have to know what you're talking about before you walk through the door to tell someone about that product," Ayo said.
When it comes to product testing, the pair recommended getting as much potential customer feedback as possible to ensure success. And don't forget social media.
"There's a lot of money in making sure everything's as perfect as perfect can be" at a large company, said Matt Herzog, who has been the CEO of Funky Monkey Snacks for five years, previously worked as a brand manager at General Mills and oversaw the launch of Yoplait Whips yogurt in 2000. "In a small company, you don't have that luxury, so it becomes much more about getting the most information you can with the resources available."
Herzog, who also worked at SC Johnson, credits sending products out for review and talking to potential customers helped Funky Monkey crunchy fruit snacks evolve into what it is today, sold nationwide at major retailers like Whole Foods Market (NYSE: WFM) and Target (NYSE:TGT), as well as in smaller retailers and online at Amazon.com.
Facebook and other social media platforms can serve as great – and cheap - multi-directional dialogue platforms for startups to communicate with their market. These venues are particularly important since startups face more challenges than big-name companies when it comes to getting their product on the market, not least of which is lack of name recognition, proof of sales and money for product research, development and consumer testing.
Budding entrepreneurs need to confirm that their idea or product can be sustained as an actual business where the costs won't outweigh the returns. Herzog stressed networking with other people in your particular industry to "make sure you really have a smart business model."
When trying to determine a specific market, a product needs to be relevant to enough people to bring in a profit.
"I think the more targeted you are, the easier it is to market to the group, but it's also a much smaller group. So that may limit your sales potential," Herzog added.
As for the Harts, they are still learning more about their business and their market every day.
"Besides being smart and having an idea … one must be courageous, a visionary and have tough skin," Ayo said. "At the end of the day, when you're starting a business, you're going to make mistakes, you're going to hit bumps, but the successful ventures are driven by leaders who are not risk averse and who are not afraid to do what they feel is right even when others disagree.
"Once you've tested the water, dive in and enjoy. That's where we are now. We've tested some things, we've learned a great deal and now we're spreading our wings."