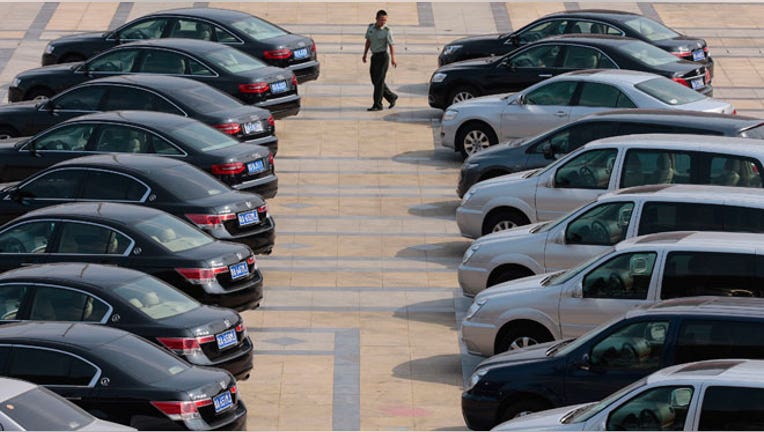 Modesto, Calif., the city that inspired the coming-of-age film American Graffiti, is the nation's top hot spot for car theft.
The worst metro areas for car theft:
Modesto, Calif.
Fresno, Calif.
Bakersfield-Delano, Calif.
Stockton, Calif.
Yakima, Wash.
San Francisco-Oakland-Hayward, Calif.
San Jose-Sunnyvale-Santa Clara, Calif.
Vallejo-Fairfield, Calif.
Spokane-Spokane Valley, Wash.
Redding, Calif.
The Central Valley city and the surrounding Stanislaus County area posted the highest rate of vehicle thefts per capita of any area of the country in 2012, according to the latest "Hot Spots" report from the National Insurance Crime Bureau (NICB), headquartered in Des Plaines, Ill.
Modesto was one of eight California metropolitan statistical areas to make this year's top 10 list, which is based on preliminary FBI vehicle theft statistics for 2012. (Metropolitan statistical areas, designated by the U.S. Office of Management and Budget, often include areas larger than the cities for which they're named.) Yakima, Wash., and the Spokane and Spokane Valley, Wash., areas were the only two places outside the Golden State to make the top 10.
The Midland, Mich., area had the lowest car theft rate in the country, followed by State College, Penn., Glens Falls, N.Y., Ithaca, N.Y., and the Salisbury, Md., areas.
Familiar suspects in the top 10
Most of the metro areas that made this year's top 10 ranking were in the top 10 last year, which was based on 2011 vehicle-theft data. Modesto and Fresno switched places from last year when Fresno was No. 1 and Modesto was No. 2.
"Those places show up year after year on the [top 10] list," NICB spokesperson Frank Scafidi says.
Newcomers to the latest top 10 list are Redding, Calif., and the San Jose-Sunnyvale-Santa Clara, Calif. areas. Redding, about 160 miles north of Sacramento, skyrocketed to No. 10 from No. 40, and the San Jose-Sunnyvale-Santa Clara area -- home to Silicon Valley -- rose to No. 7 from No. 20.
A simple reason California is car-theft central is the large number of vehicles there. Another is drugs.
"The DEA once called California a 'source country for methamphetamine,'" Scafidi says. "There's a huge drug problem in this state, and typically that spawns a lot of crime."
Overall national vehicle theft rose 1.3 percent in 2012, ending an eight-year downward trend, according to the FBI preliminary data.
"You can thank California for that," Scafidi says.
If your car is stolen and never recovered, you'll need comprehensive insurance if you want to make a claim. If you have only liability insurance, you'll have to pay for a another car out of your own pocket. See these car insurance basics.
The wild West
While the Midwest, Northeast and South, saw vehicle thefts drop, the West saw an increase of 10.6 percent. The West includes Alaska, Arizona, California, Colorado, Hawaii, Idaho, Montana, Nevada, New Mexico, Oregon, Utah, Washington and Wyoming.
Public safety hasn't been safe from the budget axe in many cities and towns.
"There have been positions eliminated, and there have been layoffs," Scafidi says.
Whether that's behind the increase in vehicle theft, though, is tough to say. One year's increase in crime statistics does not necessarily indicate a trend.
"It's something to be aware of and have an eye on, but it's no reason to jump off the roof yet," Scafidi says. "We're still down a bunch from where we were in 2003."
Anti-theft technology has helped curb car theft. Smart-key systems don't allow the car to start unless the driver has the smart key. Services like OnStar enable authorities to track stolen vehicles and remotely stop them.
Considering the fancy gizmos built into new vehicles, it's not surprising that most cars stolen today are late-model varieties. The 1994 Honda Accord is the most stolen vehicle in the country, according to the NICB's most recent "Hot Wheels" report.
Catching thieves with bait
Law enforcement efforts also put a dent into car theft. After making NICB's top 10 list for highest car theft rates, based on 2009 data, Albuquerque, N.M., worked with the NICB and insurance companies to start a bait-car program. They parked cars equipped with video cameras in areas prone to theft. Thieves who attempted to steal them or swipe items like laptops and cellphones from the vehicles were caught in the act.
Last year Albuquerque police made 132 arrests with the bait car program, and one arrest led to a tip that solved a murder case. Albuquerque now is No. 20 on the NICB list for highest car theft rates, down from No. 10 three years ago. The number of thefts dropped 23 percent, and the theft rate declined 26 percent, according to the NICB.
The original article can be found at Insure.com:Don't park your car in Modesto, Calif.