Don't Let a Wedding Scam Ruin Your Big Day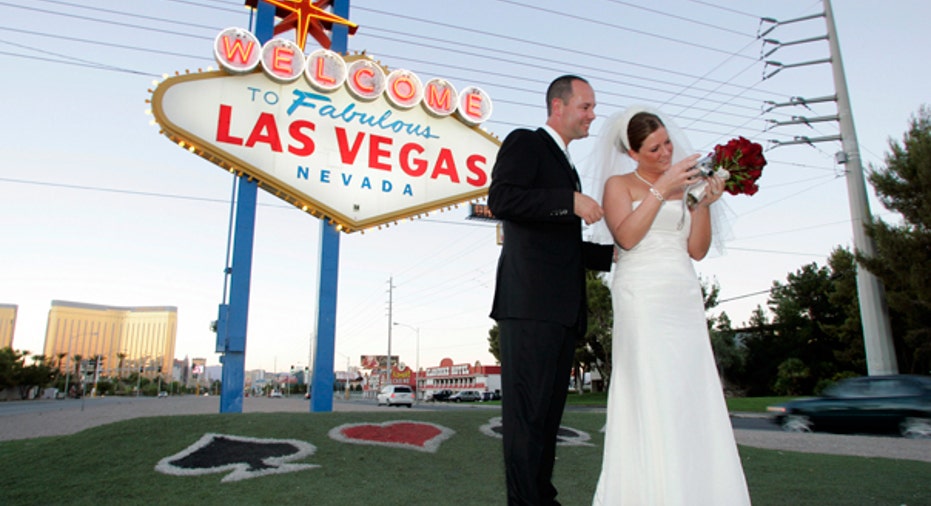 Your wedding day is supposed to be one of the happiest days in your life, and it doesn't come cheap.
But like most industries, the wedding industry contains unethical vendors and scams that can ruin the big day.
"Weddings are extremely emotional for a lot of people and it is easy for scammers to take advantage of that," says Amy Eisinger, an editor for WeddingChannel.com.
From fake dress labels to unlicensed vendors, wedding scams come in many forms. And according to Eisinger, couples aren't likely to report the incidents because they are embarrassed or want to move on with their lives.
Scammed By a Wedding Vendor? How to Get Your Money Back
Heidi Waterfield, a California newlywed, had heard that her venue was known for overcharging for the bar tab.
"We asked to keep all of the wine bottles as mementos. Even having gone to this trouble, [the venue wedding coordinator] still double charged us for alcohol. We were just too sick of dealing with her to pursue it," she says.
Engaged couples are vulnerable to scams because they are under a lot of pressure and  "making expensive decisions that they've never had to make before," says Marta Segal Block, editorial director of GigMasters.com, an entertainment search site for special events.
"A lot of brides get really, really excited and throw caution to the wind," adds Amy Vargas, a San Diego-based wedding planner.
Planning a wedding is stressful enough and the last thing a couple needs is the financial drain of getting ripped off by a vendor. Here's how to protect yourself from a day-of disaster:
Check Vendor Credentials
The most common scams stem from vendors that are service-based, like deejas, photographers and florists, according to Vargas.
"Check to see if they are a member of a professional wedding organization such as the National Association of Wedding Professionals or Association for Wedding Professionals International," says Kelly Werder, editor-in-chief of WED the magazine. "These organizations prescreen their members to make sure they have the proper business licensing."
A slew of online wedding sites provide consumer reviews of vendors. Vargas recommends: Check WeddingWire.com, theKnot.com, HereComestheGuide.com, WedSpace.com and Yelp.com.
Never hire a vendor without meeting with them face to face, the experts warn, and check to see if a vendor has had any complaints filed with your local Better Business Bureau.
Vargas also discourages from hiring professionals off of sites like Craigslist.org, where people don't have to post essential pieces of information and may not be a legal business entity.
Ask the vendor if he or she has liability insurance and make sure they have a physical address.
Whenever possible, deal locally, Eisinger suggests. She also advises couples planning a destination wedding to confirm the legitimacy of their in-country wedding coordinators, citing a common scam involving bypassing marriage licensing laws, which makes the marriage void in the United States.
Pay with Plastic and Buy Insurance
"You should always try to pay with credit card because it's easier to track and get your money back" in case of fraud, Eisinger says. "Make sure there's a physical store or person behind an Internet site."
The experts also suggest looking into wedding insurance. Policies range from $100 to $500 and protect you against things like vendors not showing up or any legal liability.
Don't be Afraid to Ask Questions
If it sounds too good to be true, it probably is. "If [a vendor] price is well below industry standard, you need to ask why" says Denise Georgious-Newell, owner of Weddings Jubilee Planning Services.
Event planner Kia Martinson-Wenzel suggests every couple ask potential vendors how long they've been in business and, given the current economy, their financial health.
"These [questions] are important to ask when you deal with a bridal shop. It has happened a lot where people have paid for their dress, but never had it ordered and then the shop closes," says Martinson-Wenzel.
Ask to See Exactly What You're Paying For
The Internet makes it easy for scammers to set up fake businesses and take your money and run.
"The most common wedding scam I've seen is fake limo companies," says Heidi Baumgart, a Cleveland wedding planner who experienced the scenario first hand last year. "They set up a national Web site with a 1-800 number, and take orders with credit card numbers as fast as they can. But no limo ever showed for the bridal party."
By asking to handpick your limo from the company's fleet, you could identify a red flag.
Read the Fine Print
While contracts can be a little tedious to read, it's in your best interest to make sure you understand payment and cancellation policies.
"Reading the contract is another way couples could get duped. You should never feel pressured to make a deposit right away or sign anything," Eisinger says.
Block advises couples make sure every detail is in a contract--particularly when it comes to entertainment.
"On our site, we do occasionally see a performer who changes the number of people in his band from what was originally advertised, or a performer sends someone else as their replacement." GigMasters will unlist a vendor if it learns of inappropriate conduct.
Make sure there is a stipulation about what happens if the vendor gets sick, for example, and who would be sent as a replacement. Once you've signed with a vendor get a copy of the final contract.