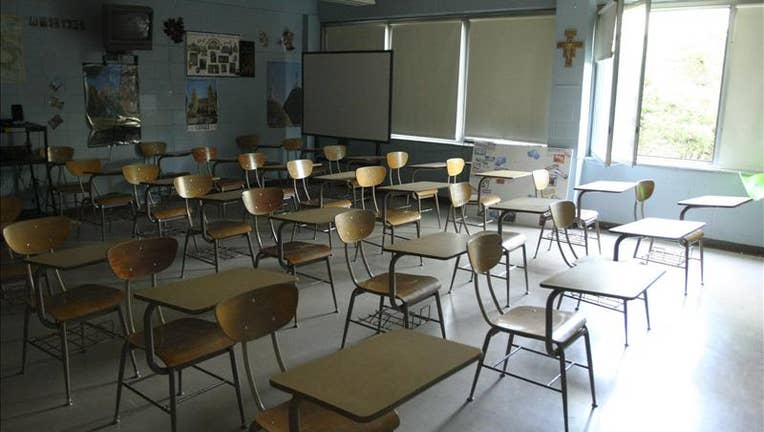 Fast Company called this nonprofit one of the most innovative companies in the world. DonorsChoose.org founder and CEO Charles Best shares his insights with Business on Main.
Charles Best, a former social studies teacher, founded DonorsChoose.org in 2000. The goal: Help public school teachers fund projects to help students in need. Since its inception, the nonprofit has funded over 200,000 classroom projects in the U.S., to the benefit of more than 5 million students.
At DonorsChoose.org, every decision is based on one question: Will it best serve public teachers and their students? That clear mission, combined with an innovative approach toward ideation, organizational culture and continued learning, led Fast Company magazine to name DonorsChoose.org as one of the "world's most innovative companies."
Recently, DonorsChoose.org founder and CEO Best stopped a moment to discuss the success of his company and share insights and advice for running a business. (Note: This interview has been edited for length.)
Antonio Neves: You transitioned from being a teacher to a CEO, which must have had a massive learning curve. What skill sets from the classroom have been assets to you in leading DonorsChoose.org?
Charles Best: I founded DonorsChoose.org because I care about learning, and I believe every student in our country deserves a great education. Likewise with our organization, I think the best way to achieve our mission is to learn and improve on a daily basis.
We ask a lot of questions of our board of directors and advisors, and we listen carefully to their advice. We reflect on our successes and failures at monthly staff meetings. We have a speaker series in our office, where we invite everyone — from the teachers we serve to high-profile technology executives — to share their business lessons with our staff. We have a professional development budget for every staff member to take classes that will help them in their roles. Learning is a critical part of our mission and organizational culture.
Fast Company named DonorsChoose.org one of the world's most innovative companies. For many people, innovation isn't synonymous with nonprofits. What has been DonorsChoose.org's approach to innovation?
First, we hire smart and creative staff, who we encourage to share their ideas. We have an email distribution list called "new feature ideas," where staff regularly contribute their own ideas, feedback they hear from our donors and their networks, and ideas they get from reading industry trends. Second, we have a culture of testing ideas, and we don't care whether they succeed or fail, as long as we learn from them. Our goal is to constantly increase our failure rate, as that is an indication that we are testing as many ideas as we can.
Corporate executives tend to base their strategy on money, and nonprofits on mission. How does DonorsChoose.org successfully combine both approaches, and what is "profitability" to you?
We evaluate all business decisions based on how we can best serve public school teachers and their students. We need to be healthy organizationally in order to do that, so we have a top-notch CFO, Andy Kaplan, formerly CFO of Audible Inc. and Time Life, to keep us focused on the right organizational metrics. For example, Andy has implemented an operational per-project fee, and an optional donation option, that allow us to cover our operating expenses, which in turn allows us to grow and spend our time focusing on our mission.
With your e-commerce-based platform, DonorsChoose.org captures tons of data. How do you mine these data to effectively market to donors?
This spring, we opened up 10 years of data and invited developers and researchers to make discoveries and build apps that improve education in America. The results and discoveries were incredible and have led us to tweak how we display classroom projects on our site.
DonorsChoose.org has grown more than 30 percent annually for each of the last 10 years. What has been the key to this growth?
We believe our model, which is based on the pillars of choice, transparency and feedback, is the power behind our growth. Public school teachers from every corner of America can post requests for resources they need to teach their students, like pencils, violins and microscopes.
Individuals can browse requests, give any amount to the one that inspires them, and then hear back from the classroom with thank-you notes and photos. Our donors can give as little as $1 and get the same level of choice, transparency and feedback that is traditionally reserved for someone who gives millions. We call this model "citizen philanthropy."
Many business owners I've interviewed over the years have said, "If only I could get some good press, my business would be successful." DonorsChoose.org received extraordinary press early on from Oprah and other outlets. When you receive press like this, what should business owners be prepared for?
We have been really fortunate with the media exposure we've received, and we continue to be humbled by it. Technically, one of the toughest things to prepare for with national media is the spike in website traffic. In our early days, we had many website crashes after media mentions, so we were not able to take advantage of the exposure.
Our world-class CTO, Oliver Hurst-Hiller, started with DonorsChoose.org five years ago, and he spent significant time improving our website's foundation so that we can endure, and take advantage of, traffic spikes. When Oprah Winfrey named us as one of her "Ultimate Favorite Things" in [November] 2010, we didn't have a minute of website downtime.
What would you say are some top things for-profits can learn from nonprofits?
Aligning your brand with a social mission will build loyalty with your customers and employees. To give you an example, when Crate and Barrel mailed out DonorsChoose.org gift cards to its customers in the fall of 2007, the gift card redeemers spent 16 percent more in Crate and Barrel stores than customers who did not receive gift cards.