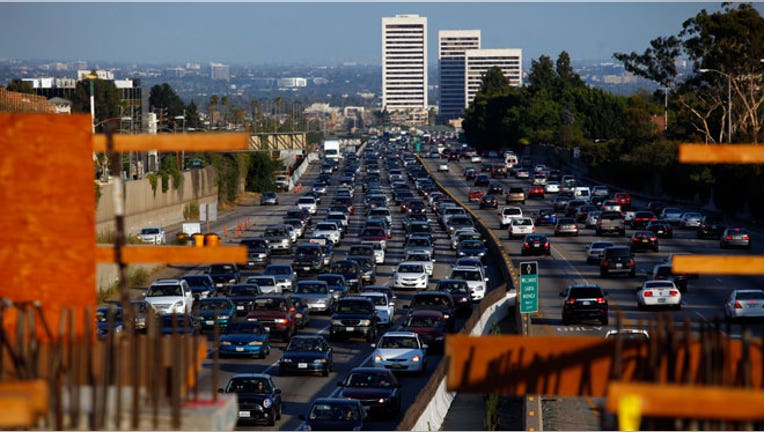 Fed up with drivers who fail to pay toll road fees, Texas officials are taking a new tack to pry open their wallets.
In October, the state's Department of Transportation posted online the names of the 25 worst violators and how much they owe. Currently at the top of the list is a Hutto, Texas, couple who racked up $217,619.79 in 10,566 unpaid tolls. They are among thousands of violators who together owe the state $27 million.
Penalties to shame people into better behavior are nothing new -- think of the stocks and pillory in Colonial America -- but whether such punishments are effective is an open question.
In recent decades local judges and states have come up with a variety of ways to shame irresponsible drivers, especially for drunken driving.
• Last year Cleveland Municipal Court Judge Pinky Carr sentenced a woman to stand on a street corner with an embarrassing sign for two hours as punishment for driving on a sidewalk to get around a stopped school bus. The handwritten sign stated, "Only an idiot would drive on the sidewalk to avoid a school bus."
• The Janesville, Wis., Police Department maintains Project Sober Streets, an interactive online map that shows where repeat drunken-driving offenders live. Each offender's home address is marked, and the person's name, address, mug shot and number of offenses are shown in a corresponding link.
• Drunken-driving offenders in Ohio are issued special red-on-yellow license plates, a stark contrast to the state's usual red-white-and-blue plates.
• Last year in Texas, Harris County Court-at-Law Judge Michael Fields ordered a convicted drunken driver to wear a sign stating, "I killed Aaron Coy Pennywell while driving drunk" on four consecutive Saturdays as part of his punishment.
"It takes you right back to 'The Scarlet Letter,'" says Nancy La Vigne, director of the Urban Institute's Justice Policy Center.
A lesson you'll never forget
On top of the public shaming, some of these drivers will pay higher car insurance rates for their offenses. Insurers show no mercy when it comes to serious violations, like drunken driving and reckless driving. Generally, non-moving violations, like parking tickets or toll road fees, don't impact insurance rates, although rating systems vary among insurers. However, rates would go up if someone's driver's license were suspended because of unpaid fees. (In its efforts to make toll road scofflaws pay up, the Texas Department of Transportation does not have the authority to revoke drivers' licenses.)
Car insurance companies raise rates to cover the extra risk posed by drivers with violations.
Shaming penalties, on the other hand, are based on the idea that"this will teach people a lesson," says Sandra Guerra Thompson, a law professor and director of the Criminal Justice Institute at the University of Houston Law Center. "There's a kind of visceral attraction they have with people, and they get a lot of publicity."
But the punishments don't find favor among most scholars, Thompson says. Chronic offenders tend to have a lot of problems in their lives already, she notes, and "these types of shaming sentences act to undermine the dignity they have."
She also questions claims that such penalties save taxpayers' money.
"It seems cost-free when you tell someone to stand on a corner and hold a sign," she says. "But the truth is it's really not cost-free. It still needs to be monitored."
And if the offender loses a job as a result of the publicity, then society bears another cost.
Some argue that shaming penalties can be more powerful than more-conventional forms of punishment, University of Arizona law professor Toni Massaro said in an email, but that's debatable.
"Not everyone will feel remorse and some may instead react to humiliation with anger, or disproportionate responses," she wrote. "This may be true of all punishments but seems potentially worse with a punishment so geared at producing a particular response or emotion."
Shame lives on and on
The stigma can also spill over to blameless family members, and the penalties might be disproportionate to the crimes, Massaro said, because soiled reputations are hard to rebuild.
"Unlike some cultures in which shaming is more routine, we lack reintegration rituals that welcome the person back into the fold after punishment," she wrote. "The Internet also makes any kind of shame degradation measure nearly eternal, as well as global, in its impact. Finally, there is a worry about even-handedness if only a few persons are subjected to these penalties instead of everyone who commits a similar offence."
Theoretically, shaming works better for some offenders than others, La Vigne says. Shaming could be a deterrent for someone who's an otherwise law-abiding person, a social drinker who acts irresponsibly and gets behind the wheel after imbibing, but it probably wouldn't be effective for a repeat offender with an alcohol or drug addiction.
"It certainly doesn't address the underlying reasons for the behavior," she said. "That population, which is arguably the most dangerous to the public is probably not going to respond to shaming penalties."
Collecting toll fees in Texas
The shaming tactic apparently is prompting some Texas toll violators to pay up. Since publishing the names last month of the top 25 violators, 11 have entered into payment discussions with the Texas Department of Transportation, and six now have accounts in good standing.
"In just one month, (the department) collected $1.3 million in unpaid tolls and fees, which is money that will be used to pay debt and fund operations on Texas roadways," James Bass, the department's CFO, said in a Nov. 22 press statement. "This is good news for the thousands of law-abiding citizens who do pay their tolls on time and is an initiative (the department) will continue to take seriously as we pursue millions of dollars in delinquent tolls on behalf of Texas taxpayers."
New violators will be moved onto the top 25 list, which the department will make public Dec. 2. An updated list of habitual toll violators will be available to the media through monthly postings on the TxDOT.gov and TxTAG.org websites. A state law gave the department authority to publicly report violators' names.
Violators who don't contact the department could have their vehicles banned from toll roads, ticketed by law enforcement or impounded. Habitual violators also can be reported to the county tax assessor's office in an effort to block vehicle registration renewal.
The department's recent move to shame the worst toll road scofflaws follows a similar one by the North Texas Tollway Authority. The authority manages toll roads in north Texas, and the Department of Transportation manages toll roads in the Austin and Laredo areas.
In June the authority published a list on its website of people who owed at least 100 outstanding tolls and said it would consider suing the worst violators. The list included more than 20,000 people. Two months later, the authority reported 655 people on the list had come forward to pay their debts. And earlier this month, the top north Texas violator, who owed more than $179,000, reportedly agreed to a settlement with the authority.
The original article can be found at Insurance.com:Bad driver! Shame on you!