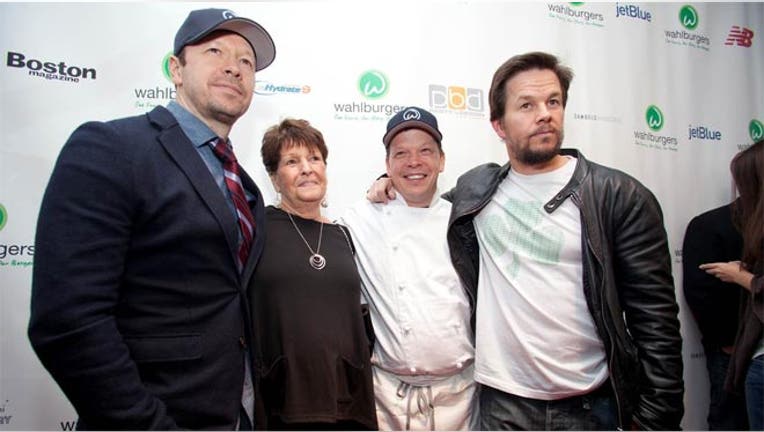 The competition for burger supremacy appears to have some "new kids on the block." The famous Boston-based burger franchise Wahlburgers is spreading their patties with a plan to open 68 stores over the next eight years.
"Overall, we're looking at 300 stores in the U.S. and 300 overseas. We've had interest from everyone. But we've said no a lot more than we've said yes because we're really looking for the right partners," says Rick Vanzura, CEO of Wahlburgers.
And it's not just any ol' burger joint either, the entourage running the place are the famous Wahlberg brothers: Mark, Donnie, and Paul. Mark is the A-list Hollywood actor, Donnie is part of the 1980's boy band sensation, "New Kids on the Block," and Paul is the Executive Chef and the brains behind the burger recipes.
"It's a perfect combination. You can't find a celebrity draw and a core family like this," adds Vanzura.
Wahlburgers opened its first store in Hingham, Mass. in 2011, and has been a hit ever since, along with their A&E series "Wahlburgers," which is in their fourth season.
"People drive several hours and wait in very long lines. The bar is high and we're really dedicated in delivering for that one hour experience. We really make it a family environment and Paul makes a very good burger,"says Vanzura.
Currently, there are only three Wahlburgers open, two in Massachusetts and one in Toronto with restaurants in New York's Coney Island and Boston's Fenway Park opening soon. They also signed two franchise deals with New York-based Big Apple Burgers and Arjomand Group of the Middle East with goals to make them a global brand.
"The best proof of the pudding is that we can get these major franchises to sign up. And, we're continuing to work on deals and that number will keep growing,"says Vanzura.
John Cestare of Big Apple Burgers signed a franchise deal to open Wahlburgers throughout New York City and Long Island, where the burger competition is pretty tough as Shake Shack (NYSE:SHAK) is dominating the region.
"You can have all the TV shows and movies you want to get people in the door, but if your food is not good, you're not going to get repeat customers. And their product is the best I've ever had. And there's a huge potential to grow. But we're not looking to compete with anyone," says Cestare.
"The basic rule of the burger category--that if you serve a really good burger at a fair price, they will come--still applies," says Scott Humes, Editor of BurgerBusiness.com, an online magazine for burger restaurants.
Humes says there's definitely room for new concepts and Wahlburgers comes with extra credit, the Wahlberg name.
"Wahlburgers has shown that it pays attention to quality and service and has succeeded in bringing people back,"says Humes.
Cestare says he expects to open up 20 stores in the New York area, but says he and the family wants to make sure all the standards are in place first.
"We're walking before we run on this one. The family is on it every step of the way. They're all over standards and quality,"adds Cestare, who says he hates to choose between the brothers but the "Thanksgiving Day" burger (Mark's choice) is his favorite.
Vanzura says he's also been impressed with how much the family truly cares about this business.
"When I took this job, I knew that they cared about the concept but I really didn't know how much. I hear from them daily. Mark, Donny, and Paul are truly involved. That's been the most interesting part for me."