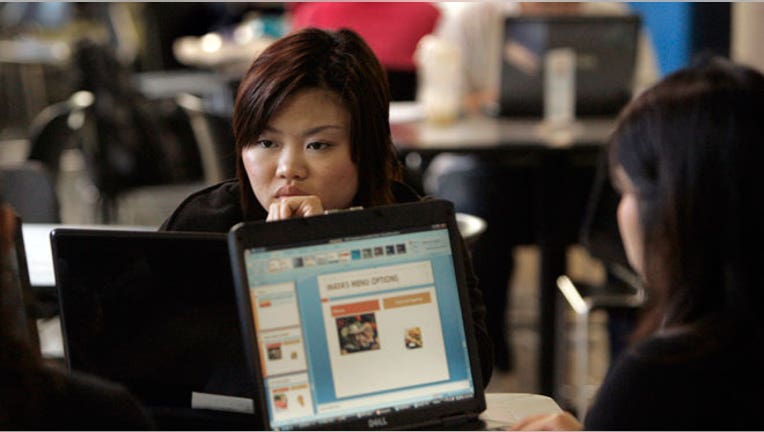 Although more and more universities are incorporating technology into the classroom, an increasing amount of students are leaving the lecture hall altogether and logging online to get their degree.
According to the Center for American Progress, about 10% of students took at least one online course in 2003, growing to 25% in 2008, 30% in fall 2009 and is projected to be 50% in 2014.
In a tough job market where upgrading skills has become necessary to building a career path, online courses can make learning more accessible and often more affordable, says Frank Mulgrew, president of the Online Education Institute at Post University.
"With the demands of work, family, and personal life, the traditional classroom is impractical--online learning allows for anytime anywhere learning that is readily available and flexible," he says.
While an online degree program can benefit some students, it may require extra time studying and preparing for class, says Kimberly Baker, career services manager at Bryant & Stratton College Online.
"The increased investment in time means that students need a great deal of self-discipline and the ability to effectively manage their time in order to succeed in an online program," she says.
Before signing up for an online course or degree, here's what the experts say to consider and how to take advantage of virtual classrooms.
Know Your Learning Preferences
Online instruction may appeal to a range of learning styles, but it's important for students to really think about their learning needs and commitment level regarding virtual classroom environments.
Some students may struggle with a lack of structure and routine that a tangible campus experience provides, says Vicky Phillips, founder of GetEducated.com. "If an online course allows a student to log on anytime to read or comment on assignments, as most do, this openness quickly turns into an invitation to procrastinate--very few people are natural self-learners," she says.
For those disciplined and motivated enough to stay on task, both traditional and older nontraditional students can maintain jobs and family obligations while taking classes, says Baker.
Schedule Class and Manage Your Time
Online students must budget adequate time for attending class, homework, and studying on top of other commitments, says Beth Flye, director of admissions at MBA@UNC.
"For each live class session you have per week, you should put aside an estimated 10 hours for homework/prep time per class per week," she says.
"If you are working full time or have other commitments, taking four classes a semester is 40 hours of time in addition to class time each week, so it's really important to determine up front how much extra time you will need to devote to each course."
Be Prepared to Write
The primary form of communication for online classes is the written word so students should feel comfortable enough with their skills to express their ideas and thoughts clearly to instructors and other students, says Baker.
"The ability to write continues to be one of the top soft skills desired by employers," she says. "With such emphasis on writing in an online degree, students have the opportunity to improve this skill and increase their employability."
If students feel their writing abilities aren't up to par, Mulgrew recommends starting out with a communications or writing course to practice and hone their skills.
Designate a Work/Study Space
Without a classroom setting that involves sitting in front of a professor or whiteboard, online students must create their own learning environment circumstances.
Experts recommend students set up a designated space to work and allow them to fully focus, whether at home or the local library.
"If you are studying from home, on your laptop, in the living room, you won't look like you are studying and everyone, from the dog to your toddler or baby sister will be tempted to distract you," says Phillips. "Assign a set time and place where you will study each week and make that place a distraction free zone."
Find a Support Group
Despite sitting behind computer screens, it's essential that online students proactively seek out the same resources that on-campus students use.
"The best online programs at universities will have very supportive faculty, academic advisors, tutoring services, and perhaps student success coaches. Use those resources as frequently as is necessary," says Mulgrew.
Baker suggests students reach out to instructors early and often, making it easier to get in touch if they are struggling with an assignment.
"I also recommend students take advantage of virtual office hours held by instructors, this is a great time to ask question via instant message or phone," she says. "Additionally, students may need to lean on family and friends for help keeping up with their other responsibilities as they dedicate time to earning a degree."