Do Women Need Ivanka Trump to Break the Glass Ceiling?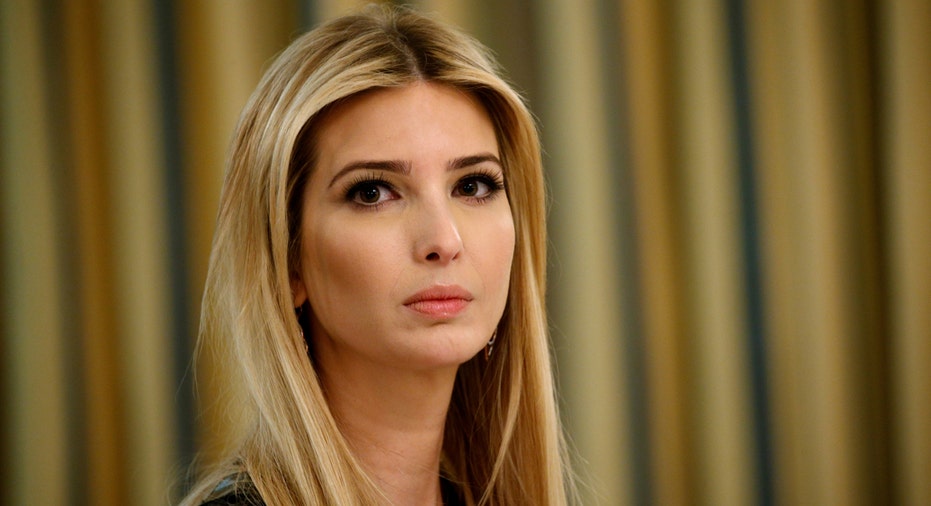 Yesterday's roundtable between President Trump, Canadian Prime Minister Trudeau and nine top female executives was arranged by Ivanka Trump. The first daughter is rapidly emerging as a champion for women at work, particularly those of the entrepreneurial and leadership variety.
Despite extraordinary efforts by corporate America to improve gender diversity in the C-suite, women remain grossly underrepresented. The question is, will Ms. Trump succeed in helping female up-and-comers break through the glass ceiling where so many others have failed?
According to the Women in the Workplace 2016 survey by Facebook (NASDAQ:FB) CEO Sheryl Sandberg's LeanIn.Org and McKinsey & Co., women haven't made much headway climbing the corporate ladder in recent years. Tech giants like Alphabet (NASDAQ:GOOGL) subsidiary Google and Intel Corp. (NASDAQ:INTC) have spent a combined $565 million on diversity programs, to no avail. And, according to the Center for American Progress, women still account for just 16.9% of board seats, 14.6% of executive officers and 4.6% of CEOs among the Fortune 500.
Small businesses have a completely different take on diversity, however. According to LinkedIn (NYSE:LNKD), startup founders and venture capitalists are more concerned with important business issues like macroeconomic conditions, raising capital, hitting revenue targets and finding and retaining the very best talent, regardless of race or gender. And many think the diversity issue is mostly media hype.
Diversity advocates might attribute that response to the mostly white male makeup of those surveyed, but let's not rush to judgment. Maybe they're onto something.
Maybe calling more attention to the diversity issue is not the answer. Maybe creating ginormous organizational bureaucracies around diversity and inclusion programs, pushing gender and racial quotas and drilling politically correct bias sensitivity into employees' heads are not the answer.
Maybe too much awareness is part of the problem.
Before you write me off as a misogynistic bigot, hear me out.
The Civil Rights Act of 1964 prohibits workplace discrimination based on gender and race including the hiring, promoting and firing of employees. I'm sure we can all agree that the path to fairness and equality includes getting rid of bias, conscious or not.
While we can hardly deny our senses and not be aware of our differences, when it comes to workplace decision-making, the law clearly wants us to be gender and color blind – just like the good lady with the blindfold and scales whose image hangs in every hall of justice in the land.
Indeed, when I first suggested that the way to solve bias issues is to simply hire and promote the most capable individuals regardless of race or gender, I was lambasted by activists and special interest groups. Like Lady Justice and the vast majority of startup founders and investors, I was considered regressive.
Not anymore. Blind hiring is now a thing. And it's gaining traction.
A recruiting app called Blendoor eliminates bias issues from the hiring process by stripping names and gender-based pronouns from resumes and job applications, a practice known as anonymizing. The startup's founder, Stephanie Lampkin, is a black female engineer. And San Francisco-based Entelo recently launched a similar product.
Progress. Finally. And yet, so much more work to do.
Back in 2004, researchers in the UK coined the term "glass cliff," which refers to their findings that women are more likely to be hired to run companies that are in trouble, in which case they're more likely to fail.
In August, the Wall Street Journal called Marissa Mayer's failure to turn around Yahoo (NASDAQ:YHOO) an example of the "glass cliff." To me, that sounds a lot like an excuse, and I don't think CEOs who make big bucks get to make excuses. Besides, I seriously doubt if the former Googler has any regrets about her experience in the limelight. Mayer will walk away with more than $300 million after five years of work. And I see no shortage of CEO jobs and board seats in her future. 
In the Journal piece, Penny Herscher, a former CEO who sits on several public and private boards, said, "Every CEO of a beleaguered company, male or female, green or pink, is criticized. That is part of the job." Maybe it's time we all stop paying so much attention to each other's race and gender and just get to work.