DIY Retailers Hope Housing Recovery Isn't a Mirage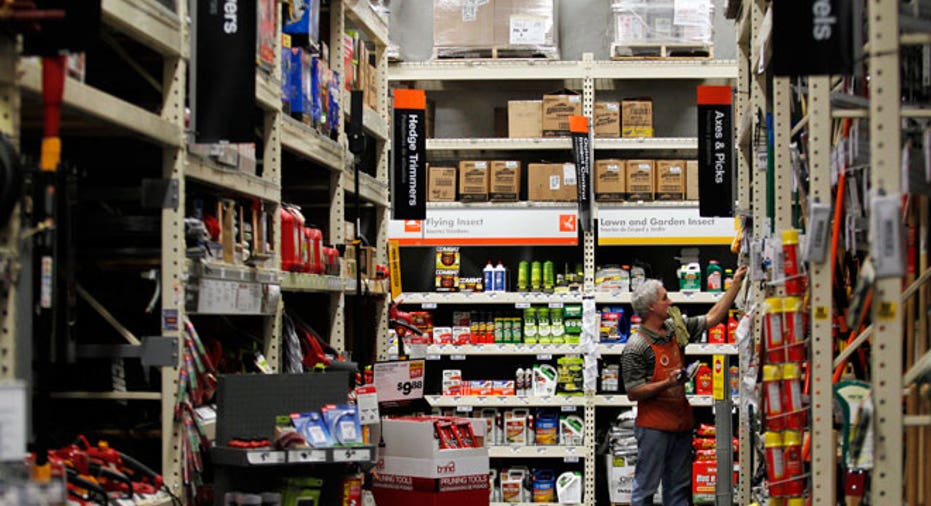 As the housing market shows signs of life, home-improvement retailers are cheering.
For the last few years, companies like Home Depot (NYSE:HD) and Lowe's (NYSE:LOW) have reaped the benefits of rebounding home prices and loosened wallets. Home Depot in particular has reported growing sales, while Lowe's works to revamp its stores and regain market share.
Sellers of home goods and materials are largely seeing a boost in sales, but questions remain over the strength of the housing recovery.
"It's a group of stocks that needs a housing recovery," analyst Rob Wilson of Tiburon Research Group said. "If it's a mirage, they're screwed."
Home-improvement retailers are cautiously bullish on the housing recovery, weighing recent sales performance against concerns over the strength of the market.
In February, Home Depot reported its strongest same-store sales in eight years. The Atlanta-based company said its earnings climbed 32% and sales were up 14% to $18.25 billion.
At an ISI Group conference in March, Home Depot's Western Division President Joe McFarland said confidence among consumers and professionals "is finally starting to come back," while a full recovery in the housing market seems far off. The company does have a "good degree of confidence" that markets such as Phoenix, Las Vegas and Los Angeles will continue to rebound, he added.
"So looking at those markets, take a Las Vegas, is it back to where it was, will it ever get back to where it was in the boom? Probably not. Some of that [was] overbuilding," McFarland said.
Home Depot's commercial business has done well, indicating an increase in activity among contractors and builders. Analysts from Goldman Sachs spoke with top Home Depot executives, writing in a recent note to clients that the pro business is now outpacing the consumer business. According to Cleveland Research, sales to pro customers account for around 30% of Home Depot's entire business.
The note explained that Home Depot is taking on some initiatives to continue bolstering its commercial business.
"Today, more likely because of the better housing backdrop than these and other efforts, the pro customer is beginning to outpace the consumer in HD stores for the first time since the downturn, with smaller pros catching up to the recovery previously reported for larger pros," the Goldman Sachs analysts wrote.
Lowe's is looking for sales growth to reach levels not seen since the housing bubble burst. It most recently reported fourth-quarter sales that declined 5%, but the do-it-yourself retailer forecasted 3.5% growth in same-store sales this year compared to Home Depot's expectation for 3%.
And Lumber Liquidators (NYSE:LL), a specialty retailer that sells hardwood flooring, recently reported a 22.5% increase in first-quarter sales. Profit soared 92.5%, and comparable store sales rose 15.2% year-over-year. The company opened five new stores during the period and expects to open another 25 to 35 stores this year. It also raised its guidance for same-store sales.
Chris Christopher, the Director of U.S. and Global Economics at IHS Global Insight, said the industry has seen a release of pent-up demand as the housing market gains traction. He compared it to the auto industry's recent success, as drivers decide to upgrade their vehicles.
"Consumers will put things off," he said, noting that normal wear and tear on homes can spur shopping.
Christopher also noted the wealth effect, a term economists use to describe the relationship between an individual's perceived wealth and consumer spending. Increasing home prices can make a person feel wealthier, he said, making consumers more inclined to spend. That translates into a boost for retailers.
"Home prices are coming up, and as people move, they'll buy things like white goods and furniture," Christopher said. White goods are appliances like refrigerators and dishwashing machines.
In addition to improved retail sales, demand for materials needed for new home construction, such as lumber, has also picked up.
Builders FirstSource (NASDAQ:BLDR), a supplier and manufacturer of building products, said last month it narrowed its first-quarter loss as sales leapt 45.7%. The stock is up nearly 71% on the year.
"We are excited about the prospects for the homebuilding industry, and the outlook continues to suggest favorable opportunities for Builders FirstSource," CEO Floyd Sherman said in a statement.
Sherman cited the National Association of Homebuilders' prediction for a 24.2% increase this year in single-family housing starts, with a 28.8% jump expected in 2014.
Louisiana-Pacific Corp. (NYSE:LPX), another manufacturer of building products, saw net sales climb 48.6% in its first quarter, driven by sales of structural panel products and siding. Lumber sales also increased. Shares of the company, which has a market value of $2.73 billion, have soared 118% so far this year.
"LP's strong financial results were driven by a broad recovery of building activity across all regions of the U.S.," CEO Curt Stevens said in a statement, adding that pricing also increased as a result of improved demand. "I am confident that all of the work we have done to prepare for the housing upturn will allow us to meet customer demand."
For consumer retailers, the housing market could be key to maintaining positive sales trends. Paint maker Sherwin-Williams (NYSE:SHW) cited a benefit from more housing activity, while the stock has risen 55.5% this year. Wilson, the Tiburon Research Group analyst, threw Williams-Sonoma (NYSE:WSM) and Bed Bath & Beyond (NASDAQ:BBBY) into the mix of companies that benefit from a stronger housing market.
In fact, most companies in the industry have improved profitability with the exception of Lowe's, Wilson noted. He explained that Home Depot has taken market share away from Lowe's, saying the smaller rival has "bigger fish to fry" than waiting for a housing boom.
While Home Depot's success could be taken as a sign of a strengthening housing market, Lowe's may serve as a warning that a rising tide doesn't necessarily lift all retailers.
"Lowe's needs a housing recovery just to keep management employed, in my view. Home Depot doesn't necessarily need a housing recovery. They just need to keep taking market share from Lowe's," Wilson said.
Wilson acknowledged that recent sales have been positive but cautioned against thinking accelerated growth in the home-improvement industry is a sure bet. Sales growth has generally slowed of late, an indication that the recovery home-improvement retailers crave is still on the horizon.
"I would say there was pent-up demand, and these companies have been on fire for three years now. I think they've had a good run of success," he said. "Those companies need a true housing recovery to get accelerated sales trends. Right now, I'm not seeing it."